8 interesting people you meet in every office
Do you feel bored at office? Look out for these interesting people who will make your day at the workplace. We are sure your office is not devoid of them.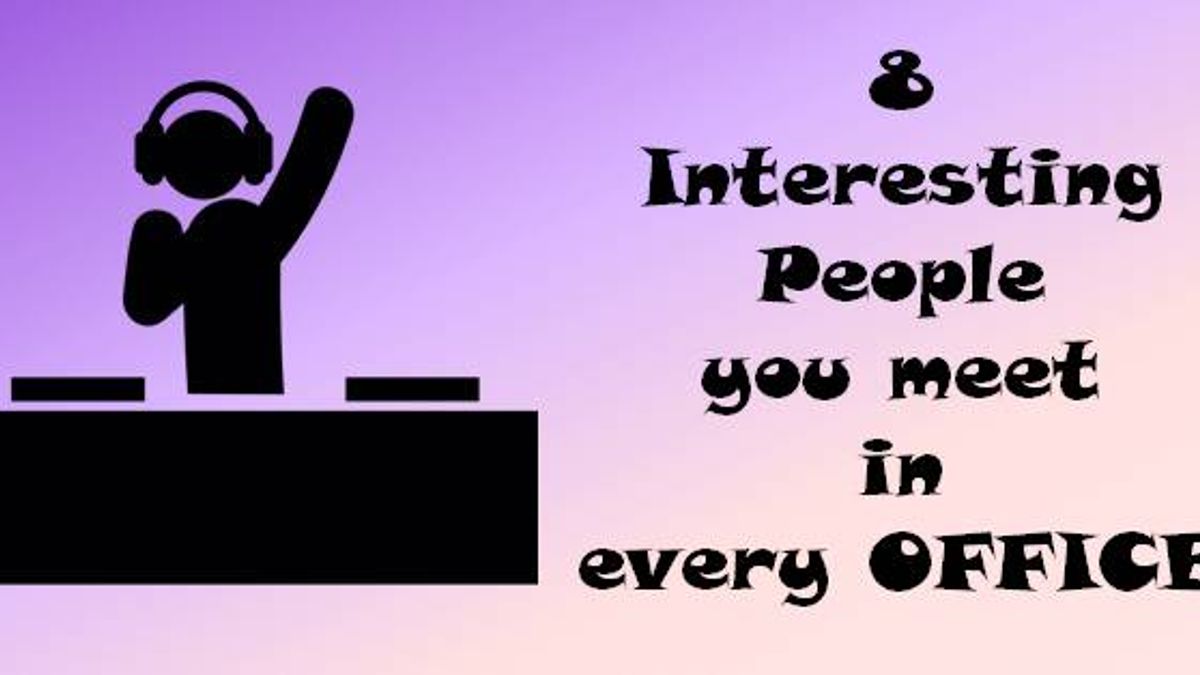 8 interesting people you meet in every office
The world is full of people from all walks of life and we all share some kind of weirdness which makes us stand apart from the crowd. When you will enter the corporate life, you will get to meet interesting people and if you are a keen observer, then we are sure you wouldn't take much time to identify these 8 interesting people in your office premises.
These people add colours to the otherwise dull and monotonous work life. Their behaviour might freak you out sometimes, but will also soothe you when you will land up in a soup. From guiding angels to gossip mongers, you will experience all type of colleagues in the office. So better be prepared to welcome them in your life and enjoy their company.
These 8 interesting personalities will certainly leave you awestruck because they are unavoidable and prominent in every office space.
The Eternal Cheerleader
She/He is the angel at work whom you will meet soon after joining the office. They would never utter bad words for anyone and have the best of advices to help you settle in the office culture. You will fall for these peeps at one go. We feel that these people are simply hired because they made the HR staff also happy while recruiting them with their power of positive words.
If you haven't found this person, do not keep your eyes and ears closed. Look out for them, they might be busy doing some good deed for someone. Whenever you feel stuck, approach this person and you will get a really practical solution for free.
Source: thello77
There is a reason as to why they are known as cheerleaders. They will appreciate you on your achievements unlike others, who you will find filled with envy or indifference.
The Solitude Lover
They seem unapproachable because they are immersed in their 'solitude' always. For them office is all about work and any other activity beyond this is not justified because they feel they are getting paid to work only. They love their work more than any other aspect. The solitude lover are never over-friendly and you will find them working indefatigably and over-achieving their targets months after months.
You will only notice them the time they arrive in the morning or while leaving in the evening. If you wish to contact them then ask for the directions to locate their cubicle and seek advice if needed. Traits such as always staying busy, being reticent, always in stress, unsocial and target-oriented are prominent.
The lunch box thief
This person is inescapable since you were in school. They are omnipresent and you won't be able to find where they come from and where they go! The mystery lies in the fact that where did your lunchbox go?
Source: Wikihow
But don't worry; your office pals might be having a vague idea about their source and timings of stealing the lunchboxes. So the next time when you lunchbox goes missing, take help and snatch away your lunchbox or learn to share with them.
The Coffee Addict
They are easy to spot and befriend. Whenever you feel sleepy, they will have only one supreme advice to offer: "have coffee". This is how they manage to stay awake in the office during morning and till evening looms. Coffee is their survival kit and their saviour to achieve the scheduled targets.
It seems like coffee is their inseparable pal because they need coffee while talking, during meeting, after meeting, while working and even after working. They truly live by coffee vending machine. Their life might turn upside down in the absence of coffee in the office. If you ever find them drowsy, it is an indication that the coffee stock might have hit the rock bottom!
The Washroom friend
If you do not have a washroom friend then do make one. They are famous for spreading grapevine rumours and will be a great pal to share your sob stories. Washroom friends usually share the same timing to meet and then you can always share office gossip and talk about your bosses. Life becomes easy with them because they are true stress-busters.
After spending 5 minutes with them in the confined space, you will surely feel good because you can talk at length about your pains and miseries of the day!
Mr/Ms Last-Minute
How can we miss to comment on them? They are the real owners of the show. Every morning you will find some or the other manager shouting on them. They are often late at work and will always have a genuine reason to back their late-coming. Somehow difficulties in their life are far more larger than in the lives of other while reaching office.
They are the only ones who frequently suffer from genuine car breakdown issues, traffic, alarm clock ailments but the only commendable thing about them is that they meet their deadlines. Hence they have a benefit of doubt and escape easily. You would not know whether to admire them or become jealous of them.
The Chatterbox
It is advisable to always carry a painkiller during official working hours because you will also get to meet Chatterboxes who will endlessly ramble all the news and trivia about the whole world. They are primary torch bearer of fresh gossip and woes. Staying with them for more than five minutes will make you mentally drained and you will gulp a headache reliever before getting back to work. So stay alert from these pals because you might be in for a trouble sooner or later.
Source: Sharon Bowman
They are hired to act as messenger in the remote areas of an organisation. They won't leave a place or person who won't recognise them from their voice.
The Trustee
He/She is the organiser cum money manager of the organisation. Be it birthday party, farewell, cultural event, target achievement party or any other event, he is the one always ready to be on the toes to organise the event smoothly and make everything available.
He would collect finds from all the people and will also plan and manage the complete budget of the party. You want to give a birthday party, approach this person with the finances and he will manage all in the budget. They will have a collection of all possible pamphlets in their drawer to order food and other stuff.
They are the backstage crew without whom the show wouldn't start or end. So when the next time you meet the trustee thank them for their excellent organising skills and volunteer with them to learn the art of organising meetings, events and managing finances for the same.
We hope that while reading about these interesting people, you would have one or the other name in your mind to tag your office colleagues. If you have encountered more interesting personalities in your office, then do share with us about them in the comments section provided below!