A detailed comparison between SSC CGL and RRB NTPC
In this article, we have sorted out various aspect of SSC CGL and RRB NTPC government job in terms of job profile, Working hours, Transfer & promotion policies and etc. After analyzing all things, we can conclude that the respective things. find out in article.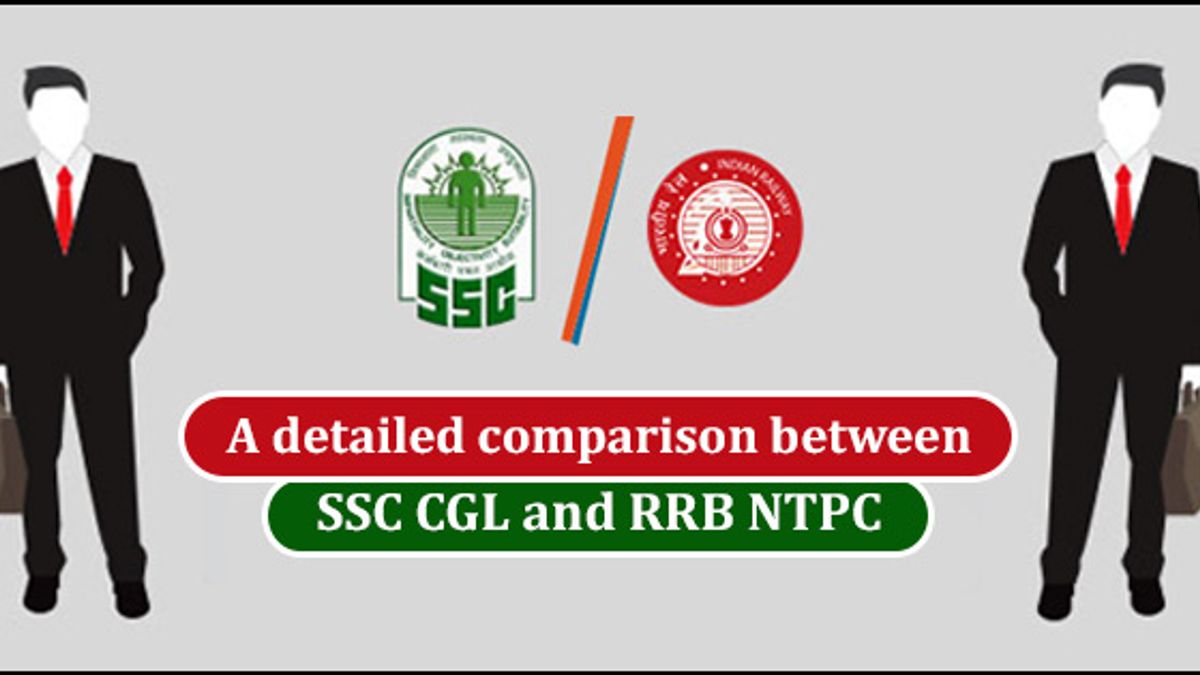 SSC CGL vs. RRB NTPC
Today, SSC (Staff Selection Commission) and RRB (Railway Recruitment Board) offered jobs are most sought among the Graduates, Post Graduates and 12th pass aspirants as they offer a lucrative career option, pay & perks and opportunity to learn things in the government organization. CGL conducted by SSC and RRB-NTPC both are the most preferred choices among the candidates. In fact, It also depends upon one's choice. One should know about the job profiles, salary, work culture and career growth in both trades.
In this article, we will take up the descriptive discussion on both organizations in a sequential manner.
SSC is a very good and open source to join various Indian ministries, organizations and departments, i.e. 30 in total for young and energetic professionals and this number is changing significantly. On the other hand, Railway, Continues to be the sole authority to provide maximum employment in the country.
Let us take a look at both the profiles.
Job Profile:
Through RRB-NTPC, you are required to fulfil the administrative need and supervision. Beyond this, the following tasks are performed.
Railway accounts maintenance
Working as a Guard and Goods Guard
Operating the signals
Departmental specified work
Daily timetable for preparing SSC CGL and CHSL exams
Whereas, if you are appointed through SSC CGL. Then, the following responsibilities are to be taken care: -
Making notes and doing files related work
General administrative and field work
Doing clerical works like answering RTI queries
Assisting in framing policies nationwide by looking after office work
Carry out raids, surveillance and inspections etc.
| | | |
| --- | --- | --- |
| | SSC CGL | RRB-NTPC |
| Work Pressure | As in training, You are trained all the nitty-gritties of administration as this job is more exposed to public dealing. | Whereas an RRB-NTPC officer, you will not directly interact with them. |
| Working hours | As an SSC-CGL officer, you will have a definitive and pre-decided proper schedule from morning to evening; No extra working hours or shifts. | While under this criteria, the job may be in any shift as per the needs of the railway. |
| Transfers | Transfers takes place more often in every 4-5 years based on seniority and promotion or as per the departmental interests. | It is also same here as it happens through SSC. |
| Salary | Except 7th pay commission- Total enumerated salary is Rs. 25,000- 40,000. | Leaving 7th pay commission- Total salary ranges between Rs. 25,000-35,000. |
Apart from the above facts, SSC and RRB provide the following perks to their officers.
How to prepare for SSC CGL exam with a full-time job?
Through SSC, you will get Contribution Pension Scheme/New Pension Scheme, Transport Allowance, Dearness Allowance, LTC, House Rent Allowance, Home Travel Concession/ Leave Fare Concession, mediclaim. Whereas, as an RRB-NTPC Officer, you are entitled to receive Dearness Allowance, House Rent Allowance, Transport Allowance, LTC, Cash Medical Benefit, Group mediclaim and Pension Scheme.
Future Growth
In SSC, promotions happen at every 4-5 years and the following posts are handed over
Auditor -> Senior Auditor -> 3 years
Assistant Enforcement Officer-> Enforcement Officer-> 4-5 years
Income Tax Officer-> Assistant commissioner-> Deputy Commissioner-> Commissioner
Assistant in CSS-> SO-> Joint Secretary
How Internet can be useful in SSC preparation?
Now, have a look at RRB-NTPC promotion.
Assistant Station Master -> Divisional Operations Manager.
Junior Accounts Assistant -> Chief Account Officers/ Financial Adviser
Goods Guard -> Chief Controller
Commercial Apprentice -> Senior Divisional Commercial Manager
From the above presented facts, we have found that promotions in SSC are a way faster than RRB, having clear policies. SSC has well defined, streamlined procedure for promoting an officer at a regular time interval. On the Other hand, RRB does not have a proactive promotion policy.
Hence, we can conclude that in many aspects SSC CGL has a better future prospect than RRB-NTPC.
All the Best!