How to write impressive MBA Assignments: Step-by-Step guide
If you are still alien to the art of writing great MBA assignments, this simple step-by-step guide will help you write one very easily. Follow these MBA assignment writing tips and score exceptional CGPA and impress your professors.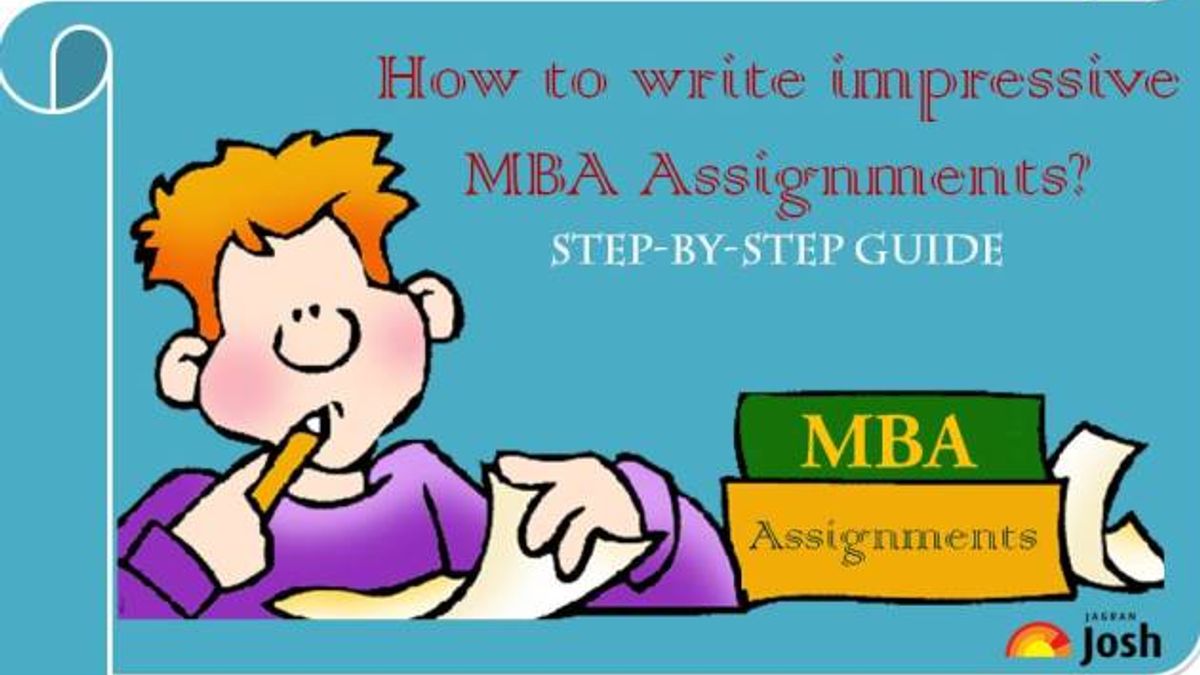 How_to_write_MBA_Assignments
For most students joining top MBA Colleges in India, writing is still an art they are alien to. However, being MBA students, they have churn out several MBA assignments, project papers and research thesis as part of their course curriculum. Therefore, as an MBA students or even an MBA aspirant who is planning to join the corporate world soon, learning the art of writing a great assignments is pivotal.
Why MBA Assignments?
It is very likely that if you are a recent entrant to an MBA college, you hate your professors for assigning so many MBA assignments and project work that requires you to write pages after pages of reports, data and analysis. But, before we jump to any conclusions about your faculty members, it is important to understand why do professors love MBA assignments so much?
Source: Funny Memes
So, before you actually put pen to paper, it is important to understand the motive and reason behind assigning MBA essays and projects.
Is MBA assignment a blessing in disguise?
Yes indeed it is! As future managers, there would a ton load of responsibilities on your shoulder. And considering the globalized nature of business world, it is very likely that communication would play the key role in your personal success as well as the success or failure of your firm. Therefore, as a manager, writing is a key skill that any organization would look for in a business manager. This is the same reason that MBA entrance exams have started diversified their formats and admission process and included WAT as an essential part of the selection criteria.
So, the primary reason that MBA courses focus so much upon writing assignments in a diverse array of domains is to help you learn the basics of writing skills while navigating through the web of large chunks of data, corporate policies and analytical information.
Why deliver Good quality MBA Assignments?
Now that we have worked out WHY you need to write good MBA Assignments, it's time to actually learn HOW! In the write up below, we would try to give you the step-by-step process following which you can create a master piece of an MBA Assignment that would not only impress your professor but also add a feather to your cap when it comes to placement season.
A Comprehensive Guide on "How to Write Great MBA Assignments"?
It's all about Writing: How to Begin and End
1. Work out the main theme to build on the idea
Theme Building is the most crucial step that will help you write seamlessly. If you have defined the theme of your assignment then half of the work is done. Consider for an example that your marketing prof. gives you an assignment on Consumer Behaviour in FMCG Products. This is a very wide topic and you are expected to shorten down the scope of the topic. You can narrow down areas on which further research is possible. List down important areas on which research is possible, such as:
Consumer purchasing capacity for organic eatables

Consumer purchasing capacity for soft drinks

Consumer purchasing capacity for processed food
Once you are clear with the theme of the project on which you are ready to work, it will be easy to list down its objectives, find your target group, and profile their demographics for the study.
This step will define the framework within which you will invest your efforts in writing and churn out the crucial points that you collected in the preliminary research stages.
2. Allocate Sub-points to express you idea
Once a teacher and student were discussing the expectation of teacher from student. This conversation might also define what your teacher expects from you!
So, this is the stage where you can portray your 'best abilities'. We recommend that you consider this step as a mandatory requirement to enhance the readability of your text. When you mention long sentences and paragraphs of more than 80-100 words, it spoils the readability of the text. You can follow the below mentioned tips for enhancing the readability aspect of the information in your MBA Assignment.
Make sub-points to describe the idea that you wish to present.

If possible include bulleted pointers, make tables, pie-charts, and bar diagrams to represent the numerical data.

Use highlighter to highlight the important points for the reader. This will support the analytical work carried out by you.

You can also include images to present the idea to leave a visual impact on the reader.
These points will keep the reader hooked and interested to find out more about the topic and navigate through the matter easily. Moreover, if you are able to present you data well then grades are going to be yours without a doubt.
MBA Assignments Guide: Research & Checklist before you start writing
3. Provide enough examples to prove your point
It is said that one should "lead by example not decree" and it is a well-proven fact. When you mention a theory or a law, it would not be self-illustrated unless you support it with a real-life example. MBA is a professional course which is better understood if provided with real-life examples wherever possible. Be it Max Webber's or CK Prahalad's every theory, all have emanated from the real-life scenarios which made the thinkers ponder over and come up with a solution to problems.
For say, if you wish to explain a concept of economics called as 'bottom of the pyramid (BOPP)' that is said to affect the nation from top to bottom, you can use this image to easily illustrate your point.
The image is self-explanatory, that states that wealth remains in the hands of few powerful and is not distributed equally among the bottom of the pyramid population.
This examples will exhibit the latent creativity in you to explain a difficult concept in layman terms.
4. Critical Analysis exhibits your thought-process
This cartoon is a perfect example of the critical analysis which is required in the MBA assignments.
Like the opinion of nomads differ on blocks of rocks, your opinion might also differ from your peers on the same problem. Critical analysis will exhibit your resourceful grey matter and will help the evaluator understand your thought process on a particular issue.
This is one of the areas where you can fetch maximum marks if your ideas and analysis is appreciated by the evaluator. The essence of the whole problem, objectives can be weaved in here to bring out the gap and suggest the way forward.
5. Provide an impressive intro and conclusion
There goes an Irish Proverb which says 'Good beginning makes Good endings'. A good beginning compels the readers to further rummage through the pages and seek more information.
Make an impressive intro to grab the attention of your evaluator and your MBA assignment won't go ignored. You can follow these tips to make a stronger intro:
Do not repeat the title of the project in the beginning

Keep sentences short and catchy. Use phrases or idioms to hit the bull's eye.

Keep a personal touch for the reader to make the text interactive. Use 'you', 'your' etc words.

Be Intriguing (you can begin with example, question, scenario, quote or puzzle).
Another important point that you must not ignore is the conclusion. This part must be fetching too. This part will define the entire hardwork put in by you. To make it worthy, summarise your arguments and main points. Wrap it up nicely by mentioning phrases such as "in conclusion" etc. Your conclusion should carry these points
Talk about the problem that existed

Mention the solution that you offered to solve it and

You can also mention what more can be done in future that you have not been able to accomplish due to time or resource constraints. This will leave 'food for thought' for other researcher to carry forward your work.
If you have followed all the above mentioned points, it is expected that you might feel like the student in this cartoon
We wish that you are on the brighter side of this radar. Make your assignment writing a pleasant experience.
But MBA assignment writing does not ends here. Yes we know that by now you must be basking in the glory with competed assignment in your hand. Still a lot remains to be done!
What lies beyond writing and research work?
What more can be added to your worthy assignment?
How can you make your assignment seem more purposeful to your faculty?
Find out in our upcoming article which will talk about the 'Beyond Writing' aspects that will make the MBA assignment more exciting to read and submit with your teacher...!
You can also download our free PDF to obtain easy tips on writing MBA Assignments. All you need to do is click on the link provided below and download the eBook.
Comprehensive Guide on 'How to Write MBA Assignments?'
Receive more tips and strategies to make you MBA life smooth and happy! Subscribe with us and stay updated!