CAT 2017 Result IIM Lucknow releases list of shortlisted candidates
With CAT 2017 result already out, IIM Lucknow has formally released the list of shortlisted candidates for admission to PGP 2018-20 batch. Get all the details here.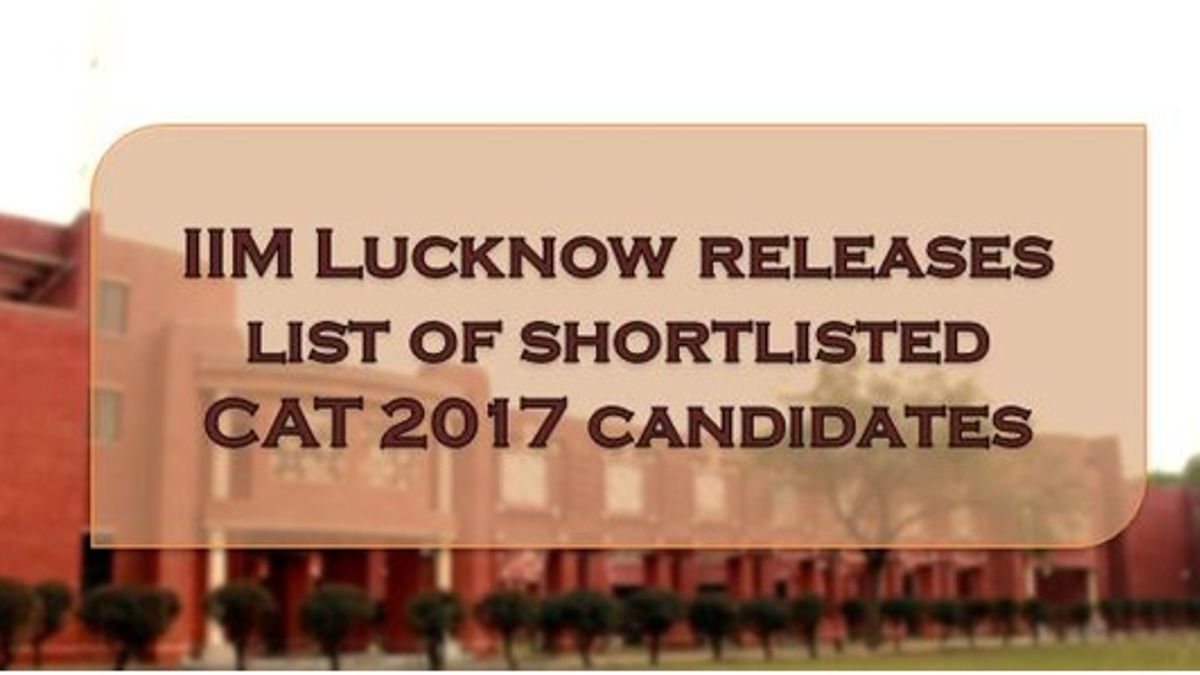 CAT 2017 Result IIM Lucknow
IIM Lucknow – one of the top MBA colleges in India has officially kicked-off the admission process for their PGP 2018-20 batch with the release of list of shortlisted CAT 2017 candidates. The candidates have been shortlisted by IIM Lucknow for further screening rounds i.e. PI-WAT or Personal Interview and Written Ability Test.
According to the tentative reports coming from IIM Lucknow, the shortlist cut-off for CAT 2017 candidates remains above 90 pecentile. But, despite this, many candidates who have scored around 99.5 percentile have also not been able to find place in IIM Lucknow's shortlist. This is because, they would have failed to qualify for the sectional cut-off which stands quite steep at 85 percentile for each of the three sections.
IIM Lucknow Shortlisting Criteria
While many 99 percentilers have failed to find place in the IIM Lucknow's admission shortlist, there are many others who have scored around 90 percentile but still have made it to the list. This is not a discrepancy but a fall-out of the unique shortlisting criteria followed by one of the top B-schools in India.
As per the official notification, IIM Lucknow has decided to award 60% weightage to CAT percentile to shortlist candidates. On the other hand, the rest of the 40% weightage has been awarded to work experience, academics and diversity factors. Last year, the overall weight attached to CAT score for the 1st level shortlisting was 78%.
The detailed break-up of IIM Lucknow admission shortlisting criteria for CAT 2017 candidates is given in the table below:
| Component | PGP | PGP – ABM | PGP-SM |
| --- | --- | --- | --- |
| Scaled CAT score (CS) | 60 | 60 | 60 |
| Class 12 marks (12M) | 10 | 10 | 10 |
| Graduation marks (GM) | 10 | 10 | 10 |
| Work experience (WE) | 10 | 0 | 10 |
| Diversity Factor: (DFa): Academic Disciplines AD) | 5 | 20* | 5 |
| Diversity Factor (DFb): Gender | 5 | 5* | 5 |
Some key points to keep in mind with regards to the IIM Lucknow's final admission policy for MBA programmes in 2018 are listed below:
• CAT 2017 score to weight: 60%
• Academic Profile of the candidate to weight: 20%
• Work Profile / Experience of the candidate to weight: 10%
• Academic Diversity of the candidate to weight: 5%
• Gender Diversity of the candidate to weight: 5%
How to check if you are shortlisted by IIM Lucknow?
If you have still not figured out whether you have made it to IIM Lucknow's admission shortlist, you can follow the below given steps to check it.
• Step 1: Visit IIM Lucknow's official website i.e. www.iiml.ac.in
• Step 2: Locate / Find the News & Announcements section
• Step 3: Click on the link for 'shortlist for WAT-PI Batch 2018-20'
• Step 4: Enter your CAT 2017 registration number and Email ID
• Step 5: Click on the Submit button.
• Step 6: Your shortlist status will be reflected on the computer screen
No Group Discussion Round
Along with announcing the list of shortlisted candidates for admission to PGP programmes, IIM Lucknow has also notified that the Group Discussion / GD round which was earlier part of the further screening process has been scrapped. This year, candidates won't have to appear for a GD round as part of the final stage of admission process. The 10 points which were awarded through the GD round have been moved to the PI / Personal Interview round in the 2018 admission policy.
Minimum Pass marks in Personal Interview Round
Just as the overall percentile cut-off and sectional percentile cut-off were part of the initial shortlisting criteria; the B-school has also notified that there would be minimum qualifying or pass marks in the Personal Interview round as well. According to the admission policy, candidate would have to score a minimum of 12 out of 40 marks in order to quality for admission to MBA PGP programmes this year. Candidates who fail to meet the minimum qualifying criteria won't be included in the final merit list for admission to IIM Lucknow.
If you found this article to be helpful, please share it among your friends and fellow MBA aspirants who might be looking forward to be shortlisted by IIM Lucknow. For more news and updates about CAT 2017 Result, IIM Cutoffs and MBA Admissions, please visit mba.jagranjosh.com.