Life at IIT Delhi: A Journey that Allows You to Stretch, Test and Push Your Limits
Life at IIT Delhi is whole new experience in itself, more like a breath of fresh air in your monotonous life before entering this institute.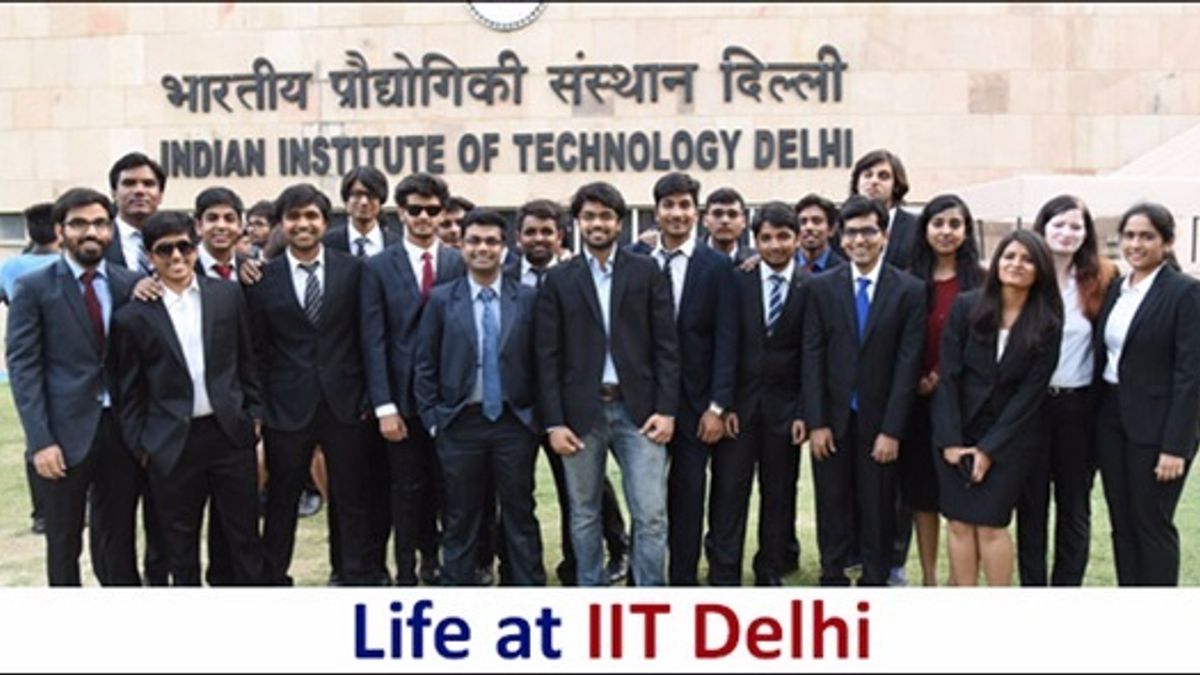 Life at IIT Delhi
Life at IIT Delhi - Indian Institute of Technology (IIT), Delhi is a name synonymous with the engineering and management field. IIT Delhi has a department dedicated to the management domain, known as the Department of Management Studies (DMS). The department currently offers full-time MBA, Executive MBA, Ph.D. and MDP programmes. According to the NIRF Management Ranking 2018, IIT Delhi is among the top 10 management schools in the country. No wonder, the institute is one of the top choices when it comes to management. It is known for its rigorous academic life, industry outreach and not to forget the campus life at IIT Delhi. Many with 'MBA from IIT' dreams in their eyes are curious to experience the life at IIT Delhi; many want to know how they are going to spend their precious years at the campus. The curiosity is never-ending.
For those curious to know what's in the bag, we have this article that will take you on a campus tour of life at IIT Delhi. Of course, not everything we mention here will be stone engraved, remember each one of you are going to experience differently.
IIT Delhi: Your Safety Blanket
Tucked away from the people-packed area, IIT Delhi campus is located in the lush green region of Hauz Khas. The best part of the campus life at IIT Delhi is its proximity to some renowned university and B-school such as Jawaharlal Nehru University and Fore School of Management. As you embrace and become a part of the campus life at IIT Delhi, you will realize you have landed in the land of opportunities where it is up to you to make the most of it. The campus, its people and the exhaustive lifestyle with almost no sleep will grow on you. You will be used to the grilling sessions, brainstorming discussions and the never-ending assignments/ projects saga. Through all this, you will also be lucky enough to form some of the most memorable friendships that you can talk about for ages. The initial months may be intimidating at first, but trust me once you get the campus life at IIT Delhi under control, you will look back and smile at the apprehensions you had initially.
Opportunity to Learn From Top Faculty and Eminent Alumni
The faculty is one of the main concerns when it comes to cherry picking the B-schools; of course, you would want to learn from the best of the best. Top-notch faculty members, a rich list of eminent alumni, Guest Faculty and International Faculty, IIT Delhi has it all. Being one of the highest ranking institutes in India, IIT Delhi offers a plethora of opportunities to interact and learn from professors involved in various fields of academics that not only widens your perspective but knowledge base as well. During your MBA stint at IIT Delhi, you will be lucky enough to learn from international faculty from universities like the University of Southern California, University of Texas, University of Pittsburgh, USA and Strayer University, USA.
On the alumni front, IIT Delhi boasts of some of the biggest name in the corporate world such as Tapan Sahoo, VP- Maruti Suzuki, Gautam Garg, Director- Pepsico International, Rajiv Thapar, Key Partner Director- Oracle India and Rajesh Raghuvanshi, VP- Citigroup to name a few.
Clubs & Committees to Keep You on Your Toes
What do you do when you are not attending classes or working on assignments or participating in management events? Though these are some rare scenarios as this is what your life at IIT Delhi is all about. If you still find the time post-academic activities, you will be an active part of the clubs and committees at the institute. IIT Delhi boasts of various clubs namely, Ad-Marque Marketing Club, Finatics- the Finance Club, Quiz Club, Resource Dimension HR Club and Strategica-the Strategy Club. The Institute is home to some of the biggest events in the country such as Parivartan- Annual Business Fest, Rendezvous- Annual Inter-College Cultural Festival, Building India Inc- Annual Business Summit and Conclaves to name a few. Through these extra-curricular activities, IIT Delhi ensures the growth and development of the entire identity of its students amidst the focus on pedagogy.
Hostel Life: Spoilt For Choices
Hostel life at IIT Delhi is whole new experience in itself, more like a breath of fresh air in your monotonous life before entering this institute. There is a major difference with life at home and life at IIT Delhi. Leaving behind your family, comfort, familiar faces and independent environment landing up at IIT Delhi is a sudden bump and initially you may feel homesick sometimes, but eventually, you will adapt to the atmosphere here and make new friends. The best part about the hostel life at IIT Delhi is the number of hostel options available on the campus. There are 11 hostels dedicated to boys and 2 hostels for girls. Each hostel has a unique name given to it since its establishment and each hostel has student from all years. Aravali, Himadri, Zanskar, Kailash, Kumaon, Udaigiri, Satpura, Nilgiri and Shivalik are some of the hostel names at the IIT campus.
For now, this is it. Get ready to kick-start your journey and explore the campus life at IIT Delhi.
Student Speak
To get an insider's take on the Life at IIT Delhi, Jagranjosh connected with Mayuresh Huchche - Department of Management Studies, IIT Delhi 2018-19 student at IIT Delhi. Here's what he has to say:
Jagran Josh: How is the campus life at IIT Delhi? What made you pick IIT Delhi over other B-schools, something that makes it stand out from others?
Mayuresh Huchche: Vishwakarma Bhavan, the place where we attend the classes in our first year, is surrounded by lush green trees giving a sense of tranquility when we arrive in the morning. At the end of the classes we head back to our hostels, which have students from other streams in science and technology ranging from PhDs to bachelors. Such a diverse crowd really stems enthusiasm among us to approach our studies and other activities. There are a plethora of other activities which continuously take place in DMS as well as the central IIT which we can avail to our liking. Hence, to call campus life as wonderful will really be an understatement because every moment spent in the campus and its surroundings makes us wanting for more.
It was this very environment which made me pick IIT Delhi over other B Schools. Apart from ranking in the top 10 institutes in the NIRF rankings, DMS IIT Delhi also offers many opportunities to follow whichever pursuit we want to and take it forward in the respective corporate world we choose to be a part of in the future.
Jagran Josh: How is the academic schedule at IIT Delhi? How do you start and end your day?
Mayuresh Huchche: The academic Schedule at IIT Delhi is not as rigorous as other B Schools and does leave a lot of room for us to pursue our interests. Our classes typically range from 8 AM in the morning to 6 PM in the evening; however we are engaged on an average 5 hours per day. The assignments given by respective faculty members are also not as much demanding however we too are subjected to deadlines which are sacrosanct.
We start our day by getting ready for classes; thereafter as per the daily timetable we attend our respective classes. After the end of the classes which is often around afternoon or in some cases evenings, we stay back and work with our respective groups for assignments or competitions. Also, students work with their respective committees and clubs for the various upcoming events. After this we head back to have our dinners and then again work on assignments allotted or committee work. If we are not assigned any of the above, we unwind ourselves by using the institute's facilities for Sports, seminars, workshops, musical instruments, debate societies, and many other activities.
Jagran Josh: There are various academic and activity clubs at IIT Delhi. Are you part of any such clubs? Share some of the activities and their experience.
Mayuresh Huchche: Yes, I am a member of Media and PR Cell of DMS, IIT Delhi. I am in charge of handling the conclaves, sharing information regarding the upcoming competitions across B Schools and also responsible for handling the competitions floated by our B School. Apart from these Media Cell engages in posting content on various social media handles regarding the activities which take place in DMS be it be related to extracurricular activities or some industrial interactions. Media Cell is also responsible for giving the relevant information to Ranking survey or authorities so as to ensure that we are visible among the prospective B school students. We also are responsible for the annual magazine which covers all the activities conducted by various clubs and committees over the years and also the official placement reports along with the director's address.
Working in Media Cell has been one great joy ride for me as we are able to closely interact with all the events taking place in the DMS and have the unique honor of showcasing these lifetime memories of the students to the outside world.
Jagran Josh: Tell us something about IIT Delhi's annual fests, cultural fests and various competitions.
Mayuresh Huchche: DMS, IIT Delhi organizes festivals throughout the year with respect to various domains. We organize conclaves for Finance, Marketing, HR, Operations, Strategy, Social Sector and Alumni wherein we invite the industry experts and alumni in the respective domains to share their valuable insights on the new trends and activities going on in the same. Apart from these we organize "PARIVARTAN", DMS's annual cultural festival wherein we invite other B School to display their talents in various competitions ranging from Arts, Sports domain to management field related competitions. It's a fun filled event wherein both the senior and junior batches engage in tussling competitions across all domains with each other and also with students from other B Schools.
Apart from these we also organize Building India Inc. and "Town hall" where in we call big industry experts to discuss on the given topics. These events are exceptional because these are organized for the benefit of the entire IIT Delhi fraternity. Hence, these are the events which are a hallmark for DMS in IIT Delhi.
Jagran Josh: How do you spend your time when not studying?
Mayuresh Huchche: When I am not studying I utilize that time to take part in various competitions floated for our campus. These competitions often require groups to be formed, which requires us to collaborate thus resulting in good quality of peer to peer learning. Apart from this, I also work on enhancing individual skill sets in the areas which are of interest to me like Data Analytics, Supply chain, Machine Learning, Artificial Intelligence etc. I engage with various courses offered by educational websites and also various workshops organized by the Central IIT for our benefit to enhance my knowledge in these domains.
Apart from this, I avail the large sports infrastructure which IIT Delhi offers me so that I can pursue my hobby of playing basketball and table tennis thus keeping my body and my mind in a healthy state. And once a while, I, along with my friends, explore the beautiful delicacies and scenic monuments which the National Capital has to offer.
Jagran Josh: Tell us something about the hostel life? How do you relax after a day full of classes and activities?
Mayuresh Huchche: After coming back to hostel after completion of the classes, I catch up on the latest happenings on the social media. Interaction with my roommate and wingies is a sure shot stress buster and best relaxing therapy. Because we all pursue different domains in IIT, we get to understand about various other domains and the latest happenings. Also, debates and discussions about some current hot topic is a given and something which I look forward to at the end of the day. Also, I catch up on the latest episodes of my favorite TV series.
But the best part of my Hostel Life is the food. Be it be our Hostel Mess wherein every delicacy offered is great in quality right from breakfast to dinner, or the Night mess which makes delicious delicacies till 3 AM in the night. Hence, hostel time is something which only makes us eager to face the next day with the same enthusiasm.
Jagran Josh: Please share a message for future IIT Delhi aspirants. How they should prepare themselves before joining the institute and what they can expect?
Mayuresh Huchche: I would say that focus on acquiring the required CAT percentile, as from our batch the total average percentile has increased thus raising the bar to get into this prestigious B School. Once that is achieved, one needs to just be themselves while preparing for the interview. Of course one needs to work on his or her CV and be well versed with it while giving the interview, but the important thing to remember is that this interview is not something one can manipulate and being as honest will fetch one brownie points because it is the faculty which engages with you in the interview. Thus they are experienced and have seen many prospective students and the only thing they value is what you bring to the table and not what you know. Hence, just be yourself and once you are through, you will realize that it was the best policy for you as you will find yourself in a place where your individuality is respected a lot.
Read more such articles on www.jagranjosh.com
Also read: