Life at MICA: A Place that let's you live your dream
Life at MICA can be whatever you make of it; a place where your dreams come true, a place where it has something for everyone. Allow us to take you on this ride and explore the campus life at MICA.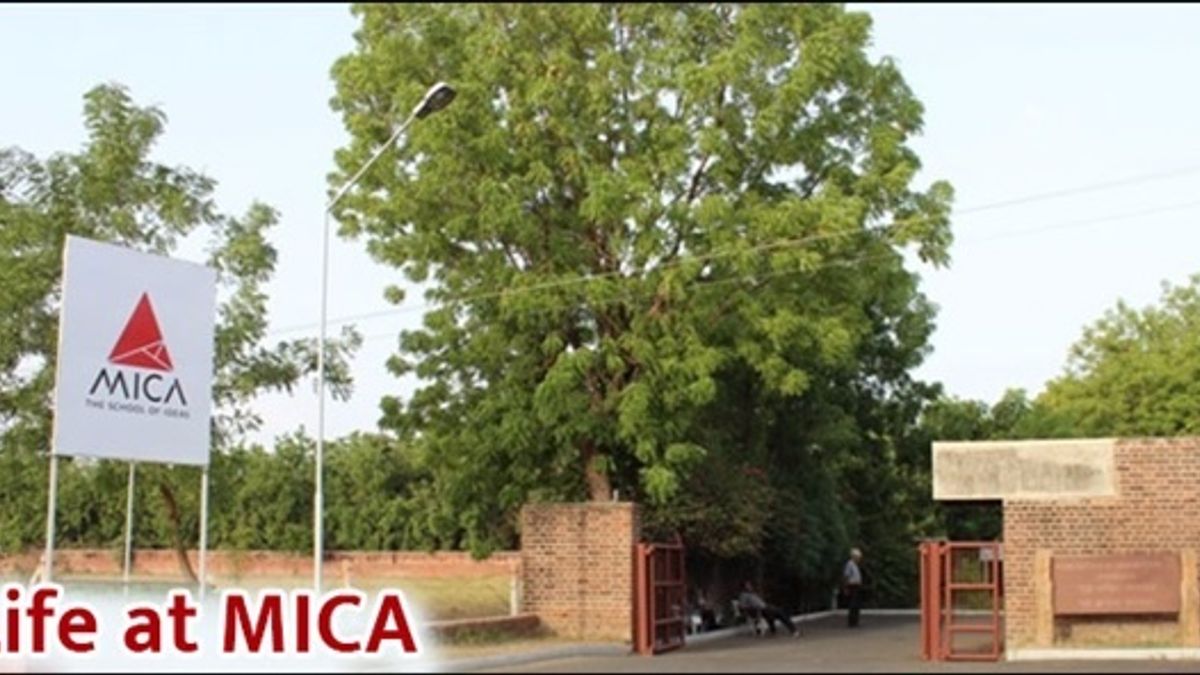 Life at MICA
Life at MICA - Formerly known as Mudra Institute of Communications, Ahmedabad, MICA was established in 1991. It is one of the premier colleges in India dedicated to creating leadership in Communication and Strategic Marketing. MICA is popular for its wide range of programmes including Post Graduate Diploma in Management Communications, Fellow Programme in Management Communications and Crafting Creative Communication among others. The B-school is also known for its wide range of online programmes in various specializations such as Advertising and Public Relations, Market Research and Data Analytics, Digital Marketing and Business Management to name a few. Apart from the selection of programmes, campus life at MICA is another major reason for its popularity among marketing aspirants.
Life at MICA can be whatever you make of it; a place where your dreams come true, a place where it has something for everyone. Allow us to take you on this ride and explore the campus life at MICA.
The Build-up: Critical Moment
This is going to be your first few months at the MICA campus. It is going to be critical in a few ways: one you will realize your life at MICA is all about work and that you will survive on minimum possible sleep. Second of all, two months into your course and you will be sitting for the summer placement. How insane is that? Just when you think you were getting a hang of the campus life at MICA, you will be overthrown by the summer placement preparation and grabbing a decent opportunity. When you get placed for the summer placement, make sure you utilise the few months before the internship to understand the marketing concepts and apply whenever and wherever you can. It is likely to benefit you if not harm. These initial months with transform you as a person and future manager.
Also Read: Life at IIFT
Chhota Canteen: A place to unwind at the end of the day
If the term 'spoilt for choice' can be personified, it would be personalized into the life at MICA. The campus life at MICA can be gruelling for most of you but the B-school assures its students find a way to cool off after a hectic day. Committees, clubs and KEIC library are some of the major avenues where you will find majority students spending their leftover time post-class. Chhota Canteen is another famous place to unwind at the end of the day at MICA. As you embrace the campus life at MICA, you will realize the Chhota is a go-to place for maybe a cup of hot chocolate, a bowl of 'tadke wali Maggie' at 4 am or for a book reading session on the 'Khatiya' that gives it a rustic feel.
The reason why people are drawn towards Chhota is the informal and desi vibe that runs through the place. Ask anyone who knows about MICA and they will bring of Chhota into the conversation and then you will realize the tales were true.
MICA lives and breathes Marketing
If you have always been a marketing enthusiast; MICA is the place to be. It is one of the hand-picked B-schools that offer an in-depth insight into the marketing field. What makes MICA a great option for marketing aspirants is its ability to strike a perfect balance between creativity and strategy. It is rare to find a B-school that offers different specializations such as Marketing Analytics, Digital Marketing & Communication and Marketing and Brand Management among others. As you spend your initial months at the MICA campus, you will see everyone at the campus using marketing principles, be it the canteen guy or the laundry guy. Marketing is deep-rooted in every person present at the MICA campus. Concepts like Market Segmentation, Branding, Consumer Behaviour, Pricing and Market Penetration can be understood not only in classrooms but also from the people who make MICA what it is.
International Collaborations
On the academic front, MICA Ahmedabad is at par with some of the best B-schools in the country. During your marketing or communication stint at MICA, you will be exposed to international and national collaboration at the institute. MICA is affiliated to Fullbright and is an accredited partner of the Chartered Institute of Marketing, UK. The B-school offers international student exchange opportunities to its students who can experience the teaching following in international institutes. MICA has international tie-ups with some of the most reputed institutes in the world such as Nanyang Technological University, Queensland University of Technology, University of Southern Denmark, School of Communications Arts, Bangkok University, Thailand, University of New Mexico, USA, ESCEM,France Business School, France, Bonn-Rhein-Sieg University of Applied Sciences, Sankt Augustine, Germany and University of Tampere, Finland to name a few.
Student Speak
To get an insider's take on the Life at MICA, Jagranjosh connected with Riya Sawant - a Programme- PGDM (C) 2018-19 student at MICA Ahmedabad. Here's what she has to say:
Listed below is a set of questions for Campus Life at MICA:
Jagran Josh: How is the campus life at MICA? What made you pick MICA over other B-schools, something that makes it stand out from others?
Riya Sawant: The campus life at MICA is truly spectacular. It is a perfect balance between curricular and extra-curricular activities. Every day at MICA we face new and interesting challenges, imbibe new life lessons and experience varied situations.
The reason I picked MICA is because of the fact that it emphasis on ideas and on the importance of the use of the left and right side of the human brain. This concept is truly unique to MICA and differentiates MICA from every B-School in the country.
Jagran Josh: How are the academic schedule at MICA? How do you start and end your day?
Riya Sawant: The academic schedule at MICA is very well thought of and curated in a way to ensure that students develop logical and analytical thinking with a creative touch to it. There is a balance in the number of lectures a day and the type of lectures in a day which makes sure that students are never over-burdened. My day starts with managing my time in order to eat breakfast and reach to class on time. Generally the day ends with all peers sitting at Chota Canteen eating snacks and listening to live music played by our fellow students.
Jagran Josh: There are various academic and activity clubs at MICA. Are you part of any such clubs? Share some of the activities and their experience.
Riya Sawant: There are several clubs at MICA and I am a part of CulComm the cultural committee of MICA. The motto of the CulComm committee is not just to celebrate festivals, but is to also ensure that MICA feels like home to the 400 students staying on campus. On 12th and 13th of October the CulComm committee celebrates navratri through its flagship event called as 'Oorja' The enthusiasm and unity one experiences on that night is said to be an incredible sight.
Jagran Josh: Tell us something about MICA's annual fests, cultural fests and various competitions.
Riya Sawant: MICA believes in a holistic growth and emphasises on the celebration of life through fests. Every committee has its own fest and thus there are several fests happening year round. MICA being a prestigious B-school does focus on competitions. Competitions are a very important part of the student development and MICANS learn to ace the art of balancing their time between fests, competition and academia.
Jagran Josh: How do you spend your time when not studying?
Riya Sawant: Most eveningsI spend my time playing some sport - either basketball, football or badminton. I tend to hang out with friends, do committee work and have a great deal of fun with our pets Frodo and Pfaff.
Jagran Josh: Tell us something about the hostel life? How do you relax after a day full of classes and activities?
Riya Sawant: We have three hostels for the first years. I stay in Silver oak hostel which is a co-ed hostel. This hostel has become a very supportive community. The bond between room-mates and neighbours is very special. If someone is ill, the entire community dives in to help. On a few nights some talented MICANS play the guitar, sing, dance and even do stand-up comedy. Thisa great stress buster and along with sports forms my relaxation mantra.
Jagran Josh: Please share a message for future MICA aspirants. How they should prepare themselves before joining the institute and what they can expect?
Riya Sawant: My message to all the MICA aspirants would be to stand strong, believe that they can do it and work hard for their CAT and MICAT. I would like to tell them that MICA truly lives up to its tagline, 'The school of ideas' and that this B-school is truly unique. You can prepare for your exams and interviews but nothing can prepare you for the experience that awaits you once you join this institution. It will challenge your though process, break several mental barriers and will completely change your perspective of certain aspects in life. No tip I give you will help you prepare for the experience coming your way. All I can say is that the perseverance will be worth it because MICA is truly more than just a B-school- it's a life altering journey.
This is it, for now, the rest you can experience it for yourself as you become part of the campus life at MICA.
To read more such articles, visit www.jagranjosh.com
Also read: