LUPUS CAN BE CONTROLLED WITH PROPER MEDICATION AND LIFESTYLE CHANGES: EXPERT
Bhubaneswar, May 10: Few people have much idea about 'Lupus'.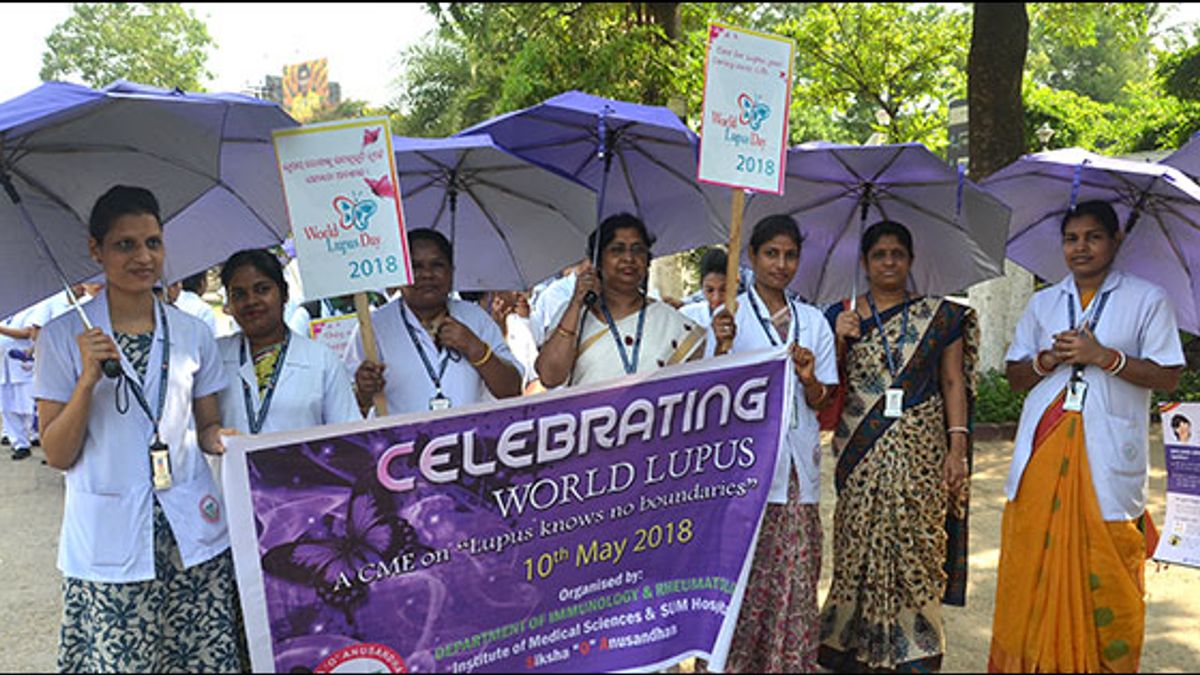 LUPUS CAN BE CONTROLLED
Bhubaneswar, May 10: Few people have much idea about 'Lupus'. But the medical fraternity is slowly warming up to a disease which generally affects women of child bearing age.
The auto-immune disease, which mimics the symptoms of many other ailments, confuses both the physician and the patient before being diagnosed properly, said Dr. Jyoti Ranjan Parida, Head of the Immunology and Rheumatology department at IMS and SUM Hospital, the faculty of medicine of SOA (Deemed to be University) here.
"Our body's immune system is an amazing network of cells and it protects us from our environment and damage to own cells. This system, however, often goes awry and wild and attacks its own body tissues," Dr. Parida said while addressing a program organized to mark the World Lupus Day at IMS and SUM Hospital on Thursday.
"It happens because the body's immune system mistakenly identifies its own body tissues as foreign and attacks the same," he said.
The program was also addressed by Prof. Gangadhar Sahoo, Dean of IMS, Prof. B.N.Panda, Consultant, Dr. Pushparaj Samantasinhar, Medical Superintendent of SUM Hospital and Dr. Pradipta Sekhar Patro, Associate Professor in the Department of Immunology and Rheumatology.
SUM Hospital runs a full-fledged department of Immunology and Rheumatology with highly qualified doctors.
Earlier in the morning, a rally was taken out to create awareness about Lupus on the busy Janpath in the city with students carrying umbrellas, an indicator of the need to protect Lupus victims from sunrays.
Dr. Parida said one in 10,000 people get this disease with nine of ten victims being women in the age group of 15 to 45. "It's a disease with a thousand faces which is very difficult to diagnose unless one specifically looks for it. No single test or symptom can diagnose Lupus," he said.
Lupus is usually suspected when the patient shows two or more symptoms. For example, a person having joint pain, renal failure and decreased level of hemoglobin alongside fever could be suspected to be suffering from Lupus, he informed.
The warning signs generally included reddish rash, flat or raised across the cheek bones-- which is also known as 'butterfly rash' due to its shape, rashes over areas exposed to sun, painless oral or nasopharyngeal ulceration or excessive hair loss could be taken as other features.
Not a contagious disease, even through sexual contact, the intensity of Lupus is determined through the Anti Nuclear Antibodies (ANA) test. "Once the ANA test is proved positive, other tests are to be followed to confirm Lupus," he said.
"Young girls of marriageable age can get Lupus, but it doesn't mean that they couldn't marry. An affected girl should marry a person who understands the disease which cannot be cured. But Lupus can be controlled with proper medication and lifestyle changes," he said.
Siksha 'O' Anusandhan (SOA) Deemed to be University's achievements in a nutshell
The ranking survey conducted by the National Institutional Ranking Framework (NIRF), Ministry of HRD, in April 2018, has ranked Siksha 'O' Anusandhan is the Youngest among top 25 in University category in India. It is the Leading Deemed University in the East and 3rd Best Multidisciplinary Deemed University in India. The National Assessment and Accreditation Council (NAAC), has also accredited SOA with 'A' grade, and has termed this deemed to be university as socially inclusive, which is a big achievement in itself.
SOA is proud to be associated with 9 degree granting institutes, which has a whopping strength of 10,000 students. The institute leaves no stone unturned in providing quality education in the field of medicine, engineering & technology, dental sciences, management sciences, pharmaceutical sciences, law, nursing, hospitality, tourism management and agriculture. SOA keeps on updating its curriculum from time to time as per the latest industry trends and believes in providing education to students with a holistic approach.
The department of Institute of Technical Education and Research (ITER), faculty of engineering and technology of SOA, has now become the 4th institute in the country to get 3 of its programs accredited by the reputed Accreditation Board for Engineering and Technology (ABET), USA. This shows the commitment and dedication of Siksha 'O' Anusandhan's vision to work towards the skill development of students and betterment of the society.
SALIENT FEATURES
125 Acres campus
4,47,395 sqm. Built-up Area
12 Research Centres
29 Research Labs
136 e-Enabled Classrooms
5 Model Auditoriums
10 Student Activity Centres
1026 Mbps Multiple ISP Connectivity
Fully Wi-Fi Campus
32 National Collaborations
50 International Collaborations
High-end Multi-disciplinary Research in Emerging Areas
Fully Automated Libraries with Ample Print Learning Resources
Adequate e-Resources with 21 e-Databases
Fellowship for Doctoral & Post-Doctoral Programmes
Scholarship for Meritorious Students
This shows the capability and willingness of Siksha 'O' Anusandhan to provide quality education to students and conduct ground-breaking research work in various fields. SOA has been expanding and new disciplines are on the anvil. But the principal objective remains to ensure that students, while training to be professionals, value their own lives as that of others.