These Answers to Job Interview Questions will win you the dream job
Here, we are enlisting some answers of the Job interview Questions which can help you to win your dream job.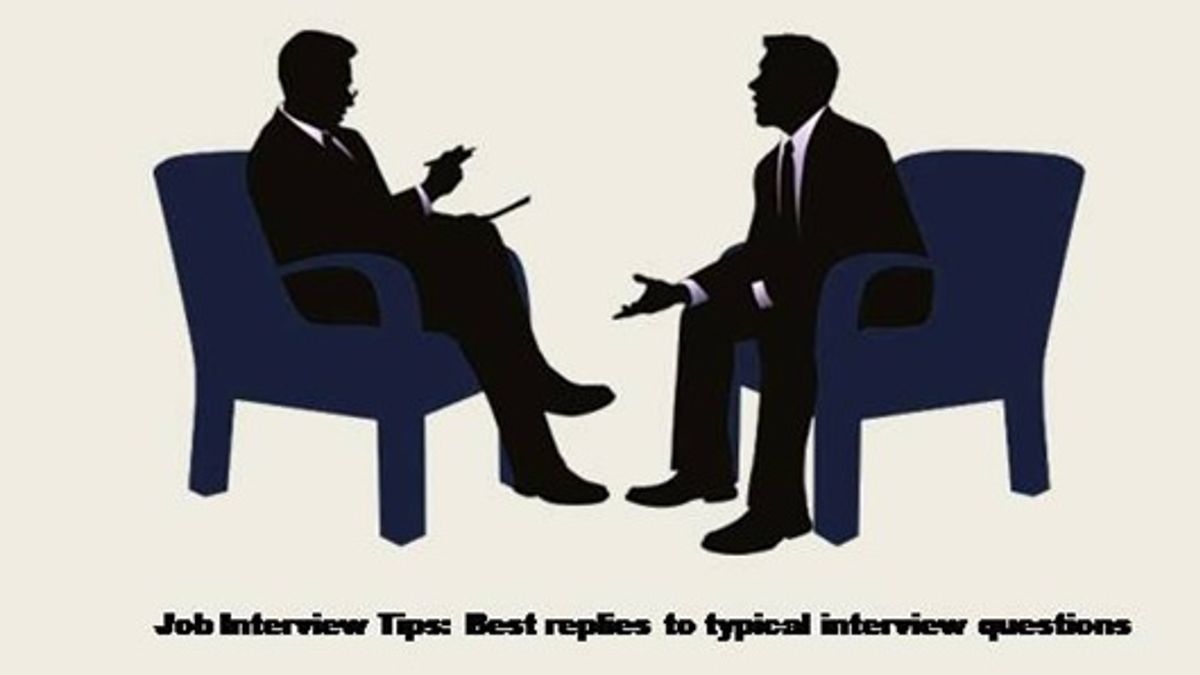 Job Interview Tips: Best replies to typical interview questions
It is normal for the pulse of your heart to increase rapidly at the time of job interview. Don't worry! It isn't just you, but generally every job seeker goes though this painful situation.
Job Interview is the most important front that the job seekers never want to fail at. And the fear of failure keeps them upset before every job interview they attend.
In order to ensure success, the job seekers memorise the answers of the popular question which they think might be asked in their job interview. But, they often fail to win their dream jobs when they are asked some particular questions which they don't have thought before.
A job interview is all about impressing the interviewer. You can't get the jobs if you don't know how to impress the interviewers.
The interviewer expects an answer from the candidate which he thinks is correct, when he asks questions to candidates in a job interview.
Well, if you are also afraid of failure in the interview, then you can do away with your fear with the help of some well-thought out answers.
In this article, we have provided you some job winning answers that can help you to win your dream job. Take a look!
Tell me about yourself
The interviews generally start with this question which is commonly answered with lines like 'I have interest in this kind of work from my childhood' by the job seekers. This kind of answers can bore the interviewer or he might lose interest. When an interviewer asks you this question, he wants to know how you got interested in this kind of work. So, try to give an example that can show your passion for the job you have applied for. For it, you can mention any incident that can relate your personal experience to your career choice move. Don't forget, it should be natural or real.
Why are leaving your current company?
Don't try to blame others for the decisions that is completely your own. Mostly, the job seekers start to blame their bosses or employers when they are asked these kinds of questions in job interviews. It can put a dent on your overall personality. So, don't criticise your current employer or boss when you're asked such a question in job interview. You may begin with statements on career advancement, passion to work this company, and financial growth as reasons for leaving your current job, when you are asked this question. It will build a positive environment in job interviews that can help you to get that job.
Tell me your weaknesses?
By asking this question, the interviewers want to know how you tackle your weaknesses. They also want to know if any of your weaknesses can obstruct you to fulfil your job responsibility in case you're hired. Don't include fundamental flaws in your personality in your answers to reply this question. Instead, include some significant weaknesses but not enough to build negative opinion about you to reply this kind of questions in your job interview. Tell your weaknesses and begin to explain what initiatives you have taken to overcome them. You can also choose a weakness which isn't directly relevant to the description of the job you're interviewing for.
What can you do for us that others can't?
This is the most important question that is aimed to know your strength in a job interview. Actually, this kind of question is an extension to the questions like "What is your strength." If your interviewer has already asked you about your strengths, then asking this question means your interviewer is expecting more specific answers from you. If you fail to reply this question, you might lose your dream job. So, include some skills that are more relevant to the job description. Explain how you're best at doing the work given in job description while stating what you can do for them that could benefit in achieving the organizational goals.
Why we should hire you
The interviewer wants to know how you're best for the job or position when he/she asks you this question. Mostly, the job seekers fail make pitch for the job when they reply this kind of questions in their job interviews, because they fail to highlight those skills that are required. So, think about your skills that can make a pitch for job. State those skills that other candidates don't have while explaining how you're best for the position. It can make a pitch for your hiring.
Finally
Though, figuring out the most suitable answers to question that can impress a job interviewer is totally a brainstorming task, yet there are some ways to think about it. In this article, we have tried to explain what kind of answers can help you to impress your interviewer.
If you feel we have missed out on any other important thing that can help the professionals to win their dream job, please share them in the comment selection below. To help your family members, friends, and relatives get their dream jobs, you can also share this article with them. To continue reading such articles, please subscribe to our newsletter. We would gladly send interesting articles related to job search and Interview preparation directly to your inbox.