What is your strength? Here's how to reply this question in a job interview!
In a job interview, the questions like 'what is your strength' is actually an opportunity for those who can handle and answer it. Here, know how should do it if you face it.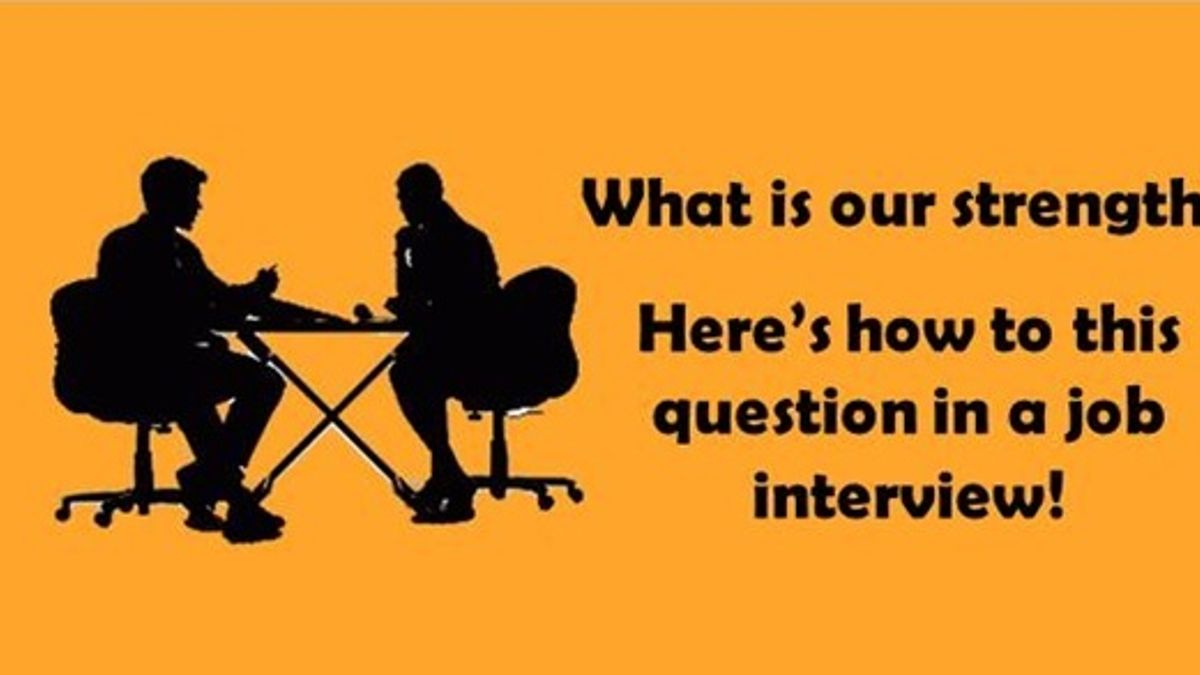 What is our strength?
In a job interviews, the question 'what is your strength' is among one of most commonly and frequently asked questions. No doubt if you have begun formulating your answers in best possible way with just listening and reading this question. But, your answers may or may not suit the preferences and quality check parameters of the interviewer.
To know what strength can make the grade in job interview and persuade your interviewer to select for next level of selection process, keep the reading continue as here we have enlisted some important and result gaining replies.
Already enlist your strength
You begin thinking and finding out your strengths as soon as the interviewer puts forth this question to you. You may extract your answers from work experiences, your achievements, talents, skills you're possessing, and others and get the same back to your interviewer. What if your interviewer doesn't get your answer within standard timeline? He may or may not include your answers into your performance in job interview. But, on your part, you never want to leave any chance that can lead your rejection. So, to be sure, try to enlist your strengths before entering interviewer's room.
Include relevant strength
Having strength of creating the characters for novels and stories is of no use if the job you are interviewing for doesn't need it. In other words, your strengths which are relevant to the job you're interviewing for would be counted and considered by your interviewer. So, find out your professional strengths and try to relate it with the job. In case you fail to find out your professional strength, find out what is your personal strength like honesty, cooperative behaviour, hard labourer, and some others. To help you in finding out what can be your strength, we are enlisting some of Professional and personal strengths.
| | |
| --- | --- |
| Professional Strengths | Personal Strengths |
| Quick Learner | Flexibility |
| Management skills | Determination |
| Ready to face new challenges | Reliable |
| Able to meet deadlines | Honesty |
| Team Player | Hard Work |
| Creative | Positive Approach |
| Able to work independently | Enthusiasm |
| Organized | Discipline |
| Clear attention to details | Patience |
| Leadership skills | Respectfulness |
| | Dedication |
| | Honesty |
Be accurate
Before replying your interviewer, be sure of what strengths you are able explain. It would create an embarrassing situation for both of you if you include so many strengths in your answers and fail to explain and justify, even a single one of them. Find out your five strengths, including the personal and professional strengths. Identify what may be the most relevant to the job you have applied for and begin explaining all them, with good use of the examples.
Put examples
Find out the example where you achieved the targets or got succeeded with your strengths. After this, try to convey your success story, highlighting your strengths. Never say that you're workaholic. For instance, you accomplished the project you were asked to complete in short time. Try to convey how you completed that project, highlighting you strengths with which you became able to do so.
Be professional and confident
Getting too much humble might cost you a lot because your interviewer isn't looking for what you demonstrate to get the job. Don't behave this way. Be confident while discussing or explaining your strength. In common parlance, the ultimate goal of a candidate in job interview is understood to win over the interviewer's favour. And most of the candidate gets ready to compromise their self respect. This happens mostly with the introvert candidate who fail to represent themselves as strongly as the others do. They most of times face rejection due to this previously known cause because interviewers always want to hire a confident professional.
Frame, structure, and convey good reply
Before begin replying to the question, frame, structure and communicate your answer to your Interviewer in best possible way, using the persuasive words. Don't address this question as a usual question. With asking this question, the interviewer tends to see how you represent and strengthen your candidacy. Take it as an opportunity and put all your efforts, knowledge in your reply.
Conclusion
In job interviews, the interviewers always tend to see how a candidate represents and strengthens his candidacy. The more strongly a candidate represents himself, the more effectively he/she persuades the interviewer to select him/her for next level of selection process. To select one of the strong candidates, the interviewer gives opportunity to candidate for complete representation by asking 'what is your strength'. They actually wants to know "what could you do" for the organisation. Many ways to answer it are there but, to help job seekers, we have provided the most suitable ways to answer it.