Canada election 2019 results: Justin Trudeau's liberal party wins maximum seats, loses majority
Canada election 2019 results: Justin Trudeau's Liberals have won 157 out of the total 338 seats in Canada, falling short of the majority.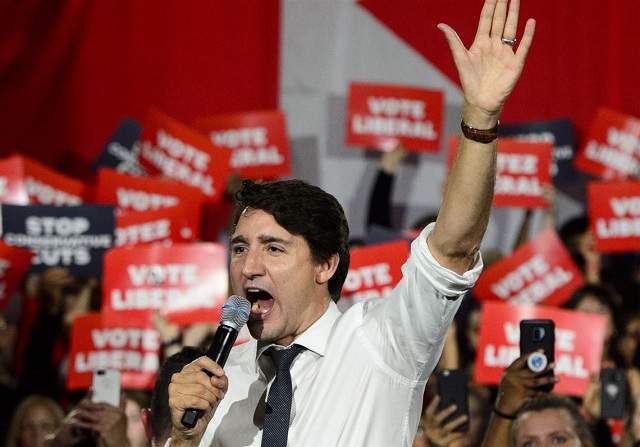 Canada Elections 2019
Canada election 2019 results: Justin Trudeau's Liberal party has retained power in the Canadian general election 2019 with a narrow margin. The Liberal Party won 157 out of the total 338 seats, falling short of the required majority.
The vote share of the Liberal Party was 33%, while its main opposition- the Conservative party had a higher vote share of 34.4%. However, the Conservatives failed to get the desired number of seats and had to settle for 121.
Justin Trudeau's Liberals will now need the support of other smaller parties to get to the majority number of 170. The NDP leader Jagmeet Singh is likely to play the role of kingmaker, as his party has won 24 seats, down from their previous 44.
Also read: Trump's letter to Erdogan: Turkey agrees to Syria Ceasefire
Canada Election Results 2019
| | | |
| --- | --- | --- |
| Party | Seats | Vote Share (%) |
| Liberal Party | 157 | 33 |
| Conservative Party | 121 | 34.4 |
| Bloc Quebecois | 32 | 7.7 |
| New Democratic Party | 24 | 15.9 |
| Green | 3 | 6.5 |
Following the results, Justin Trudeau tweeted to thank all the voters for putting their trust and faith in his party. He also promised to work hard for all Canadians, regardless of who they had voted for.
US President Donald Trump was one of the first world leaders to congratulate Justin Trudeau on his win, despite their strained ties in the past. Trump congratulated Trudeau for the hard-fought victory, saying that "Canada is well served."
Former US President Barack Obama, who had supported Justin Trudeau during his campaign running up to the elections, also praised Trudeau and his leadership through a tweet saying that the world needs his progressive leadership now.
Indian PM Narendra Modi also tweeted to congratulate Justin Trudeau on his win. The Prime Minister stated that he looked forward to working together to further strengthen bilateral relations between India and Canada.
Canada Elections: Key Facts
• The Canadian Elections 2019 saw an extremely close contest between Justin Trudeau's Liberal party and Andrew Scheer's Conservative Party.
• While Justin Trudeau's Liberal party has won the maximum number of seats in the Canadian parliament, they have lost their majority and will need to form an alliance or coalition with one or more parties to form the government.
• Further, despite his victory, Justin Trudeau's image has been tarnished from what it was when he won his first election in 2015. The major reason behind the same has been the SNC-Lavalin scandal, his blackface makeup blowup and failure in living up to his promises that he made when he was elected for the first time.
• NDP leader Jagmeet Singh, the first Sikh leader of a major political party in Canada, is expected to play the role of kingmaker. The NDP has won 24 seats.
• The biggest gainer in the Canadian elections 2019 was the leader of the separatist Bloc Québécois, Yves-François Blanchet, who managed to almost triple the party's seat count this year in comparison to the 2015 election results.
What went wrong for Justin Trudeau?
Justin Trudeau, known to be one of the last remaining progressive leaders in a major democracy, registered a landslide win in the 2015 Canadian elections.
Trudeau positioned himself as a feminist, supporter of the LGBTQ community and also the Syrian refugees by welcoming them at a time when most other nations were closing their doors on them.
Trudeau also made a revolutionary decision of legalizing cannabis. His initial promises of gender equality were backed by his move of naming women for half of the ministerial positions.
Despite being one of the most popular Canadian leaders when he was first elected, his approval rating fell sharply in the weeks running up to the 2019 elections and now he has lost his majority standing.
Trudeau's popularity and image is set to have been weakened by a scandal involving a Canadian company SNC-Lavalin, in which Trudeau is reported to have pressurized the then-attorney general Jody Wilson-Raybould to drop the corruption charges against the company saying that too many jobs would be lost if the company was convicted. Trudeau's action was ruled as breaking conflict of interest laws.
Further, Trudeau's move of replacing Jody Wilson-Raybould who was Canada's first Indigenous justice minister with a white candidate tarnished his image as a feminist. Raybould's ouster led another woman minister to resign in solidarity.
The indigenous community in Canada also criticized Trudeau for failing to live up to his progressive ideals in addressing the ongoing issues.
Trudeau also faced a heavy backlash for failing to balance between the environment and economy by bringing in a national carbon tax and at the same time paying billions to give a go-ahead to a stalled pipeline project.
Also read: UNGA 2019: What is UNGA? Everything you need to know!
Also read: Pakistan in FATF Grey List till February 2020: Explained