Current Affairs in Short: 01 November 2019
Shiva Thapa (63 kg) and Pooja Rani (75 kg) won gold medals in the Olympic test event.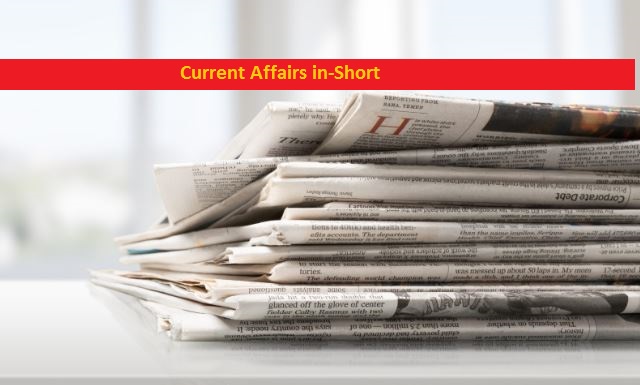 current affairs inshort
Shiva Thapa, Pooja Rani bags gold at Olympic Test Event
• Shiva Thapa (63 kg) and Pooja Rani (75 kg) won gold medals in the Olympic test event for boxing. Ashish (69 kg) had to settle for the silver medal with a loss in the final.
• Shiva Thapa defeated Kazakhstan's national champion and Asian bronze medalist Sanatali Tolatayev (5-0) in a one-sided match.
• Pooja Rani won the gold by defeating Kaitlyn Parker of Australia. She had also won a silver medal in the Asian Championship this year.
ISRO to set up Space Technology Cell in Delhi
• Indian Space Research Organisation (ISRO) in collaboration with IIT Delhi going to set up a space technology cell in New Delhi.
• Earlier, Space Technology Cells (STCs) have been set up at IIT Kanpur, IIT Roorkee, IIT Kharagpur, IISc Bangalore.
• It will also help the institution in various research areas like Artificial Intelligence, smart manufacturing, textile and nanotechnology.
Five lakh govt vehicles to become e-vehicles
• Environment and Climate Change Minister, Prakash Javdekar said that about 5 lakh government vehicles on conventional fuel will be changed into eco-friendly e-vehicles.
• These e-vehicles will be eco-friendly and also cost-effective. These vehicles will also help to save conventional fuel like petrol and diesel.
• As per the announcement, this action will be done in a phased manner but the government will ensure complete conversion of government vehicles.
Also Read | Current Affairs in Short: 31 October 2019
Haryana Day observed
• Haryana state has turned 53 years old today. On this occasion, Prime Minister Narendra Modi tweeted and congratulated the people of Haryana.
• Haryana was formed on 1 November 1966. It was formed as a new state from East Punjab on linguistic basis.
• The National Capital Delhi is surrounded by Haryana on three sides and consequently, the southern region of Haryana is included in the National Capital Region for the purpose of planned development.
Spain to host COP25 Summit
• Spain has offered to host COP-25 UN Climate Change Summit as it was called off by Chile due to heaving anti-government protests.
• Spain is all set to hold general elections on November 10 and schedule dates of COP25 are December 2-13.
• Earlier, Sebastian Pinera, Chile's President, said that Spanish PM Pedro Sanchez had made a generous offer to host COP-25 summit in Madrid.
Also Read | West Bengal puts complete ban on manufacture, storage, sale of Gutka, Pan Masala
Also Read | Twitter to ban all political advertisements, Facebook rules out any ban