Current Affairs in Short: 05 October 2019
Section 144 has been imposed in Aarey colony where people are protesting against cutting of trees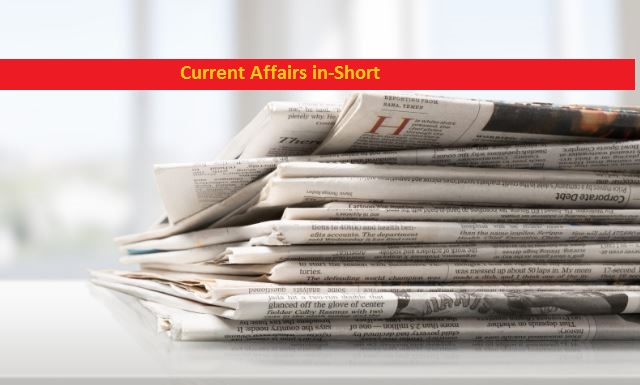 current affairs in-short
Aarey Forest: Article 144 imposed
• Section 144 has been imposed in Aarey colony where people are protesting against cutting of trees.
• Bombay Municipal Corporation has approved cutting of 2700 trees to construct a metro shed at Aarey. A heavy protest was registered at late night when BMC workers reached to chop trees.
• According to reports, more than 300 people reached there and broke the barricading of the Mumbai Metro Rail Corporation and saved trees from being cut. It is alleged that the police lathi-charged the protesters.
Rohit Sharma breaks several records
• Rohit Sharma has become the first player to score a century in both innings of a debut match, scoring 100 off 133 balls against South Africa in the second innings of the Visakhapatnam Test.
• Rohit's innings is his seventh consecutive half-century in Test cricket. Rohit has become the first player to consistently score the highest 50+ in Test cricket for India.
• Rohit Sharma also broke the record of Navjot Singh Sidhu with 8 sixes in one test match. Now, he has become the only opener with the most number of sixes in a test match.
Elephant Endotheliotropic Herpes Viruses in Odisha
• Elephant Endotheliotropic Herpes Viruses (EEHV) is a dangerous virus for young elephants between the age of 1 to 12. First of all four young elephants were died in Nandan Kanan Zoo.
• It causes massive internal bleeding and symptoms like lack of appetite, nasal discharge and swollen glands.
• Central Zoo Authority will set up a national committee of scientists from Kerala, Guwahati and Nandan Kanan to develop protocols for the country lest an EEHV outbreak occurs elsewhere in the future.
Also Read | Ravindra Jadeja second fastest Indian to take 200 Test wickets
Rajnath Singh approves monetary assistance for Battle Casualties
• Defence Minister Rajnath Singh approved enhancement of monetary assistance to Next of Kin (NOK) of all categories of Battle Casualty (BC) from Rs 2 lakh to Rs 8 lakh.
• As per the new rules, this amount will be given under the Army Battle Casualties Welfare Fund (ABCWF).
• Army Battle Casualties Welfare Fund was instituted in July 2017 and was implemented retrospectively with effect from April 2016.
Mizoram to get gauge railway line by 2021
• Home Minister Amit Shah inaugurated North East handloom and handicraft exhibition in Aizawl. He said that Mizoram will have broad gauge railway line to Aizawl by 2021.
• Amit Shah also informed the people about Pradhan Mantri Ujjwala Yojana. He said 23,000 people in Mizoram have been given LPG connection.
• Talking about several other projects, Home Minister said, the project of Inland water started with Myanmar and land border agreement with Myanmar has also been done.
Also Read | RBI Monetary Policy Highlights in 10 Points: cuts Repo rate, lowers GDP forecast
Also Read | Harmanpreet Kaur becomes first Indian cricketer to reach 100 T20 International matches