Current Affairs in Short: 20 February 2019
The Supreme Court constitution bench will hear the Ayodhya-Babri land dispute case on February 26, 2019. The Constitution Bench comprising Chief Justice Ranjan Gogoi, Justices S.A. Bobde,, D.Y. Chandrachud, Ashok Bhushan and S.A. Nazeer be hearing the plea.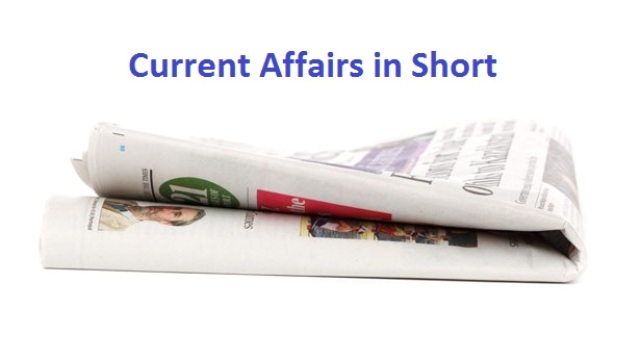 Current Affairs in Short: 20 February 2019
Supreme Court to hear Ayodhya-Babri Masjid land dispute case on February 26

• The Supreme Court constitution bench will hear the Ayodhya-Babri land dispute case on February 26, 2019.
• The Constitution Bench comprising Chief Justice Ranjan Gogoi, Justices S.A. Bobde,, D.Y. Chandrachud, Ashok Bhushan and S.A. Nazeer be hearing the plea.
• Earlier, Justice Lalit had recused from hearing the matter, after one of the parties informed the court that he had appeared in a contempt petition in relation to Babri dispute when he was a lawyer.
• The apex court on January 27 cancelled the scheduled hearing of January 29 as Justice S.A. Bobde, one of the five judges of the Constitution Bench, was not available that day.
• The bench will hear the appeals against the 2010 Allahabad High Court judgment that the 2.77-acre land in Ayodhya be partitioned equally among three parties — the Sunni Waqf Board, the Nirmohi Akhara and Ram Lalla.

Supreme Court holds Anil Ambani guilty of contempt

• The Supreme Court held Reliance Communications (RCom) chairman Anil Ambani guilty of contempt of court for wilfully violating its order and not paying its dues of Rs 550 crore to Telecom equipment maker Ericsson.
• The apex court held that the RCom chairman, Reliance Telecom chairman Satish Seth and Reliance Infratel chairperson Chhaya Virani breached the undertaking given to the court and the related orders.
• The court said the RCom chairman and others will have to purge the contempt by paying Rs 453 crore to Ericsson in 4 weeks.
• A bench comprising Justices R F Nariman and Vineet Saran said if Ambani failed to make the payments within the specified period, they will undergo a jail term of three months.
• The court also directed Reliance Telecom and Reliance Infratel to pay Rs 1 crore each in four weeks to the apex court's registry or the chairman will have to undergo additional jail term of one month.

Operation Digital Board launched to provide better digital education

• Government launched Operation Digital Board on the lines of Operation Blackboard to provide better digital education in schools.
• Under the initiative, 7 lakh classrooms of 9th, 10th and 11th standards and 2 lakh classrooms of colleges and Universities will be equipped with digital boards in the next three years.
• It will improve the quality of education and offer new opportunities and new ways of teaching and learning.
• It will convert the monologue classrooms into interactive ones.
• The move will revolutionise the education system in the country with different kinds of digital teaching materials, quality lectures and other facilities.

ICC bans UAE-based coach Irfan Ansari for 10 years

• The International Cricket Council (ICC) banned UAE-based coach Irfan Ansari for 10 years after he was found guilty of making a "corrupt approach" to Pakistan captain Sarfaraz Ahmed in 2017.
• The ban came after the ICC Anti-Corruption Tribunal found him guilty of breaching three counts of the Anti-Corruption Code.
• Ansari is bound by the code due to his affiliation to the Pakistan cricket team and also as a result of being a coach to two teams that participate in domestic matches in the UAE.
• He was found guilty of the three offences under the Code.
• Ansari worked with Sharjah Cricket Council for 30 years and was the head coach of the Sharjah Cricket Club.

DPIIT launches second edition of States' ranking on Startup initiatives

• After the successful first edition of States' Startup Ranking in 2018, the Department for Promotion of Industry and Internal Trade (DPIIT) released second edition of Startup Ranking for 2019.
• The Startup Ranking framework aims to rank the States/UTs for establishing a robust ecosystem for supporting Startups.
• The framework encourages States and UTs to identify, learn and replicate good practices from each other.
• The Ranking Framework 2019 comprises of 7 pillars and 30 action points.
• The pillars will assess States'/UTs efforts across institutional support, simplifying regulations, easing public procurement, incubation support, seed funding support, venture funding support and awareness and outreach related activities.
• The ranking exercise aims to evaluate measures taken by States/UTs during the assessment period from May 1, 2018 to June 30, 2019.

Cabinet approves Swadesh Darshan Scheme: Integrated Development of Theme-based Tourist Circuits

• The Union Cabinet approved continuation of the Swadesh Darshan Scheme during 14th Finance Commission period and beyond.
• It approved Rs 2055.96 crores for 60 on-going projects completing in December 2019.
• Funding of Rs. 324.09 crore was approved for 6 projects for which substantial funds have been released and projects will be completed in September 2020.
• Swadesh Darshan Scheme - Integrated Development of theme based tourist circuits is the flagship scheme of Ministry of Tourism for development of tourism infrastructure in the country.

Commerce Minister launches 'SWAYATT' on GeM

• Union Minister of Commerce & Industry and Civil Aviation, Suresh Prabhu launched SWAYATT initiative to promote Start-ups, Women and Youth Advantage through eTransactions on Government e Marketplace (GeM).
• This will bring together the key stakeholders within the Indian entrepreneurial ecosystem to Government e-Marketplace.
• The SWAYATT would seek to promote inclusiveness by catapulting various categories of sellers and service providers, take proactive steps to facilitate the training and registrations of such specific category of manufacturers and sellers.
• On this occasion, Commerce Minister also dedicated 'GeM Start-up Runway', an initiative of GeM in association with Start -up India to facilitate Start-ups registered with Start -up India to access the public procurement market.

Rathore presents 7th National Photography Awards

• Union Minister of State for Information & Broadcasting and Youth Affairs & Sports, Rajyavardhan Rathore presented the 7th National Photography Awards at National Media Centre in New Delhi.
• A total of 13 awards were given comprising of one Lifetime Achievement Award with cash prize of Rs.3,00,000; one award each in Professional Photographer of the Year category and Amateur Photographer of the Year category with cash prize of Rs1,00,000 and Rs75,000 respectively.
• The Lifetime Achievement Award was conferred on Ashok Dilwali.
• SL Shanth Kumar was awarded as the Professional Photographer of the Year; and Gurdeep Dhiman as the Amateur Photographer of the Year.
• The theme for the Professional category was "Women led Development", while the theme for Amateur category was "Fairs and Festivals of India".
• National Photography Awards are organised by Photo Division under Ministry of I&B.

Ordnance Factory Board gets bulk production clearance for 'Dhanush' Artillery Gun

• Ordnance Factory Board (OFB) received the bulk production clearance (BPC) from the Indian Army and the Ministry of Defence on February 18, 2018 for production of 114 'Dhanush', the first ever indigenous 155mm x 45 calibre artillery gun.
• The weapon is the first long rang artillery gun to be produced in India and it is a major success story of the 'Make in India' initiative.
• The gun is equipped with inertial navigation-based sighting system, auto-laying facility, on-board ballistic computation and an advanced day and night direct firing system.
• The self-propulsion unit allows the gun to negotiate and deploy itself in mountainous terrains with ease.
• 'Dhanush' has been mechanically upgraded to fire standard NATO 155 mm ammunition and can accommodate both boll bags and the bi-modular charge system (BMCS) which have resulted in increasing the range.
• 'Dhanush' is the product of joint efforts by the OFB and the Indian Army with contributions from DRDO, DPSUs such as BEL, PSUs such as SAIL and several private enterprises.

Asia's premier Air show 'Aero-India' began in Bengaluru

• The 12th edition of Asia's premier Air show 'Aero India-2019' began at Yelahanka Air Force Station, Bengaluru.
• 61 aircraft, including HAL's indigenous products LCA Tejas are all set to roar in the city skies.
• The five-day long biennial event, which will showcase India's air defence prowess, will also act as a platform for aviation companies to forge new alliances and contracts.
• The global event will see participation of the highest ever aircrafts, Airbus 330Neo.
• The event will see participation from countries like Israel, US, UK, Germany, Russia and France.

France backs India's efforts to list JeM chief Masood Azhar as global terrorist

• France will move a proposal at the United Nations to ban the Jaish-e-Mohammad (JeM) Chief Masood Azhar.
• The proposal will be a boost to New Delhi's efforts to designate Azhar as a global terrorist by the UN.
• Pakistan-based outfit JeM has claimed responsibility for the Pulwama terror attack that left 40 CRPF personnel dead.
• The proposal will be fourth such bid at the UN in past ten years. In 2009 and 2016, India moved the UN's Sanctions Committee 1267 to ban Azhar, also the mastermind of attack on the airbase in Pathankot in January 2016.
• India was joined by P3 countries, the US, the UK and France in the 2016 proposal.

PM Modi held talks with Saudi Crown Prince Mohammad Bin Salman in New Delhi

• Prime Minister Narendra Modi held talks with Crown Prince of Saudi Arabia, Mohammad Bin Salman bin Abdulaziz Al Saud in New Delhi on wide range of issues of mutual interest.
• The Crown Prince will also call on President Ram Nath Kovind.
• The Crown Prince, who is also the Vice President of the Council of Ministers and Minister of Defence of the Kingdom of Saudi Arabia, is accompanied by a high-level delegation, including Ministers, senior officials and leading Saudi businessmen.
• The visit follows the highly successful visit of Prime Minister Modi to Saudi Arabia in April 2016, during which the two countries agreed to further elevate existing strategic partnership.
• Saudi Arabia contributes significantly to India's energy security needs by supplying about 20 percent of crude requirements to India.

Kerala hosted Attukal Pongala, world's largest religious congregation of women

• In Kerala, Thiruvananthapuram hosted the Attaukal Ponkala festival which is considered as one of the world's largest religious gathering of women on a single day.
• Lakhs of women prepared 'Pongala'- the offering in makeshift brick stoves to worship the presiding deity of Attukal Bhagavathy temple.
• The women, who reached Thiruvananthapuram from all over the state and outside, prepared 'pongala' which is mix of rice, jaggery and scraped coconut for about two hours in fresh earthen or metal pots.
• Attukal temple is also called 'women's Sabarimala' as only women perform the ritual.

Noted Hindi writer Namvar Singh dies

• Noted Hindi writer Namvar Singh passed away in New Delhi. He was 92.
• He authored over dozen books including 'Kavita Ke Naye Pratiman', 'Chhayavad' and 'Dusri Parampara Ki Khoj' among others.
• He received Sahitya Academy Award for literary criticism in 1971 for 'Kavita Ke Naye Pratiman'.
• He had unsuccessfully contested Lok Sabha election as a candidate of Communist Party of India in 1959 from Chandauli in Uttar Pradesh.

Prime Minister inaugurates Virtual Experiential Museum at Varanasi

• The Prime Minister Narendra Modi inaugurated the newly established Virtual Experiential Museum (VEM) in a Centrally Protected Monument under Archeological Survey of India, Man – Mahal, situated on the bank of the Ganges at Varanasi.
• Virtual Experiential Museum has been established by the National Council of Science Museum (NCSM) working under the Ministry of Culture.
• NCSM has worked hard to show a glimpse of various cultural aspects, tangible and intangible, of Varanasi through the use of modern and sophisticated virtual reality technology in this museum.
• Indian National Trust for Art and Cultural Heritage (INTACH) helped in designing and curation of this Virtual Experiential Museum.