Coronavirus in India: Global death toll crosses 630, All Indian evacuees from Wuhan test negative
Coronavirus outbreak: The global death toll has crossed 630 with more than 550 deaths in China itself .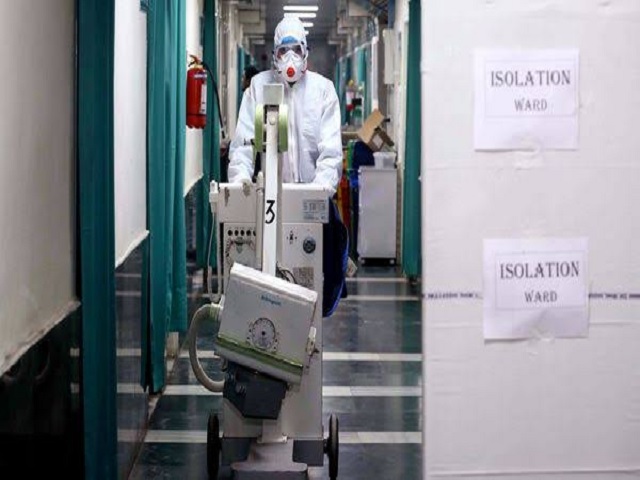 Image: ANI
Coronavirus Outbreak:The Indian Government announced on February 6, 2020 that all the 645 Indians evacuated from China's Wuhan city have tested negative for the coronavirus infection. The evacuees have been kept in isolation in army camps at Manesar in Gurgaon and ITBP camps in Delhi.
India, so far, has three confirmed cases of the virus in Kerala and all the three patients are reported to be stable. No new case has been reported till now. Kerala has kept over 2800 people under observation, out of which 83 with fever symptoms have been kept in isolation wards in different hospitals and the remaining have been asked to stay in isolation in their homes for 28 days. A total of 654 people including seven Maldivians were airlifted by India from China on February 1 and 2.
Meanwhile, the global death toll has crossed 630 with more than 550 deaths in China itself . Around 61 people were tested positive for the deadly coronavirus on the quarantined Japanese cruise ship, Diamond Princess. The ship has over 2000 passengers and around 273 passengers are suspected to have been potentially exposed to the virus. Earlier the ship had 20 confirmed case, now 41 new cases will be taken off the ship for treatment. Hong Kong has also reported the first death from Coronavirus on February 4, 2020.
Corona Virus Whistle Blower Dies
Chinese Doctor Li Wenliang, who is believed to be one of the whistle blowers about Corona Virus outbreak in the central Chinese city of Wuhan has passed away today, as per media reports. Li – an ophthalmologist by profession was one of the first medical professional who raised an alarm about a new "SARS-like" coronavirus outbreak in the city. Later on, reports suggested that he was reprimanded by Wuhan police for spreading "illegal and false" information.
One Step Closer to Corona Virus Vaccine
As per a media report, a research team based in Australia has had a major breakthrough in developing novel coronavirus (nCoV) outside china. Earlier, Times of India reported that an Australian Research Team led by an Indian Scientist Professor SS Vasan (overseas citizen of India), has developed first batch of the virus outside China, which will pave the way ahead for conducting preclinical studies with higher efficiency and results to develop a vaccine to control the global outbreak.
Coronavirus in India
Haryana's Hisar registered the first suspected case of Coronavirus on February 4, 2020. The suspected patient has been admitted to an isolation ward of Hisar's Civil Hospital. The suspected patient is a medical student in China and recently returned from there.
The Government of India has constituted a high-level task force to restrict the spread of Coronavirus in India. The task force comprises four Ministers- Union Health Minister Dr Harsh Vardhan, Minister of State for Home Affairs G Kishan Reddy, EAM S Jaishankar and Civil Aviation Minister Hardeep Singh Puri.
Coronavirus in Kerala
The government of Kerala declared a 'state calamity' on February 4 after three people found positive for the virus. The third case of Coronavirus in India has been reported from Kerala. The two earlier cases were also from Kerala.
The Union Health Ministry stated on February 3, 2020, that the third case of Coronavirus has come up in Kerala. The patient came from Wuhan, China. The patient's tests have found positive and he has kept in isolation in the hospital. At present, the patient's condition is stable and is being closely monitored.
The first case of the deadly virus was reported in Thrissur, Kerala and the second in Alappuzha. Both are medical students, who had traveled to Kochi together from Wuhan. They are currently being treated in isolation wards at Thrissur and Alappuzha Medical Colleges respectively.
Coronavirus: A Global Health Emergency
Coronavirus has been declared a Global Health Emergency by the World Health Organisation (WHO) on January 30, 2020. WHO said in a statement that Coronavirus is a significant threat to the world. The WHO statement highlights that people should not go to China.
WHO said that it is a matter of concern that this virus can spread even in countries where the health system is weak. The deadly Coronavirus has claimed more than 200 lives in China and infected about 10,000 people. However, India is expecting its first evacuation mission on January 31. On the other hand, China has not given a green signal for the exercise.
What is Coronavirus?
Novel Coronavirus (COV) belongs to a family of viruses whose infection can cause problems ranging from cough to breathlessness. This virus has never been seen before. The virus infection started in December 2019 in Wuhan, China. According to WHO, fever, cough, shortness of breath is its common symptoms. There is no vaccine has been made to stop the virus so far.
How to Prevent Coronavirus?
• The Research Councils, working under the Ministry of AYUSH, have recently issued an advisory based on Ayurveda, Homeopathy, and Unani.
• According to the Ministry of AYUSH, maintaining personal hygiene is the best practice.
• The ministry said that wash your hands with water and soap at least for 20 seconds.
• Don't touch your mouth, nose, eyes and any other part of the body without washing your hands.
• If you are sick, don't go outside and avoid close contact with people who are sneezing and coughing.
• Wear a mask when going to crowded areas or markets.
• Always follow a healthy lifestyle and healthy diet practice to strengthen the immune system.
Also Read | Coronavirus in India: Everything you need to know, death toll reaches to 170 in China
Symptoms of Coronavirus
According to the Ministry of Ayush, symptoms of Coronavirus are – Fever, Cold, Sneezing, Cough, and difficulty in breathing.
What to do if Coronavirus symptoms appear?
The government of India has issued an advisory to the people who recently travelled to China or had possible contact with any Coronavirus infected person. The Ministry of Ayush said that call at the Ministry of Health's control room number 11-2397 8046 for more information. It has also advised that one must wear a mask immediately and rush to the nearest medical facility.
Take Weekly Tests on app for exam prep and compete with others. Download Current Affairs and GK app
एग्जाम की तैयारी के लिए ऐप पर वीकली टेस्ट लें और दूसरों के साथ प्रतिस्पर्धा करें। डाउनलोड करें करेंट अफेयर्स ऐप
Android
IOS