Hyundai Kona Electric: Top features of India's first electric SUV
Hyundai Kona Electric is first mainstream electric SUV in Indian market. Before Hyundai Kona, there were only few electric vehicle (EV) options in the country like Tata Tigor EV, Mahindra eVerito and Mahindra e20 Plus.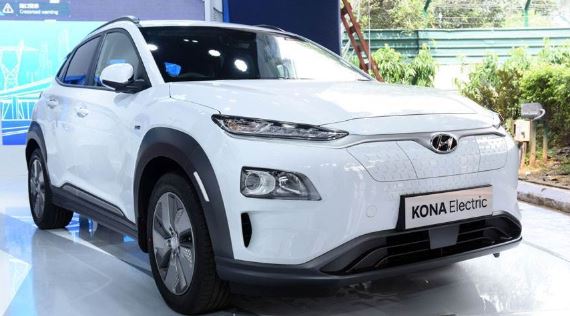 Kona Electric SUV
Hyundai Kona launched in India as country's first fully electric sport utility vehicle (SUV). The South Korean company, Hyundai, becomes first in India to launch a long range battery fitted electric vehicle (BEV) in the SUV segment.
As per the company's claim, Hyundai's Kona can cover 452 km in one single charge and is considered one of the best long range e-SUVs in the world. Hyundai will provide two chargers- a portable one and AC Wall Box Charger to its customers along with the vehicle due to lack of charging infrastructure in India.
Battery efficiency
• Kona Electric comes with 2 battery options, one is - 39.2 kWh unit and another is - 64 kWh unit. Hyundai launched 39.2 kWh battery pack in India.
• This electric car can be complete charged in seven to eight hours. And if customer is using a fast-charger it takes 57 minutes to charge it up to 80%.
• According to Automotive Research Association of India (ARAI), the 64 kWh battery pack covers 452 km on a single full charge and is capable of attaining a top speed of 167 kmph.
• The Indian model of Kona electric gets a 100 kW motor that provides power to the front wheels and puts out 131 bhp and 395 Nm of peak torque.
Key Features of Kona Electric
• A permanent-magnet synchronous system is fitted in electric motor of Hyundai Kona. It has a 39.2 kWh lithium-ion polymer battery.
• Another important feature of Kona Electric is that it come to you with Smart-Sense technology. It will be a great help as collision assistance, Kona eletric emergency braking and lane assistance. This car will be fitted with six airbags, blind spot monitoring system, rear-view parking camera.
• The Kona will be sold by 14 dealers of Hyundai in 11 cities and the company is also collaborating with Indian Oil Corporation Ltd (IOCL) in four cities - Mumbai, Delhi, Chennai and Bengaluru - to set up changing stations with fast chargers in select fuel stations.
• Regenerative braking system is another major function of this electric vehicle. Whenever driver lift-off the throttle, the car will automatically slow down and the motor will use the kinetic energy to charge the battery.
Also Read | Rahul Dravid appointed as Head of Cricket at NCA