India, Afghanistan exchange four pacts in areas including health, transport
After attending the meet, the External affairs minister Sushma Swaraj said, 116 new High Impact Development Projects would be jointly implemented to bring socio-economic and infrastructure development in Afghanistan. She said, India's focus will continue on building governance and democratic institutions, human resource capacity and skill development. Besides, the two leaders also discussed easing of visa regimes to promote trade and people to people contacts.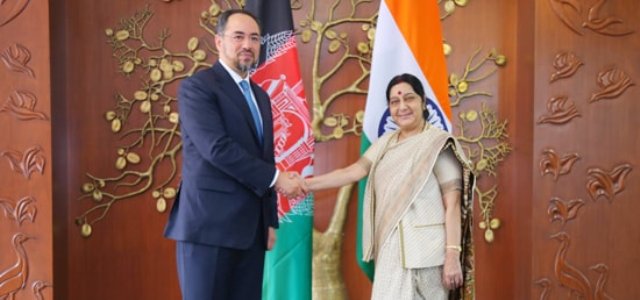 India, Afghanistan exchange four pacts in areas including health, transport
India and Afghanistan on 11 September 2017 exchanged four pacts in areas of health, transport, space and new development partnership. The agreements were exchanged after delegation level talks between the External Affairs Minister Sushma Swaraj and Foreign Minister of Afghanistan Salahuddin Rabbani in New Delhi.
Afghan Foreign Minister Salahuddin Rabbani was on a three-day visit to India. He was here to attend the 2nd meeting of the Strategic Partnership Council between India and Afghanistan.
The bilateral documents which were signed and exchanged include

(a) Motor Vehicles Agreement for the Regulation of Passenger, Personal and Cargo Vehicular Traffic.
(b) Memorandum of Understanding for mutual cooperation in the field of pharmaceutical products regulation. This MoU was signed and exchanged between the National Medicine and Healthcare Products Regulatory Authority of Afghanistan and the Central Drugs Standard Control Organisation (CDSCO), Directorate General of Health Services, Ministry of Health and Family Welfare.
(c) The Orbit Frequency Coordination Agreement between India and Afghanistan on South Asia Satellite (SAS).
(d) Letters establishing the New Development Partnership and launching 116 High Impact Community Development Projects.
In addition, the two nations agreed to expeditiously conclude the agreements/MoUs related to technical cooperation on police training and development, as well as technical cooperation between railway authorities; mutual legal assistance; and cooperation in the areas of food safety among others.
After attending the meeting, Swaraj said that India will continue to work with Afghanistan in its efforts to build a secure, stable, peaceful, prosperous, united and inclusive nation. She said, the two countries remain united in overcoming the challenges posed by cross-border terrorism and safe havens and sanctuaries. The Minister said, strategic partnership with Afghanistan is an article of faith for India. She said, India will continue to stand shoulder to shoulder with the people of Afghanistan in realising their dreams.
Swaraj said, development of Chahbahar Port in trilateral cooperation with Iran is being expedited and India will supply wheat to Afghanistan in coming weeks through Chahbahar port.
Afghan Foreign Minister said, Afghanistan's friendship with India does not mean hostility with others in the region. Mr Rabbani said, current regional trends bring India and Afghanistan closer than ever to protect and achieve the socio-economic, security and trade interests.
Afghan Foreign Minister said, India and Afghanistan both suffer from terrorism and violent extremism and terror outfits LeT and JeM are launching terror attacks against India killing innocent people and destroying public infrastructure. He said, these terror outfits are also targeting Afghanistan in league with Taliban, Al-Qaida and Daish.
Next Meeting of the Strategic Partnership Council

It was agreed to have regular meetings of the Joint Working Groups, including monitoring implementation of the decisions taken. Both sides agreed to hold the 3rd meeting of the Strategic Partnership Council in Kabul on mutually convenient dates in 2018.
The meeting of the Strategic Partnership Council is held under the aegis of bilateral Strategic Partnership Agreement 2011, which was held in New Delhi on 11 September 2017.