India vs Pakistan: Most memorable matches between India and Pakistan
India vs Pakistan: India-Pakistan match is always on high voltage; either it was 1996 Wills World Cup or 2011 World Cup semi Final match. Here is a brief look on India Pakistan cricket rivalry.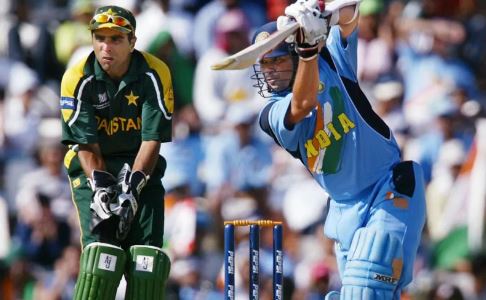 Sachin Tendulkar smashed 98 runs against Pakistan in 2003.
A cricket match between India and Pakistan is more like a battle. Not just players but both cricket loving nations take cricket field as a war zone. A brief look at most memorable encounters between India and Pakistan.
1996 Wills Wolrd Cup Quarter-Final Match: Sidhu scored 93 runs
It was quarter final match of Wills Wolrd Cup 1996 at Bangalore. In India, it was first match of Pakistan after 1989. India was batting first and scored 287 runs. Navjot Singh Sidhu scored splendid 93 runs to the team and India won by 39 runs with its impressive bowling performance. It was more memorable because it was India's first triumph over Pakistan since 1992 world cup.
2003 World Cup: Sachin smashed every ball of Shoaib Akhtar
The 2003 World Cup match was being played in Centurion, and Pakistan made a good score of 273 on the first innings with Saeed Anwar's century. After that, as soon as Team India started batting, Shoaib Akhtar and Waqar Younis lost their senses. Sachin scored a brilliant 98-run with smashing each ball of both bowlers. India achieved the target in 46th over.
2011 World Cup Semi Final: It was bowlers' day
Any cricket fan cannot forget 2011 World Cup semi-final match because it was more memorable than the final. India-Pakistan semi-final match played in Mohali. Team India had scored 260 runs in the first game and the Indian bowlers demolished Pakistani team to 231. Zaheer Khan, Ashish Nehra, Munaf Patel, Harbhajan Singh and Yuvraj Singh took two wickets each while Sachin scored a superb 85 runs.
2007 T20 World Cup: Ball-Out Match
The group match that was played between India and Pakistan in the World Twenty20 in 2007 was one of the memorable matches. For the first time a new rule was seen in the history of cricket. After a tie match of India-Pakistan, the result was decided by the ball-out. In this match, India defeated Pakistan in the ball-out.
2007 T20 World Cup Final: India won the title
Many memorable matches have been played between India and Pakistan, but the World T-20 final match in 2007 is very special. In the first World T20 final match, India batted first and scored 157 runs for 5 wickets. In response, Pakistan gave life to the match, this match was played till last ball but India won the match by 5 runs and won the World T20 title too.
Also Read: India vs Pakistan Manchester Weather Update, World Cup 2019: Rain to affect play, full 50 overs match unlikely
Also Read: India vs New Zealand: World Cup Match Records