Joseph Antoine Ferdinand Plateau Google Doodle: Know what is Phenakistoscope
Joseph Antoine Ferdinand Plateau's google doodle shows his discovery of Phenakistoscope which was an early stage of moving cinema.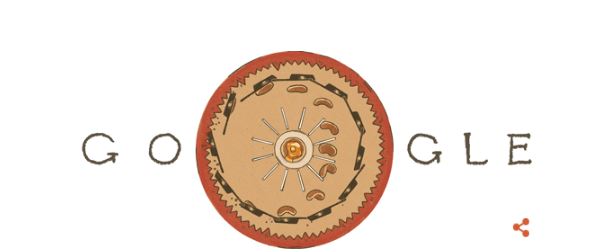 Image: Google
Joseph Antoine Ferdinand Plateau is known for his discovery of Phenakistoscope. It was a device that gave birth to the cinema with moving images. Google remembered Joseph Antoine with a doodle dedicated to him. Joseph Antoine Ferdinand Plateau was a well-known physicist of his time.
Today's doodle of Google shows Plato's style through an animation. It has also tried to show the theme of different platforms of the device. Plateau researched the still images and moving objects and made an instrument called Phenakistoscope.
What is Phenakistoscope?
The device called Phenakistoscope was invented in 1832 by Joseph Antoine Ferdinand Plateau. The device consisted of a spinning disc that was attached vertically to a handle. As per the method, a user would spin the disc and watch through the moving slits at the disc's reflection in the mirror to see sequential illustrations looping to create an animation. It was an early stage of the moving cinema and birth of animation. Joseph Antoine Ferdinand Plateau noticed in some early experiments that when looking at two opposite spinning wheels, it produced the optical illusion of a motionless wheel.
Also Read | Dr. Herbert Kleber: Google Doodle in memory of American psychiatrist
About Joseph Antoine Ferdinand Plateau
• Joseph Antoine Ferdinand Plateau was born on October 14, 1801, in Belgium. He earned a graduate degree in Physical and Mathematical science in 1829.
• He became a famous scientist in the 19th century after completing his law studies.
• He continued to teach in Brussels and later in 1835, he was appointed as Professor of Physics at Ghent University.
• Joseph Antoine Ferdinand Plateau is also remembered for discovering physiologic opiates and the effect of light and colour on human eyes.
• He emphasized the colour and effect of light on the retina in his research. His research was focused on how images are formed on the retina.
• Plateau created an instrument called stroboscopic based on his research. It consisted of two disks that rotated in opposite directions.
Also Read | Kamini Roy Honoured by Google Doodle on her 155th Birth Anniversary
Also Read | Google's 21st Birthday: Know all about it in 10 points