Kathua Case Verdict: Life imprisonment for 3, five year jail term for 3 cops
Special court at Pathankot delivered the verdict for case of rape and murder of an eight-year-old girl in Kathua in Jammu and Kashmir.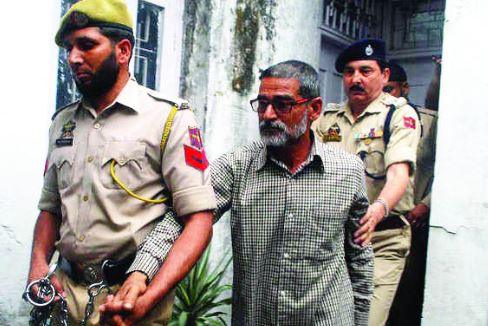 Kathua gangrape case main accused Sanjhi Ram (Image-Reuters)
Kathua case verdict: Pathankot special court has been announced verdict in the Kathua rape and murder case. Before announcement of final verdict by Pathankot Court accused were convicted and then quantum of sentence was announced.
Court announced 25 years of life imprisonment for three accused - Parvesh, Deepak Khajuria and Sanji Ram. While, five year jail term has been announced for the three cops - SI Anand Dutta, head constable Tilak Raj and special police officer Surender Verma, accused of destroying evidence.
The trial of the case began in Pathankot on May 31, 2018 on a day-to-day basis. Seven accused were tried in the case in the Pathankot court, including Sanjhi Ram, a retired revenue officer; Tilak Raj, a sacked head constable of Jammu and Kashmir police; and Sanjhi Ram's son Vishal.
Accused convicted
Six out seven accused including mastermind Sanjhi Ram, special police officer Deepak Khajuria, Parvesh Kumar, Surender Verma, Tilak Raj, and Anand Dutta. Only Sanjhi Ram's son Vishal Jangotra has been acquitted.
About Kathua Case
• An eight-year-old girl was kidnapped on January 10, 2018 and allegedly gang raped in a village's temple in Kathua district, as per the J&K police chargesheet. She was later killed by the accused.
• The child's mutilated body was found in a forest area on January 17, 2018. Three days later, one of the accused - reportedly a juvenile - was arrested by police.
• First trial for the this brutal case began in Jammu and Kashmir on 16 April 2018 before the Principal Sessions Court judge, Kathua.
• On May 7, 2018, the Supreme Court of India shifted the case from Jammu and Kashmir to Pathankot. The Supreme Court instructed the trial to be fast-tracked.
• After nation-wide protests over the savage killing of the child, the case was handed over to the Crime Branch, following which a police sub-inspector and a head constable were arrested for destroying evidence.
• The main accused, retired revenue officer Sanji Ram, surrendered on March 20 last year.
• The prosecution team in the case comprised J K Chopra, S S Basra and Harminder Singh.
• Court has framed charges under the Ranbir Penal Code (RPC), including Sections 120-B (criminal conspiracy), 302 (murder) and 376-D (gang-rape), according to the prosecution.
Liked the article? Do watch our videos too!
What is Ranbir Panel Code (RPC)
Ranbir Penal Code or RPC is a criminal code applicable in Jammu and Kashmir. The code was introduced during the reign of Dogra dynasty with Ranbir Singh as its ruler. Indian Penal Code is not applicable here under Article 370 of the Indian constitution. It was made on the lines of Indian Penal Code prepared by Thomas Babington Macaulay.
Also Read: Girish Karnad, veteran film and theatre personality, dies