Lockdown Extended: What's open and what's closed? Know activities permitted in Red Zone-Get Full List Here
Coronavirus Lockdown Extended: Know what's open and what's closed during the Lockdown 3.0 in India which has been extended till May 17, 2020 for COVID-19 containment, as per MHA Guidelines.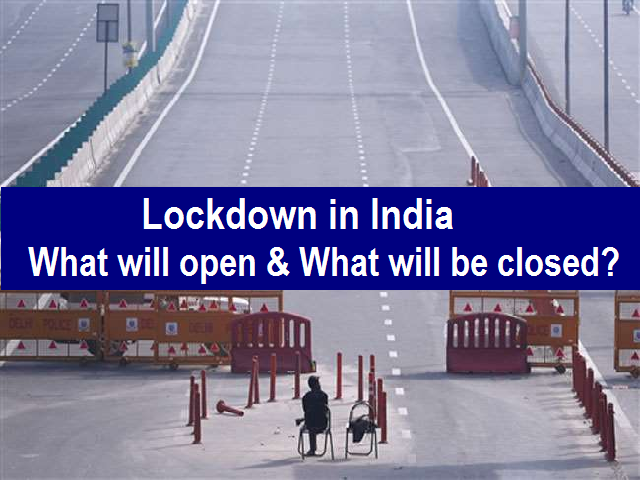 Lockdown 2.0 in India
Lockdown Guidelines: MHA-Ministry of Home Affairs has released a new set of guidelines for the Coronavirus Lockdown 3.0 which has now been extended from May 4 to May 17, 2020. The decision was taken by the Modi Government keeping in mind the increasing number of COVID-19 cases in India. As per the data shared by the Union Health Ministry, the pandemic has infected over 35000 people and claimed over 1100 lives throughout the country so far. In light of this, the lockdown has been extended by another two weeks. However, the Lockdown 3.0 being imposed by the central government is a little different from what was announced earlier with the districts being identified as Red/Orange/Green zones. In line with this, the MHA has issued fresh guidelines for these zones during the lockdown period.
As per the lockdown guidelines released by the Union Home Affairs Ministry on May 1, 2020, limited number of activities will be prohibited throughout the country with strict restrictions in Red Zones. Below, we have provided the complete list of establishments which will remain open and which will be closed during the lockdown across the country.
Let's have a look at the establishments allowed to open in red/orange/green zones:
What will remain closed throughout India?
Travel: Air, Rail, Metro, & inter-state movement by road
Educational Institutions: All schools, colleges, tuition classes and others
Hospitality Sector: All hotels, restaurants, malls, cinema halls, gyms, and sports complexes
Large Social Gatherings: All social, political & religious gatherings
Movement of people strictly prohibited during 7 PM to 7 AM for non-essential activities.
What's open in Red Zones & Orange Zones?
Medical Units

Hospitals, Veterinary Hospitals, clinics, nursing homes, ambulance,, manufacturing and distribution units, dispensaries, chemist, Pharmacies, medical equipment shops, laboratories, Pharmaceutical research labs

Shops

Ration shops (PDS), Shops dealing with food, groceries, fruits & vegetables, meat and fish, dairy and milk, animal fodder, fertilizers, seeds and pesticides

Financial Institutions

Banks, ATMs, insurance offices, Banking Correspondent, ATM operation & cash management agencies

Media

Print and electronic media

Broadcasting

Telecommunications, broadcasting and cable services. internet services, IT and IT enabled Services

E-Commerce

Delivery of all essential goods such as food, pharmaceuticals & medical equipment

Hospitality

Hotels, lodges, motels, home stays accommodating tourists, medical and emergency staff, air and sea crew, people stranded due to lockdown and earmarked for quarantine facilities

Fuel Stations

Petrol pumps, LPG station, Gas retail & storage outlets

Utility

Power Generation, Transmission & Distribution Units

Capital Market

Capital and debt market services notified by SEBI

Storage

Cold storage and warehousing services

Security

Private security services

Call Centres

Data and call centers for Government activities

Agricultural Activities

Farming operations by farmers & farm workers, Custom Hiring Centres (CHC) in farm machinery, Shops of agriculture machinery & spare parts,

Sowing, harvesting and marketing operations in agricultural supply chain

Animal husbandry activities

All plantation activities

Truck repairs

Shops for truck repairs on highways, preferably at fuel pumps

Fishing/aquaculture industry

Operations of fishing/aquaculture industry, feed plants, commercial aquaria, transport of fish/shrimp products, fish seed/feed & workers engaged in these activities

Movement of People

Movement of individuals & vehicles only for permitted activities with maximum 3 people including driver in four-wheeler vehicles, only rider in two-wheelers.

Industrial establishments

Special Economic Zones (SEZs), Industrial Estates, Export Oriented Units (EOUs) and industrial townships allowed to operate with access control

All industrial activities in rural areas including MNREGA, food-processing units and brick-kilns

Construction activities in urban areas

In-situ construction projects having workers available on site and construction of renewable energy projects

All construction activities in rural areas including MNREGA, food-processing units and brick-kilns

Single Shops

Colony shops, shops in residential complexes in urban areas of essential & non-essential goods

Private Offices

Maximum 33% strength as per requirement & remaining Work from home.

NGOs

Homes for children, Senior Citizens, women and widows & Anganwadis
What's closed or prohibited in Red Zones?
Shops of non-essential goods not allowed to operate in malls, markets and complexes
Plying of cycle rickshaws and auto rickshaws
Running of taxis and cab aggregators
Intra-district & inter-district plying of buses
Barber shops, saloons and spas
What's open additionally in Orange Zone?
Taxi Services: Taxis & Cabs with only 1 driver and 1 passenger in each car
Inter-district Movement of vehicles & individuals for permitted activities
What's open in Green Zones?
All activities permitted except activities prohibited throughout the country. Buses can operate in Green Zones with maximum 50% seating capacity.
What's Open throughout the country?
All other activities are permitted to operate which are not prohibited
All goods traffic is allowed to move; no state or UT will stop their movement
Which Central Government Offices and Public Corporations will be open?
What will be open?

What will be closed?

Defence: Central Armed Police Forces

Treasury: Pay & Accounts Offices, Financial Advisers & offices of Controller General of Accounts (with bare minimum staff)

Public Utilities: Petrol Pumps, CNG/LPG/PNG stations, Power Generation Units, Post Offices

Disaster management and Early Warning Agencies

National Informatics Centre

Customs clearance at ports/airports/land border, GSTN; and MCA 21 Registry

RBI & RBI regulated financial markets and entities

All other Government Offices and Public Corporations
Which State Government Offices and Corporations will be open?
The following departments will continue to work in all States and Union Territories with bare minimum staff:
Police, Home Guards, Prisons, Civil Defence, Fire & Emergency Services, Disaster Management
District administration and Treasury
Electricity, Water, Sanitation
Municipal bodies- sanitation & water supply
Resident Commissioner of States in New Delhi
Forest offices: Minimum staff to maintain zoo, wildlife, nurseries, forests, watering plants
Social Welfare Department: Homes for Children/Disabled/Senior Citizens/Women/Widows
Agencies engaged in agriculture products including MSP operations
Mandis operated by Agriculture Produce Market Committee
Penalty against Violators of lockdown measures
People who will be seen violating any of the above lockdown measures will be penalised under Section 51 - Section 60 of Disaster Management Act, 2005 and will invite legal action under Section 188 of IPC.