'Didi Ke Bolo': All you need to know about Mamata's new campaign in West Bengal
'Didi Ke Bolo' campaigned launched by Mamta Banerjee. She said that 1,000 party workers will meet thousands of people in next 100 days to learn about local issues.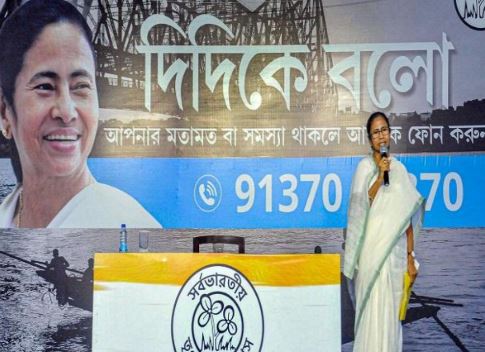 Mamta Banerjee launched Didi Ke Bolo campaign
A new political campaign 'Didi Ke Bolo' has been initiated by the Chief Minister of West Bengal Mamata Banerjee to address the public grievances and other social issues. This campaign is launched with an eye to the next assembly elections in the state.
The Chief Minister of the West Bengal and the Trinmool Congress (TMC) supremo announced in a press conference that more than 1,000 party workers will go to the different villages in next 100 days to learn about local issues. She also said that party will further decide who will go to which village and when. While launching this campaign, Mamta Banerjee also launched a party helpline number and a website to reach out to the masses.
About 'Didi Ke Bolo' campaign
• In this initiative every citizen of West Bengal can directly contact chief minister. People can reach out to her by calling on a specific number.
• Mamta Banerjee launched a phone number – 9137091370 and a website – www.didikebolo.com.
• One can drop his/her message, issue etc. on website or connect on given phone number with suggestions or problems.
• Mamta Banerjee said that with this platform she is just a call away from every citizen of West Bengal.
Also Read | Know who is Muthulakshmi Reddi, Google Doodle celebrates her 133rd birthday
Objectives of Campaign
Main objective of this campaign is to improve citizen's participation and engagement by providing a platform. By this campaign every citizen can share suggestion and problems for required actions. As per the information released by the state government Didi Ke Bolo aims to reach about 80 percent of households in the West Bengal.
Role of Prashant Kishore
This is the first campaign by TMC after getting political strategist Prashant Kishore on board. Trinamool Congress has signed up Prashant Kishore after results of 2019 Lok Sabha Elections. In his previous roles, Prashant Kishore has helped various political parties to retain or come to the power. Now, Prashant Kishore is assisting Mamta Banerjee to achieve her target for upcoming assembly election due in 2021.
Also Read | VG Siddhartha Missing LIVE Updates: Dog squads came upon a 'strong smell' of CCD founder