Mega Bank Merger: Key Figures, Motive, Impact, Significance & all you need to know - Explained
Merger of Big Banks: 10 mega banks merged into 4 PSBs. India will now have 12 Public Sector Banks from 27 Public Sector Banks in 2017. Know the key facts & figures, the objective behind the merger, its impact and significance here.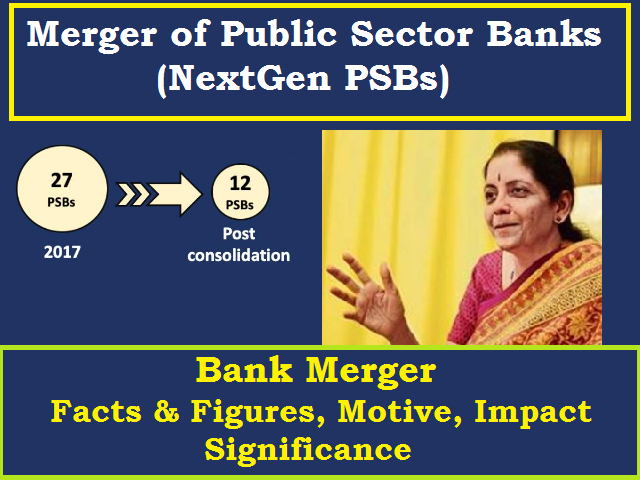 Merger of Banks
Mega Bank Merger: Union Finance Minister Nirmala Sitharaman announces the merger of ten big public sector banks (PSBs) into four. The banks which are being merged are Punjab National Bank, Oriental Bank of Commerce, United Bank of India, Indian Bank, Allahabad Bank, Canara Bank, Syndicate Bank, Union Bank of India, Andhra Bank and Corporation Bank. India will now have 12 Public Sector Banks from 27 in 2017. The merger of banks was announced under the Bank Consolidation plan among other major initiatives and steps to accelerate the economic growth of India.
While addressing a press conference, FM Sitharaman mentioned that only six banks showcased profitability in the 4th Quarter of 2018-19. However, in Quarter 1 of 2019, 14 PSBs showcased growth and profit. In order to boost the national presence of banks along with their global reach, the amalgamation of banks was necessitated. This is not the first time that the Government is merging the banks together. Earlier, under the Banks Consolidation plan itself, the Government had merged all the entities of State Bank of India into one and merged Bank of Baroda, Dena Bank and Vijaya Bank as one single entity. The merger of these banks is aimed at making India a USD 5 trillion economy.
Banks to be merged together are:
- Punjab National Bank, Oriental Bank of Commerce, United Bank of India will be merged as one
- Canara Bank & Syndicate Bank
- Union Bank of India, Andhra Bank and Corporation Bank
- Indian Bank & Allahabad Bank
The Government targets USD 5 trillion economy through these bank reforms and consolidation. The Government would infuse Rs 55,250 Crore of capital in these 10 big banks for their credit growth and regulatory compliance to boost the economy. Apart from these merged banks, two public sector banks will continue to work as an independent body to strengthen national presence. These banks are Bank of India and Central Bank of India. Four regional banks will also continue to work independently to strengthen the regional focus. These are: Indian Overseas Bank, UCO Bank, Bank of Maharashtra and Punjab & Sind Bank
Details of Amalgamation of 10 Banks into 4 NextGen PSBs
Head/Anchor Bank

Merged banks

Business Size

(Rupees)

PSB Size

Punjab National Bank

Punjab National Bank

Oriental Bank of Commerce

United Bank of India

17.94 Lakh crore

2nd largest Bank

Canara Bank

Canara Bank

Syndicate Bank

15.20 Lakh crore

4th largest Bank

Union Bank of India

Union Bank of India

Andhra Bank

Corporation Bank

14.59 Lakh crore

5th largest Bank

Indian Bank

Indian Bank

Allahabad Bank

8.08 Lakh crore

7th largest Bank

State Bank of India (Merged earlier)

52.65 Lakh crore

1st largest bank

Bank of Baroda (Merged earlier)

16.13 Lakh crore

3rd largest bank
Banks that will continue to work individually: Apart from these 10 merged entities, six banks will continue to work individually. Have a look at the details of these banks:
| | |
| --- | --- |
| Bank | Business Size |
| Bank of India | 9.03 Lakh crore (6th Largest Bank) |
| Central Bank of India | 4.68 Lakh crore |
| Indian Overseas Bank | 3.75 Lakh crore |
| UCO Bank | 3.17 Lakh crore |
| Bank of Maharashtra | 2.34 Lakh crore |
| Punjab & Sind Bank | 1.71 Lakh crore |
Capital Infusion in the Public Sector Banks
Finance Minister Sitharaman also announced capital infusion in the public sector banks with an aim to scale them. The Government plans to infuse Rs 55,250 Crore of capital in the PSBs. Have a look at bank-wise capital infusion:
| | |
| --- | --- |
| Bank | Capital Infusion |
| Punjab National Bank | Rs 16,000 crore |
| Union Bank of India | Rs 11,700 crore |
| Bank of Baroda | Rs 7,000 crore |
| Indian Bank | Rs 2,500 crore |
| Indian Overseas Bank | Rs 3,800 crore |
| Central Bank of India | Rs 3,300 crore |
| UCO Bank | Rs 2,100 crore |
| United Bank of India | Rs 1,600 crore |
| Punjab and Sind Bank | Rs 750 crore |
Figures of Amalgamated Banks
Motive & Objective behind Merger of PSBs
The Finance Ministry opines that the merger of these 10 public sector banks (PSBs) will help India make a USD 5 Trillion Economy. The bank merger was done under the bank consolidation plan of the Union Government. Have a look at the government's objective behind the merger of these banks:
- Enhanced capacity to increase credit
- Banks with a strong national presence and international reach
- Reduction in lending cost
- Next Generation technology for the banking sector
- Improved ability to raise market resources