Top 10 Weekly Current Affairs: 1 April to 6 April 2019
India's Manu Sawhney has taken charge as the new Chief Executive of the International Cricket Council.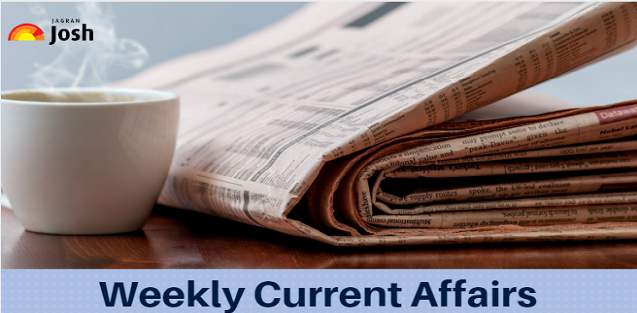 Top 10 Weekly Current Affairs: 1 April to 6 April 2019
UAE honours PM Narendra Modi with Zayed Medal

The United Arab Emirates (UAE) on April 4, 2019 honoured PM Narendra Modi with its highest decoration, Zayed Medal in recognition of his "pivotal role" in strengthening ties between the two nations.

The Crown Prince of Abu Dhabi, Mohammed Bin Zayed Al Nahyan tweeted "We have historical and comprehensive strategic ties with India, reinforced by the pivotal role of my dear friend, Prime Minister Narendra Modi, who gave these relations a big boost. In appreciation of his efforts, the UAE President grants him the Zayed Medal."
ISRO launches EMISAT & 28 satellites

Indian space agency, Indian Space Research Organization (ISRO) on April 1, 2019 launched the electronic intelligence satellite EMISAT along with 28 other satellites of global customers.

These 28 satellites, together weighing about 220 kg, belong to Spain (1), Lithuania (2), Switzerland (1) and the United States (24). These include 20 Flock-4A satellites and 4 Lemur satellites. Emisat was launched into an altitude of 749 km orbit, while the 28 satellites were launched at an altitude of 504 km orbit.
Merger of Bank of Baroda, Vijaya Bank, Dena Bank: Power of 3

The merger of Bank of Baroda, Vijaya Bank, and Dena Bank became effective on April 1, 2019, marking the first-ever three-way merger in India's banking sector. The amalgamation of Vijaya Bank and Dena Bank into Bank of Baroda was first announced in September 2018.

With this, Dena Bank and Vijaya Bank became a part of the Bank of Baroda, leading to the creation of the India's second largest Public Sector Bank after the SBI and India's third largest lender overall after the SBI and ICICI Banks with a total business of more than Rs 14.82 lakh crore.
Manu Sawhney takes charge as ICC CEO

India's Manu Sawhney on April 1, 2019 took charge as the new Chief Executive of the International Cricket Council. Sawhney will work alongside incumbent ICC Chief Executive Dave Richardson, who will step down after the World Cup in July 2019.

Sawhney, former Managing Director of ESPN Star Sports, has already been working alongside outgoing Chief Executive Richardson for the last six weeks to ensure a smooth transition. Richardson will remain with the ICC until July as originally planned to oversee the delivery of the World Cup in the United Kingdom.
Japan names new imperial era as 'Reiwa'

Japan on April 1, 2019 declared 'Reiwa' as the name of its new imperial era that will begin on May 1, 2019 once the new Crown Prince Naruhito ascends the Chrysanthemum Throne.

Crown Prince Naruhito will succeed his father Emperor Akihito, who will abdicate the empire on April 30, 2019, putting an end to three decades long 'Heisei' era.

The new era will be the 248th in the history of Japan. The announcement regarding the same was made by Japanese Chief Cabinet Secretary Yoshihide Suga. Japan's emperor has no political power, but remains a highly symbolic figure.
SC upholds HC Judgment on pension

Supreme Court has dismissed the Special Leave Petition (SLP) on April 1, 2019, filed against a Kerala High Court Judgment setting aside Employee's Pension (Amendment) Scheme, 2014. Judgement was given by a bench comprising CJI Ranjan Gogoi, Justice Deepak Gupta and Justice Sanjiv Khanna.

Earlier Kerala High Court had asked Employees Provident Fund Organisation (EPFO) to give pension to all employees on the basis of their full salary rather than capping the figure on which contribution is calculated at a maximum of Rs 15,000 per month.
US approves sale of 24 MH 60 helicopters to India

The United States has approved the sale of 24 multi-role MH-60 'Romeo' Seahawk helicopters to India at an estimated cost of 2.4 billion US dollars. The announcement was made by the US State Department on April 2, 2019.

The MH-60 Romeo Seahawk helicopter is considered to be the world's most advanced maritime helicopter. Built by Lockheed Martin, the helicopters are designed to hunt down submarines, as well as knock out ships and conduct search-and-rescue operations at sea.

They will provide the Indian defence forces with the capability to perform anti-surface and anti-submarine warfare missions along with the ability to perform secondary missions including vertical replenishment, search and rescue and communications relay.
UN, EU Report on global hunger

The Food and Agriculture Organization (FAO), World Food Programme (WFP) and EU "Global Report on Food Crises 2019", shows that more than 100 million people worldwide are facing acute hunger and number is rising. Report finds that around 113 million people in 53 countries experienced acute food insecurity in 2018, compared to 124 million in 2017.

According to the report, from 2014 to 2020, the EU will have provided nearly 9 billion Euros for initiatives on food and nutrition security and sustainable agriculture in over 60 countries. Nearly two-thirds of those facing acute hunger are in just 8 countries: Afghanistan, the Democratic Republic of the Congo, Ethiopia, Nigeria, South Sudan, Sudan, Syria and Yemen. In 17 countries, acute hunger either remained the same or increased.

UN appoints investigation head for Myanmar

The UN Secretary-General, Antonio Guterres on April 2, 2019 announced the appointment of Nicholas Koumjian of the United States as the head of the Independent Investigative Mechanism for Myanmar.

International criminal justice lawyer Nicholas Koumjian will serve as the first head of the Independent Investigative Mechanism (IIM) for Myanmar, which was established by the Human Rights Council on September 27, 2018 and welcomed by the UN General Assembly in December 2018. Koumjian brings to the position over 35 years of experience as a prosecutor, including almost 20 years of experience in the field of international criminal justice.

The United Nations has appointed the American prosecutor to lead the effort to collect and analyse evidence that Myanmar perpetrated crimes against humanity against Rohingyas- the ethnic minority community, over the last eight years.
South Korea to launch world's first 5G networks

South Korea will launch world's first 5G mobile networks on April 5, 2019. It would be a transformational leap that already has USA and China sparring for control of an innovation that could potentially change the day-to-day lives of billions of people.

The superfast communications supported by fifth generation (5G) wireless technology will ultimately underpin everything from toasters to telephones; from electric cars to power grids.