What is the history of Aksai Chin?
Aksai Chin is a disputed border area between China and India since 1950s. India claims that China has occupied approximately 38,000 sq. kms. area of Jammu Kashmir by constructing a road connecting Tibet and Xinjiang around 1957. This development lead to Indo-China war of 1962. India claims that invaded area is part of the Ladakh region of the state of Jammu and Kashmir.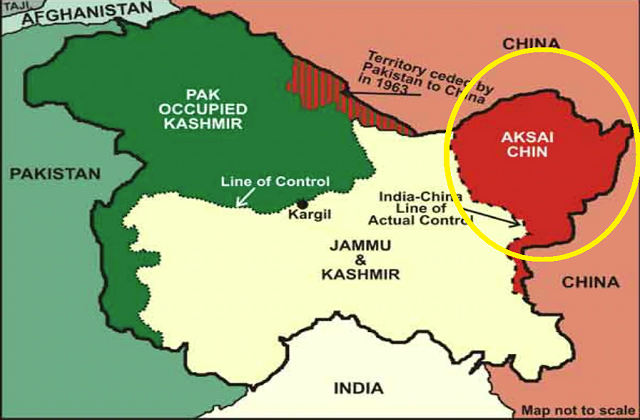 Aksai Chin map (Not to scale)
Geographical Details of Aksai Chin
Aksai Chin is mainly a part of Hotan County in Xinjiang Autonomous Region in China. Aksai Chin is a southwestward extension of the Plateau of Tibet. India claims Aksai Chin as a part of the Ladakh region of the state of Jammu and Kashmir.
What is Aksai Chin Area?
Aksai Chin is a huge desert of Salt Flat located at the altitude of about 5,000 meters above sea level. Its area is about 37,244 square kilometers.
This large area of the North Eastern part of the state of Jammu and Kashmir has been under Chinese occupation since 1950s. China has administratively made it a part of the Kargilic district of Xinjiang Province.
List of Countries with post of Chief of Defence Staff (CDS)
Aksai Chin consists of barren, high, isolated and mostly uninhabitable plain bordered to the west and southwest by the Karakoram Range and to the north and northeast by the Kunlun Mountains.
The climate in the Aksai Chin region is cold and dry which receives falling in the summer months of July and August.
On the Aksai chin issue China and India fought a brief war in 1962 but in 1993 and 1996, both countries signed agreements to respect the Line of Actual Control.
History of Aksai Chin dispute
Aksai region is the apple of discord between India and China since 1950. The area of Aksai Chin was neglected for a long time due to barren, isolated and mostly uninhabitable region .
In the 1950s the Chinese built a military road through this region in order to connect Tibet with Xinjiang. India objected this new development which led to border clashes between the two countries in 1962.
At the conclusion of the war, China retained control of about 38,000 square km of territory in Aksai Chin. The area remained a point of contention between the two countries till now.
In a reply to the question former External Affairs Minister late Sushma Swaraj said that under the so-called China-Pakistan "Boundary Agreement" signed between China and Pakistan on 2 March 1963, Pakistan illegally ceded 5,180 sq. kms. of Indian territory in Pakistan Occupied Kashmir to China.
Present situation in Aksai Chin Area:
Aksai Chin constitutes 15 percent of the total area of Jammu and Kashmir, which is illegally occupied by China. India says that entire Jammu and Kashmir including Aksai Chin is an integral part of India while China has always claimed that Aksai Chin is Xinjiang Uyghur Autonomous Region (Xinjiang Uyghur).
India says China has occupied 38,000 sq km of its territory in Aksai Chin, while China claims 90,000 sq km in Arunachal Pradesh.
So this was the history of Aksai chin dispute. Let's see how long this dispute continues.

15 Interesting Facts and History about Pakistan Occupied Kashmir (POK)