In today's world cricket has achieved the status of the second most popular sport after football. When a player debut his career; he/she is given a cap, which shows that the player has become a particular number's player for that country.
In the same way a cricket player bears a jersey which has a number on its back side. In this article we have explained that how the jersey number of the cricket players is assigned.
There is no role of Board of Control for Cricket in India and International Cricket Council in assigning of jersey or T-shirt number to the cricketers. Cricketers of all countries including India choose their jersey or T-shirt by their own.
No guidelines have been issued in this regard from the International Cricket Council and the respective board of the country. But players need to keep in mind that two players can not have the same numbers in a playing eleven. At present, India's Kohli bears jersey number 18, Dhoni bears 7 number and Rohit Sharma bears jersey numbers 45.
Let's know which player of the Indian team has chosen a particular jersey or T-shirt number for which reason?
Do you know the salary of Indian Cricketers?
Sachin Tendulkar: Sachin Tendulkar's jersey number was 10 that was chosen by himself because it was lucky for him. During an interview, he had told that 10 comes in his surname (Tendulkar), so he chosen 10 numbers for his jersey or t-shirts.
When Tendulkar retired from cricket, then BCCI said that they want to retire the 10 number jersey also but in a match this number was assigned to Shardul Thakur for debut match.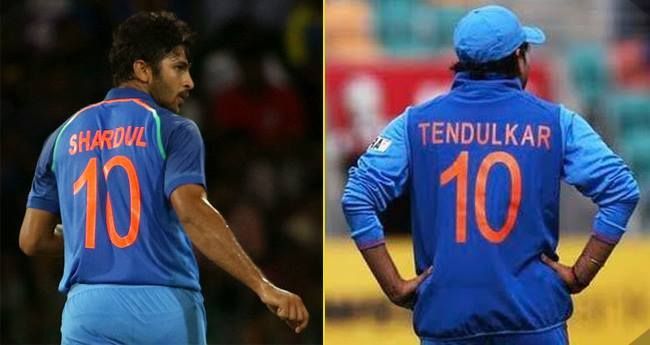 It needs to be kept in mind that the player of another country can wear the jersey of 10 number. Like Pakistan's Afridi wears the jersey number 10. Here it is worth to mention that in football game the 10 number jersey is assigned to team's best player.
Virat Kohli: Virat Kohli revealed in an interview that he considered himself lucky by wearing a jersey number 18. That's because his dear father died on December 18, 2006. In an interview, Team India's captain said that after wearing a T-shirt of 18, he feels as his father is around him. Kohli is wearing this 18 number jersey from his under-19 days.
3. Mahendra Singh Dhoni: Dhoni's birthday is on 7 July. So he had chosen the number 7 as his jersey number. Dhoni loves football much and his favourite player Ronaldo's jersey number is also 7.
4. Rahul Dravid: Rahul Dravid used to wear T-shirt number 5 in the early days of his career, but after his marriage, he changed the number to 19, because he believed that his wife is very lucky for him and her birthday comes on date 19th, and he believes that jersey number 19 help him in remembering the date of birthday of his wife.
5. Rohit Sharma: Rohit Sharma's jersey number is 45 and his number was chosen by his mother. Actually, Rohit's lucky number was 9 but this number has already been given to Parthiv Patel in the team. So he chosen; 4 + 5 = 9 on his mother's suggestion. In fact, this number has proved to be very lucky for Rohit, because at this time he has become the backbone of the Indian cricket team.
6. Virender Sehwag: In the early days of his career Sehwag played with jersey number 44 but this number did not support him. On the suggestion of the astrologer; Sehwag started wearing a jersey number 46 but when this number also did not prove lucky for him he started playing without any jersey number.
7. Hardik Pandya: Team India's all-rounder Pandya's jersey number is 228. Actually, Hardik Pandya was playing under-16 match against Vadodara in which he scored 228 runs in this match to assure a big win to his team. Since then, Hardik has a jersey number 228.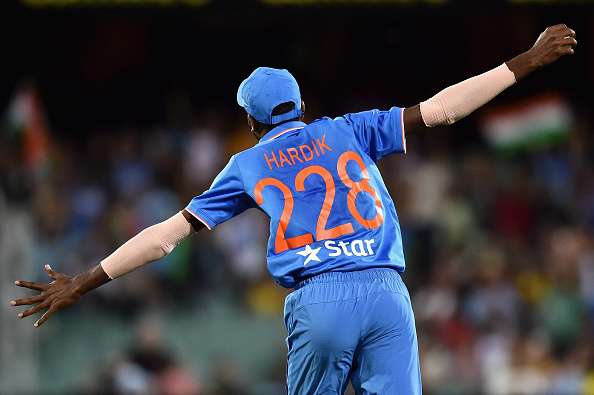 Therefore, on the basis of the above facts, it can be said that the number of jersey of the Indian cricket team players is chosen by their own. It is believed that there is sort of superstition behind the selection of the name and number written on the jersey of the players. As you must seen the Dinesh Kartik prefers to write D.K on his jersey. Now we hope that you must understood that how the jersey number of the cricketers is assigned.
Important facts about Board of Control for Cricket in India
List of Indian Cricketers inducted in the ICC Cricket Hall of Fame