Ice Storm In The US Leave Thousands Without Power In Texas, Check Details Here
Texas has been shrouded by a deadly ice storm since Monday and is pummelling past the southern US this week. The storm has disrupted travel and prompted widespread power outages in Texas. Check more details here.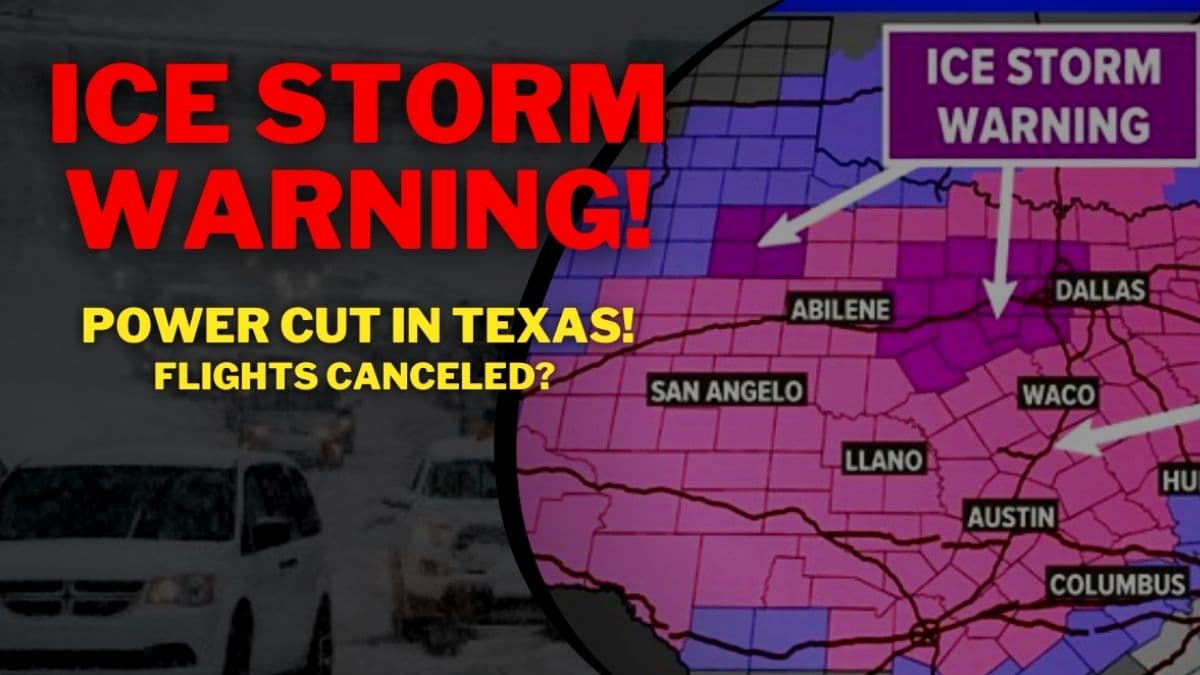 Ice Storm In The U.S. Leaves Thousands Without Power In Texas, Check Details
US airlines have canceled more than 2,300 flights, with airports in Dallas and Austin being the most impacted due to a deadly ice storm in the Southern parts of the U.S. since Monday. The storm has disrupted travel and prompted widespread power outages in Texas.
Dozens of car crashes on slick roads were reported due to the lethal weather. Six were pronounced dead. It has been predicted that there will be freezing rain and ice accumulations expected across the region until Thursday.
More than 340,000 people were without power as of Wednesday evening, in Texas with nearly half of the outages in and near the city of Austin, according to reports.
Also Read|Minus 62 Degrees In Russia: Find The Details On The World's Coldest City
⚠️ IMPACTFUL ICE STORM BEGINS TODAY - ROADS WON'T IMPROVE UNTIL WEDNESDAY ⚠️

Full video update; but short story is we're in for a multi-day/multi-round winter storm - with improvements by Wednesday (into Thursday).

BRIEFING: https://t.co/2cBISfeJiv #txwx @DFWscanner pic.twitter.com/uni3U6vDcS

— Texas Storm Chasers (@TxStormChasers) January 30, 2023
How did this Ice storm start?
According to the National Weather Service, the "prolonged and significant" ice storm was continuing across much of the southern Plains and mid-south.

The ice storm has caused freezing rain and sleet to south-central parts of the US.

It has been spreading from Tennessee to Texas since Monday.

Dallas, Fort Worth, Little Rock, and Memphis were under an ice storm warning more than 12 million people,

The agency warned that due to heavy rain parts of Texas, as well as Louisiana and northern Georgia, could experience flash flooding on Thursday.

This storm is the outcome of an Arctic cold frontal passage making its way south, where it is being engaged with warm and moist air from the Gulf of Mexico.

The storm started on Monday as part of an expected "several rounds" of wintry precipitation through Wednesday across Texas, Oklahoma, Arkansas, and Tennessee.
The Ice Storm Effects
Classes were canceled in both Dallas and Memphis on Wednesday due to the hazardous road conditions.

The winter weather delayed the start of the funeral for Tyre Nichols,

in Memphis, he was the man who died last month after being beaten by police officers.

There were a number of emergency crews in Texas that have responded to hundreds of collision calls since Monday, including fatal ones.

A 49-year-old woman was also killed while driving on an icy road north of Eldorado, Texas officials told CNN.

Several local police departments have urged motorists to drive carefully. The Dallas Police Department asked people to make sure their tyres are inflated, to slow down on icy roads, and to avoid using cruise control.
I spent a week in the January 2023 #Minnesota snow storm and now I'm here in the #TexasFreeze. Both myself and my Minnesotan boyfriend agree that this Texas freeze is infinitely worse. Give me 2 feet of snow over 2 inches of straight ice ANY day. pic.twitter.com/bCFzLLoapc

— Chelsea Simms (@WineAboutLaw) February 2, 2023
What did the Officials say about the Ice Storm?
Texas Governor Greg Abbott also asked motorists to "stay off the roads if possible".

Arkansas Governor Sarah Huckabee Sanders declared a state of emergency due to the icy conditions.
"The power grid, itself, is functioning very efficiently as we speak right now, and there is not anticipated to be any challenge to the power grid in the state of Texas," Abbott said. "It's important to remember that local outages are not a reason to say there is a problem with the power grid."
Today's scene in Austin, Texas pic.twitter.com/CTk3hjylz7

— Shane Ware (@shanew21) February 2, 2023
Ice Storm: Bottom Line
Winter weather brought ice to a wide swath of the United States, leaving more than 250,000 customers without power in Texas on Wednesday morning. Thousands of flights were canceled or delayed Tuesday and Wednesday, while icy conditions on the roads brought traffic to a standstill and caused numerous crashes. At least eight deaths in Texas are blamed on the storm.
---
READ|List Of Top Ten Coldest Places In India

What Is The Difference Between Celsius And Fahrenheit?

What Is The Difference Between A Cyclone, Hurricane, And Typhoon?