Nose Shape Personality Test: What if you could read people's faces? Imagine being able to tell, just by looking at someone, how they're feeling, what they're thinking, and what they're likely to do next. What if you could discover your own wisdom by looking at the features of your face? Your faces are a reflection of your inner self. Your face shows your emotions, your thoughts, and your experiences. If you can learn to read your own faces - nose, eyes, lips, forehead, cheeks, chin, etc, you can gain access to a wealth of information about yourselves. You can learn about your strengths and weaknesses, your fears and desires, and your potential.
Harnessing the power of face reading (or Physiognomy) can help you make better connections with people around you. In this article, we have compiled the most comprehensive Personality Test based on nose shapes to understand if someone is a thinker, a talker, a risk-taker, a provider, a smart worker, a hard worker, sensitive, competitive, logical, intuitive, detail-oriented, perfectionist, etc. This article has been superbly illustrated with pictures for each nose shape – big, fleshy, roman, button, and hawk nose, to fun and easy for you to understand.
Let us read the Nose Shape Personality Test here on Jagran Josh to discover what your nose says about you!
Personality Test: What does nose shape say about your personality?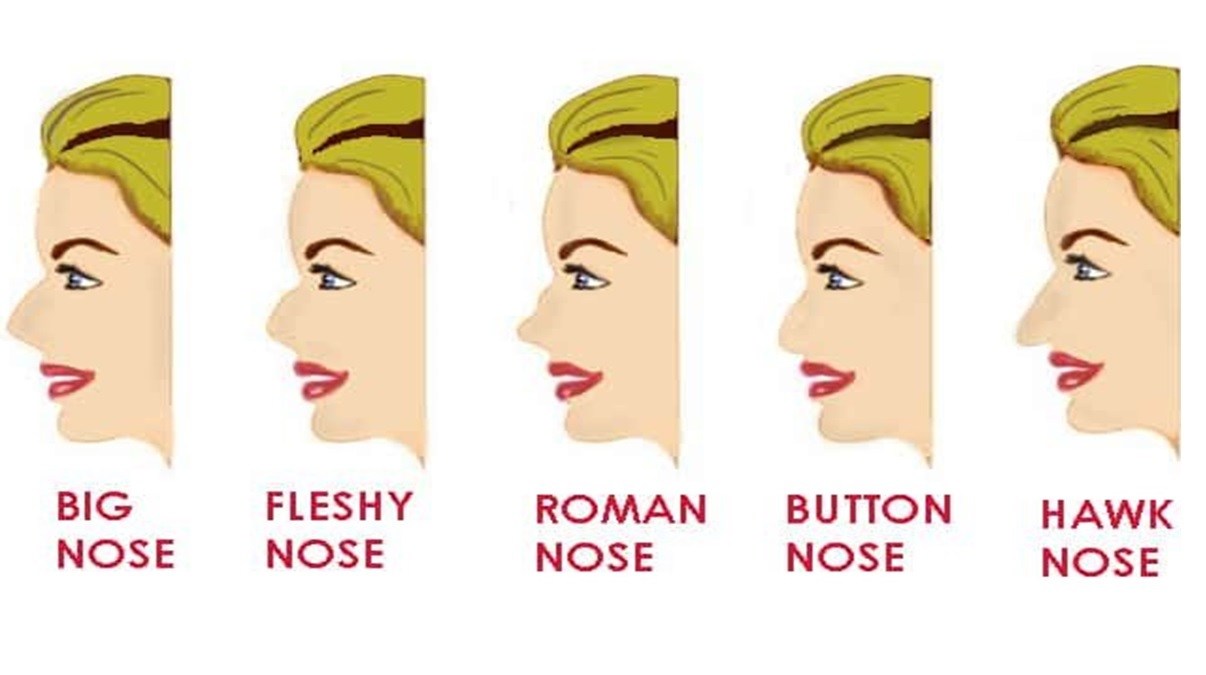 Personality traits based on nose shape in Physiognomy is one of the most searched topics on Google today. Studies have also found a relation between nose shape and personality. A study published in the journal 'Personality and Individual Differences' found that people with larger noses were perceived as being more intelligent and competent than people with smaller noses. Another study, published in the journal 'Archives of Facial Plastic Surgery' found that people with upturned noses (snub noses with nostrils visible from front) were more likely to be described as being cheerful, optimistic, and fun-loving than people with downturned noses.
In this nose shape personality test, we explore what does your nose say about your personality? What are different nose personality types? Know your nose shape personality traits.
#1 Big Nose Personality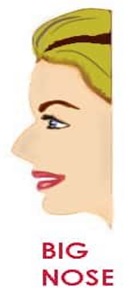 If you have a big nose shape with large nostrils and fat, round tip then your nose shape personality reveals that you are a practical person with high intelligence levels. You tend to be highly independent and at times egoistic. You like to have your own opinion and voice on everything. You do not like to rely on others therefore you tend to carve your own paths to reach your goals. You have a hard time accepting help. You like to have a sense of power and control over things. You will not budge easily just because someone told you to do something. Even if you agree to other's point of view or way of doing things, you will show some annoyance and distasteful behaviour. You like things to go how you plan them. You like to be your own boss. You also like to be a free bird so that you can enjoy life at your own terms.
You are not a big fan of routine or mundane life. You like to take up new things, explore new challenges, new learnings which helps to improve the quality of your life, both professional and personal. You also at times become over critical and fixated on achieving perfection in whatever you do. You are known for being a solution provider. You also are good with money management.
#2 Fleshy Nose Personality
If you have a fleshy nose shape with wide, fatty and noticeable nasal protrusion then your nose shape personality reveals that you are a cautious and emotionally intelligent. Elbert Einstein also had fleshy nose shape. You may be generous, sensitive, kind, smart, sensible, and quick-witted. You are also a fast thinker. Your visual intelligence and imagination power is also strong. You can come up with ideas fast. You also have the ability to stay away from speculations. You do not like to form a theory or assumption with firm evidence. Sometimes, you can be a bit irritable or easily annoyed. You are also very thoughtful regarding spending money. You are least likely to buy things to maintain status quo or show off in your social circle.
You like things as they are, with their flaws and originality. You do not like to keep a mask. You also do not ponder or cry over spilled milk. You look at life with such positive attitude that nothing bothers you much. If it works out, you are happy. If it does not work out, you still find a silver lining in everything. You may also come across as very practical and harsh while stating things for what they are. Though those who are close to you know that you are only being truthful but deep down you are caring and nice person.
Key Personality Traits: Compassionate, sociable, warm-hearted, open-minded, perceptive, patient, generous, diplomatic, reliable, creative.
Also read: Personality Test: Your Sleeping Position Reveals These Personality Traits
#3 Roman Nose Personality
If you have a roman nose shape with a slightly bent nose bridge then your nose shape personality reveals that you are elegant, graceful, and filled with nobility. However, you are also headstrong, ambitious, challenging, practical, and rational. You tend to stand out in crowds owing to your strong presence. Your zeal to achieve your goals can lit up a fire in anybody's soul to achieve their goals. You also like to learn new things, stay abreast of latest happenings in your area of field and in the world at large so you can always stay one step ahead of the average population. You have a strategic mind, knack for spotting opportunities, and self-control from making hasty decisions. You tend to be calculated and in control of things. You may also possess exceptional leadership qualities.
You are not very emotional in your display. However, you value the sentiments of other people. You tend to take your time and think over things before taking any action. You would like to gain full understanding and access to information before deciding anything. You are also quite a good communicator and influencer. You can be called a wordsmith. You drop words like sweet honey. You are also not very concerned with what people say about you.
Key Personality Traits: Confident, assertive, decisive, leadership, determined, strong-willed, analytical, detail-oriented, independent, charismatic.
Also read: Personality Test: What Your Face Shape Say About Your Personality?
#4 Button Nose Personality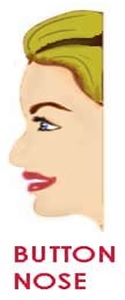 If you have a button nose shape with a small, petite round tip then your nose shape personality reveals that you channel the energy of Ariana Grande's song 'I want it, I got it'. Women, especially, with button nose shape are highly imaginative, nurturing, caring, optimistic, loving, and kind. However, they are also found to be emotionally charged and moody. You also have a playful personality. You have the ability to brighten up any room with your warm and affectionate energy. You embrace spontaneity. You can be both sensual and cute. You are also determined and strong-willed. You are a meticulous planner though your decisions are mostly based on your gut feeling. You can also sometimes display child-like stubbornness to get what you want. Button nose shape personality is the most common personality type.
You are quite social and cheerful. You also a have bad temper. You may start throwing tantrums when you get upset. You may also experience unease around strong-willed people who will not easily give in to your emotional tantrums or ultimatums. But who are they resisting? You are yourself quite determined at getting what you want. You are also a great multi-tasker. You can take on different roles and responsibilities in a single day.
Key Personality Traits: Cheerful, playful, approachable, curious, adaptive, creative, kind-hearted, cooperative, easy-going, resilient.
#5 Hawk Nose Personality

If you have a hawk nose shape with slightly bent in the centre looking a beak of a hawk then your nose shape personality reveals that you like to live your life on your terms. You are highly confident (sometimes can comes across as boastful or arrogant), independent, and bossy. You like to feel important and respected. You follow your own rules and mostly disregard the norms set by the society. You are mostly likely to follow paths undiscovered. You do not like to go where the crowd goes. You do not seek validation or approval of others on what you desire. You cannot be easily influenced. You are not afraid of taking risks, voicing your opinion, grabbing an opportunity quickly and making any situation turn to your advantage.
You could also be a good managers. You are extremely dedicated to your career or whatever projects you take on. You are also capable of leading people and helping people realize their potential in life. Your confidence is what makes you highly charming. You also do not tolerate bad behaviour or ill treatment from anybody.
Key Personality Traits: Observant, assertive, persevering, sharp-minded, independent, focused, strategic, discerning, confident, resourceful.
Also check: Only eagle-eyed can find four doves in this picture puzzle in 5 secs!
Also Read: Only 1% Visually Powerful Can Find The Four Leaf Clover In 5 Seconds!
Also check: Spot Two Hidden Cats In 5 Seconds, Only 2% Pass This Optical Illusion Challenge!