Sri Aurobindo Biography: Family, Education, Achievements and Works
Sri Aurobindo was one of the first Indians educated in England. He was a poet, thinker, freedom fighter, yogi and spiritual leader. He was born on 15 August 1872 in Kolkata, West Bengal. Let us read about Sri Aurobindo's early life, family, achievements, education, and works, etc.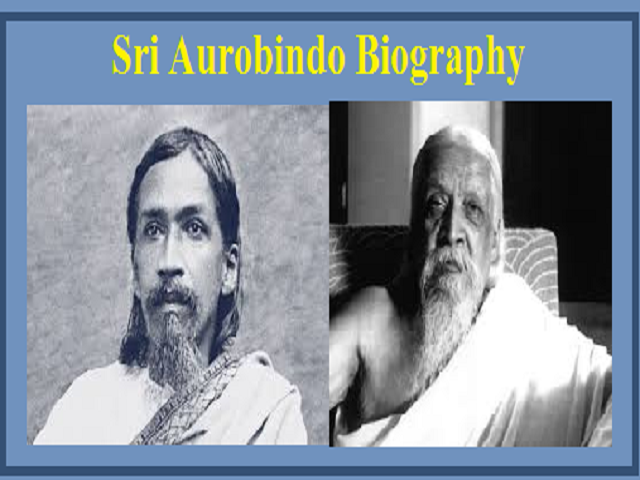 Sri Aurobindo Biography
Sri Aurobindo is also known as Aurobindo Ghose and also spelled as Aravinda. He propounded a philosophy of divine life on earth and founded an ashram in Puducherry. His epic poem Savitri is one of the greatest works of him. His participation in the Indian freedom struggle against the British gave him popularity and gradually evolved to become a spiritual and yogic guru. He came up with a new path of spirituality known as 'integral yoga'. The main objective of his teachings was to increase the level of consciousness of people and to aware people of their true selves. He had written several books focused on Indian culture, socio-political development of the country, spirituality, etc.
Sri Aurobindo: Facts at a Glance
Birth Date: 15 August 1872
Place of Birth: Kolkata, West Bengal, India (Present-day)
Died: 5 December 1950
Place of Death: Puducherry, India
Father's Name: Dr. K.D Ghose
Mother's Name: Swarnalata Devi
Spouse: Mrinalini Devi
Alma mater: University of Cambridge
Established: Sri Aurobindo Ashram
Philosophy: Integral Yoga, Involution, Evolution, Integral psychology, Intermediate Zone, Supermind
Literary Works: The Life Divine, The Synthesis of Yoga, Savitri
Sardar Vallabhbhai Patel:The Man behind United India
Sri Aurobindo: Early Life, Family and Education
When he was born his name was kept Aurobindo Akroyd Ghose. His parents want to give his upbringing in European style. So, they enrolled him in the Loreto Convent School at Darjeeling. At the age of 7, he was sent to England to complete his studies. He did his schooling from King's College, Cambridge. And also, he had learned various foreign languages like Greek, French, Italian German, Latin, and Spanish. In 1892, he came back to India.
He passed the Indian Civil Service examination. But he doesn't want to work for the British Government so, he did not join. But in 1893, he accepted an appointment in the Baroda state service. He worked for 13 years and rose to the post of principal of the Baroda State College. He learned Sanskrit; read the Vedas, the Upanishads, epics, Marathi, Gujarati, and his native language Bengali. In 1901, he married Mrinalini Basu.
During the partition of Bengal (1905-1912), he led the group of nationalists. Later, he became the editor of a nationalist Bengal newspaper named Vande Mataram. He was also imprisoned in 1908 and two years later, he fled British India and found a refuge in the French Colony of Pondicherry (Puducherry). Here. He devoted himself for the rest of his life to the development of "integral yoga". His aim was to spiritually transform the life on earth.
Sri Aurobindo: Works
In Pondicherry (Puducherry), Sri Aurobindo patrons were French couple namely Paul Richard and his wife Mirra Alfassa Richard (later she was the Mother of the Pondicherry (Puducherry) Ashram). He started publishing the monthly journal Anya with the assistance of his French friends. In the journal, he focussed on the divine destiny of humankind, unification of the human race, the spirit and the significance of Indian civilisation and culture. Later, he mentioned these articles in the Life Divine. He also wrote his epic poem Savitri in 23,813 lines of blank verse. Do you it is one of the longest poems in the English language.
His works at a glance
- The Divine Life his major works includes Essays on the Gita (1922).
- Collected Poems and Plays (1942)
- The Synthesis of Yoga (1948)
- The Human Cycle (1949)
- The ideal of Human Unity (1949)
- Savitri: A Legend and a Symbol (1950)
- On the Veda (1956)
In 1926, he retired to complete seclusion. He met the poet Rabindranath Tagore in 1928. His yoga system empowers the people in transforming life, mind, and body.
Sri Aurobindo had five-part vision namely:
He wished to see free and independent India that he witnessed on 15 August, 1947 on his birthday.
Resurgence of Asia
World Union
The spiritual gift to India to the world
A step in evolution which would raise man to a higher and larger consciousness.
Sri Aurobindo: Ashram
In 1926, he established ashram that has witnessed tremendous growth over the years. That time, there were 124 disciples and today more than 1200 members are there.
Sri Aurobindo: Death
On 5 December 1950, he left the world. His work was continued by the Mother and after her death by her successors at the Pondicherry (Puducherry) Ashram. Do you know the international community; Auroville established on the outskirts of Pondicherry (Puducherry) celebrates Aurobindo's revolutionary utopian vision. Several authors were inspired by the works of Aurobindo Ghose and one such scholar, the late Haridas Chaudhuri, established the Institute of Integral Studies in San Francisco in 1971.
25 Unknown facts about Dr. B. R. Ambedkar
Important Days and Dates in December 2019