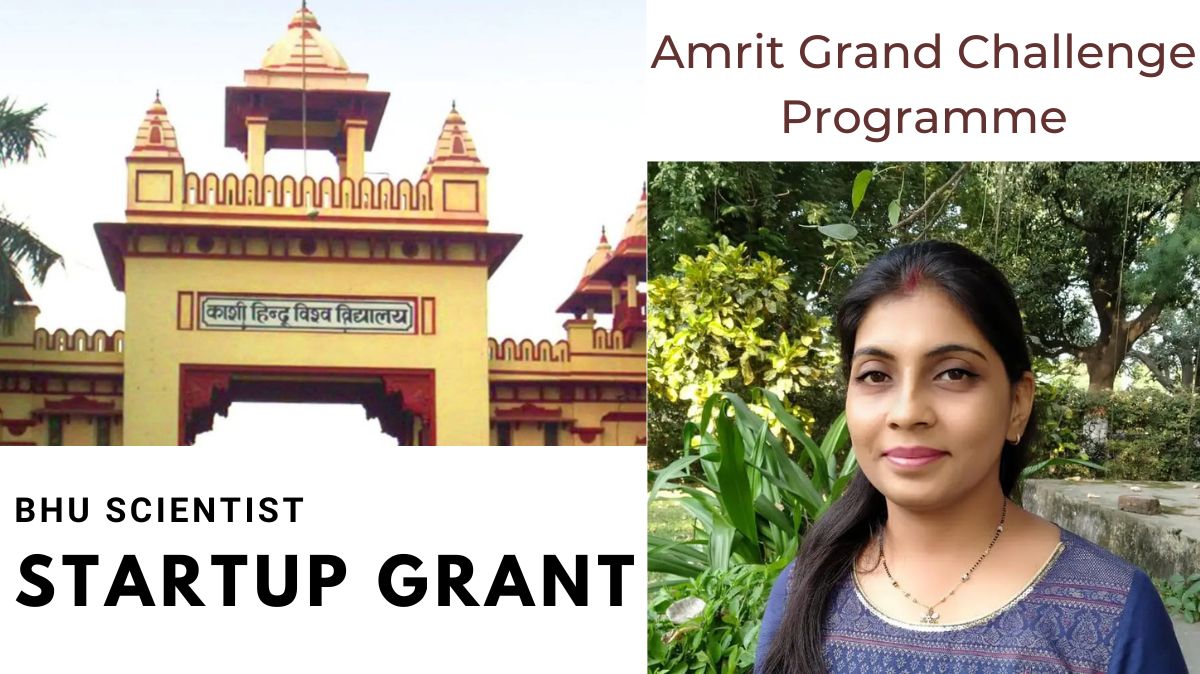 BHU 2023: The Banaras Hindu University (BHU) scientist has been awarded a Stage 1 grant for her start-up initiative. Dr Garima Jain, a scientist at BHU has been working at the Centre for Genetic Disorders. She was given a grant for a startup that was presented under the prestigious Amrit Grand Challenge Programme.
As per the latest notice, the award has been announced under the Amrit Grand Challenge Program titled JAN CARE. Moreover, it is funded by the Ministry of Science and Technology, Government of India.
BHU scientist Dr Garima Jain is the founder of "mirNOW" and holds her expertise in Cancer Genomics. She targets to improve patients' healthcare and outcomes through innovative diagnostic solutions, a BHU statement stated. Additionally, "mirNOW" is working to develop tests for early, actionable, and personalized diagnoses for cancer and cardiovascular diseases, with the objective of making these solutions accessible to all.
Dr. Garima Jain working as scientist in the Centre for Genetic Disorders (@CgdBHU), #BHU, has been awarded the Stage 1 grant for her start-up initiative under the prestigious "Amrit Grand Challenge Program" titled "JAN CARE" funded by @IndiaDST, Govt. of India. @VCofficeBHU pic.twitter.com/Ijj8jgYvyd

— BHU Official (@bhupro) January 14, 2023
Amrit Grand Innovation Challenge Details

The Banaras Hindu University proclaimed that the start-up seeks to identify new biomarkers and also provide innovative healthcare solutions to several patients. Also, it is regarded as one of the 75 Start-Up Innovations selected in this competition in the growing fields of Telemedicine, Digital Health, BIG Data, AI, and BlockChain.

The JAN CARE Amrit Grand Innovation Challenge was launched by the Indian Government along with NASSCOM. The event was in collaboration with several partners from various industries, investors, hospitals and incubator networks among others.

Amrit Grand Challenge Programme Objectives

This above-mentioned programme was aimed at identifying and supporting around 75 Healthtech Innovations in various sectors which includes Telemedicine and Digital health, from Startups and individuals to strengthening Healthcare Delivery systems across India.

In an official statement, Dr Garima Jain informed that MirNOW is dedicated to the discovery, development, and delivery of early diagnostic solutions that can prove beneficial in the overall improvement and save multiple lives.

They have been excited about the opportunity to be able to showcase their work in JAN CARE and she further added that financial support and valuable feedback have been received and they have continued their efforts to refine and develop quality products.

The startup grant will be used for expanding a diagnostic tool for predicting the malignancy of prostatitis that makes use of miRNA biomarkers and also a machine learning-based algorithm. As per the reports, Professor Anil Kumar Tripathi, Director of the Institute of Science, announced that there is an immediate requirement for more scientists like Dr Garima Jain for a country like India, who are enthusiastic about deploying advances in scientific knowledge for making healthcare facilities affordable.
Also Read: IGNOU June TEE 2022: Deadline for Exam Registration Form Extended, Check Details Here
REGISTER FOR RESULTS UPDATES