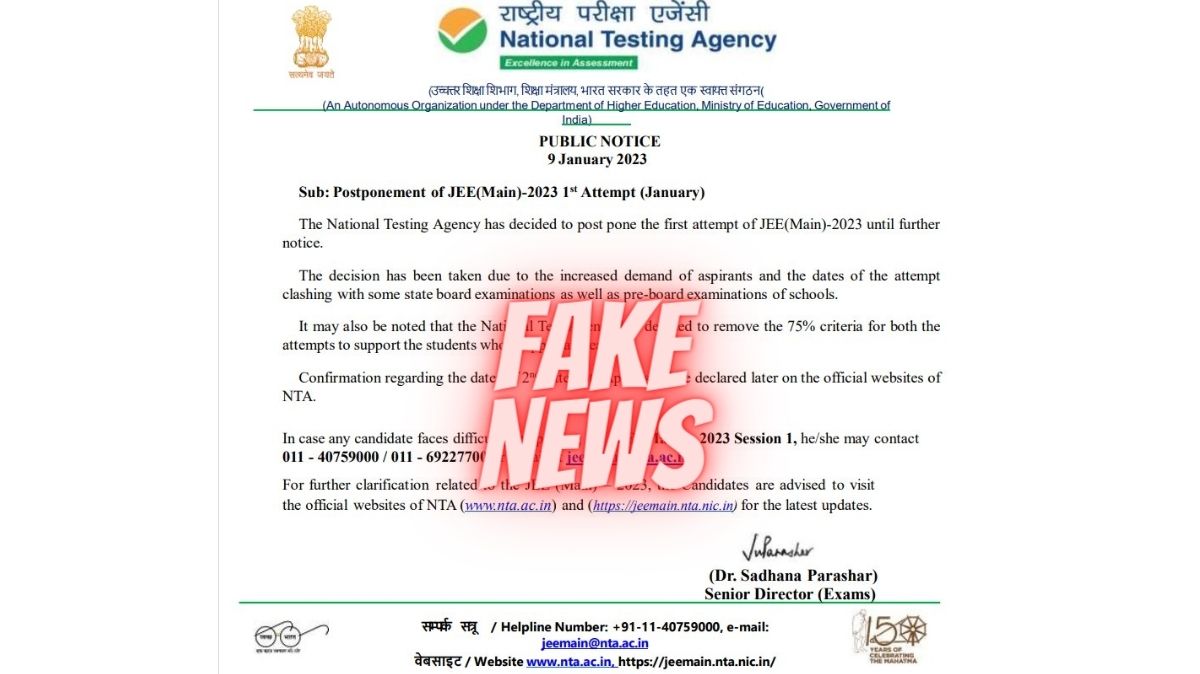 JEE Main 2023: After several requests came to reschedule the Joint Entrance Examination (JEE-Main 2023) in January 2023, a fake circular circulating on the postponement has been circulating on social media that have been claiming that the JEE Main 2023 exams are being postponed by the National Testing Agency (NTA).
As per the fake circular, the JEE Main 2023 first attempt has been postponed till further notice. These were headlines of the fake news which was posted on social media internet. Moreover, it further claimed that the decision has been taken by the National Testing Agency (NTA) due to increased demand by the aspirants for the exam postponement and also because the date of the attempt was clashing with some other state board exams and pre-board exams.
Is this true? #JEEMains2023 #JEEMain2023inApril #JEEAfterBoards #JEE2023 #JEEMain #jeemains2023inapril #JEEMains #JEE2023ForAll2020 #postponejee pic.twitter.com/1SnORZXyrE
— The Phenomenal (@ThePhen47775943) January 9, 2023
Fake News Claims
The fake notice claimed that the NTA has removed the 75% criterion to appear in the exam for candidates and the JEE Main exam dates for the April session 2023 will be notified soon by NTA. However, there is no such official notification issued by the National Testing Agency on the postponement or the scrapping of JEE Mains 2023 75% rule.
Meanwhile, the Bombay High Court will hear a petition seeking postponement of the engineering entrance exam today January 10, 2023. MP Omprakash Bhupalsinh in an official letter urged Union Education Minister Dharmendra Pradhan to relax the eligibility criteria for the JEE Main 2023. He also requested the Union Education Minister to give allowance to all students who passed Class 12 in the year 2020 and 2021 to appear in the entrance exam.
As requests for withdrawing the 75% criteria for droppers and postponing the JEE Main January 2023 attempt were flooded everywhere on the Twitter handles, it is to be stated that the National Testing Agency (NTA) has not announced any changes in the JEE Main exam dates of relaxation in criteria. According to public notice, the JEE Main 2023 first attempt is scheduled to begin on January 24, 2023. The deadline for submitting the application forms for the first session is January 12, 2023.
Also Read: ICAI CA May 2023: Schedule Released, Check Dates Here
REGISTER FOR RESULTS UPDATES