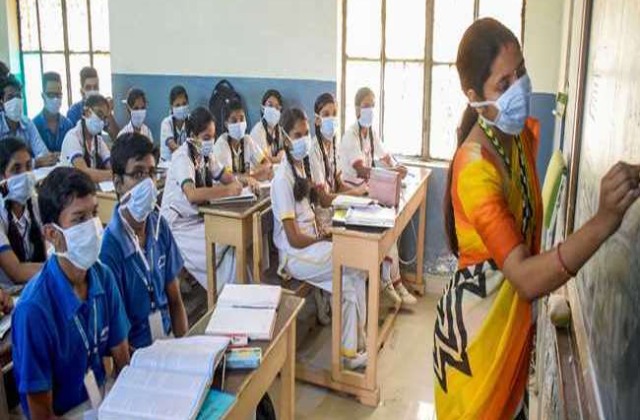 Odisha Schools, Colleges Reopening: With COVID-19 situation improving in the state, the Odisha State Government has decided to allow reopening of schools and colleges in the state. Taking a cautious approach, the state government has ordered phase-wise reopening of educational institutions in the state, starting from 7th February – Monday. The decision about reopening of schools and colleges was formally announced by Odisha Chief Secretary Suresh Chandra Mohapatra at a press conference held today – 3rd February 2022. During the announcement, Mr Mohapatra emphasised on strict adherence to COVID-19 protocols and guidelines to ensure safe return of students back to classrooms.
Phase-wise Reopening of Schools, Colleges
Keeping safety of the students as its top priority, the Odisha Government has ordered phase-wise reopening of schools in the state. According to the official announcement, from Monday onwards, Physical Classes or lectures would resume for Class 8 to 12 and College and University students. This would also include technical institutes and universities and diploma colleges as well. Earlier, a few colleges and universities have resumed offline classes at full-capacity from 1st February onwards, based on the directions given on the Odisha Higher Education Department's official website. Following safe reopening of schools and colleges for these students, from 14th February, schools will be restarted for junior-level classes i.e., for KG and Class 1 to 7 students.
Fake Notice About School Reopening from 10th February
The announcement about School Reopening from Odisha Chief Secretary Suresh Chandra Mohapatra comes at a time when rumours and speculations about school reopening were already doing the rounds. Earlier on 30th January, a fake notice / circular claiming reopening of schools in Odisha from 10th February 2022 went viral on social media platforms. However, The School Education Department of Odisha addressed the fake notice on Twitter and stated that no such decision has been made as of now.
A fake letter is circulating in social media purportedly conveying decision of Higher Education Department to reopen colleges and universities from 10th Febâ??2022. It is hereby clarified that no such decision has been taken by the state government.

— à¬?à¬?à­?à¬?ଶିà¬?à­?ଷା ବିଭାà¬?, à¬?ଡିଶା ସରà¬?ାର ð??®ð??³ (@DHE_Odisha) January 30, 2022
Also Read: Kerala NEET 2021 Counselling: Round-1 seat allotment result declared at cee.kerala.gov.in