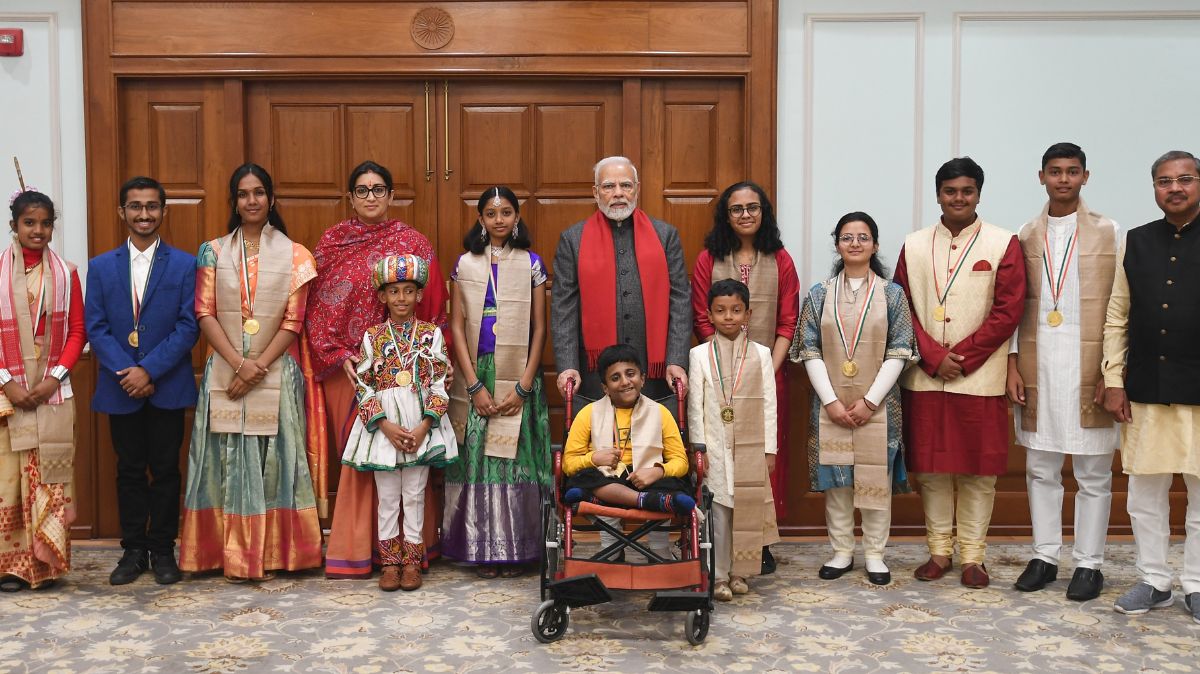 PMRBP 2023: Indian Prime Minister Narendra Modi interacted with Pradhan Mantri Rashtriya Bal Puraskar (PMRBP) 2023 awardees on January 24, 2023 (Tuesday) at his residence - 7 Lok Kalyan Marg, as informed by the officials. PM Modi paid a special visit to these genius children and presented souvenirs to all the PMRBP 2023 awardees.
According to the official statement, PM Modi discussed students' exemplary achievements individually. After this, a successful interaction was held with the entire group of the PMRBP 2023 winners.
At the Prime Minister's office, it was announced that he engaged in an open-hearted interaction in an informal setting in order to make children comfortable and he further exhilarated them and motivated them for their bright future. All the children asked him various questions about the challenges they face in their lives and sought his guidance on numerous topics.
Had an excellent interaction with those who have been conferred the Pradhan Mantri Rashtriya Bal Puraskar. https://t.co/4i8RXHcBYG pic.twitter.com/QC5ELeWJhR

— Narendra Modi (@narendramodi) January 24, 2023
PM Modi Talks with PMRBP Winners 2023
Prime Minister Narendra Modi suggested the awardees enhance their creative skills and also advance themselves and prepare for upcoming life situations. He discussed multiple topics which were useful and enlightening for these school students.
The Government of India has been granting the Pradhan Mantri Rashtriya Bal Puraskar to meritorious children for their exceptional performance in the following six categories.
Innovation

Social Service

Scholastic

Sports

Art & Culture

Bravery
PMRBP 2023 Winners List
Each awardee of the PMRBP 2023 is also honoured with a medal, a cash prize of Rs 1 Lakhs and a certificate. In the present year 2023, 11 children from across the nation were felicitated with the Pradhan Mantri Rashtriya Bal Puraskar by the Indian President Droupadi Murmu. Moreover, these awardees, belong to 11 States and Union Territories (UTs), and these are 6 boys and 5 girls.
Aadithya Suresh

M. Gauravi Reddy

Shreya Bhattacharjee

Sambhab Mishra

Rohan Ramchandra Bahir

Aditya Pratap Singh Chauhan

Rishi Shiv Prasanna

Anoushka Jolly

Hanaya Nisar

Kolagatla Alana Meenakshi

Shauryajit Ranjitkumar Khaire
Core Areas Highlighted by PM Modi
Discussing the growing issue of mental health and psychological problems faced by many children across the globe, the Prime Minister provided guidance about the coping mechanisms and different ways to tackle the stigma around the issue and the important role of the family in addressing such matters.
Major other topics were also taken up by Prime Minister Modi during the fruitful interaction, including the benefits of playing a Chess game, taking up art and culture as a career option, research and innovation, and spirituality, among others.
Also Read: AIBE XVII Admit Card Verification Ends Today, Check Editable Details Here