5 Things that can badly affect your life at work
Feeling dull but don't know why? Know 5 things that might be the reason for hectic work life.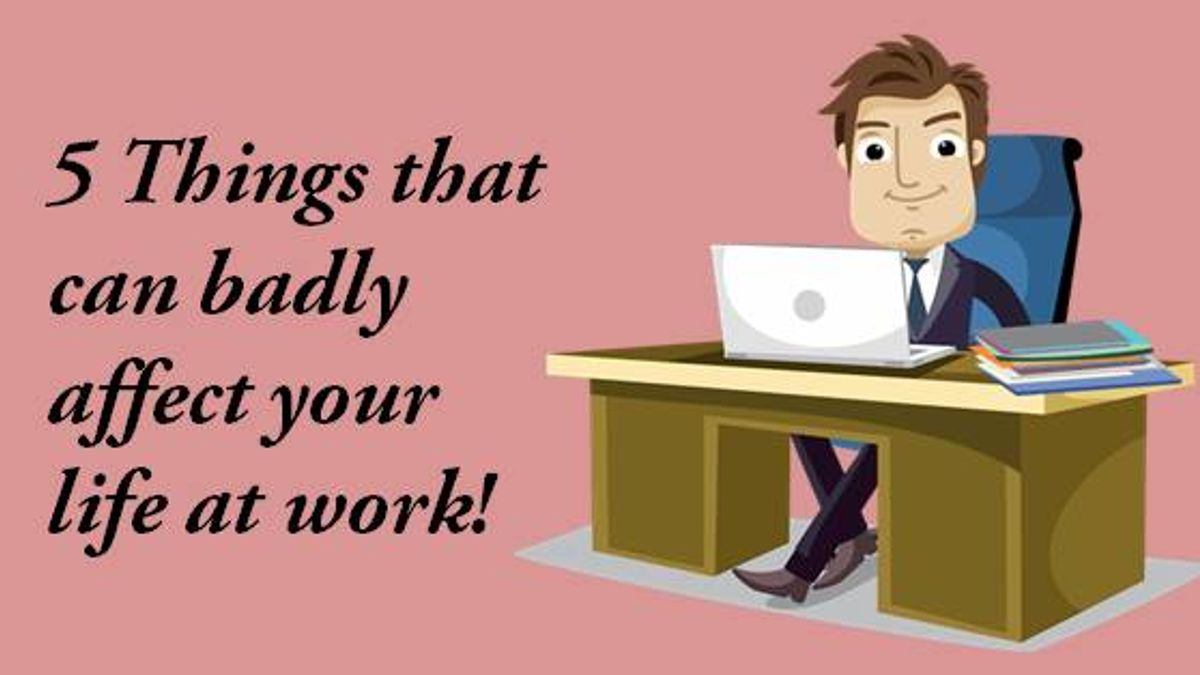 5 Things that can badly affect your life at work
You may feel like you're steadily losing energy, interest, and enthusiasm while doing your routine works, responding to the queries of seniors, or attending long-lasting meetings at work. Generally, it happens with almost every working professional when they have had spent a major part of their lives at work. And, it begins to badly affect the quality of their life when they fail to maintain a balance between their professional and personal life. A balance between personal and professional life is the key to steady growth and success. But, to maintain a balance, you first need to know about the things that are causing an imbalance. In this article, we have enlisted some particular things that badly affect the life of a professional at work.
Learn to be punctual
It's 10.30 Am and you haven't left your home or you are in the mid way to your office. It's okay if it happens for one or two days. But, it may severely damage your image if you get late to join your duties at work on a daily basis. In addition, you may fail to complete the tasks on time. Failing to complete assigned tasks, you may face criticism, disciplinary actions or termination, which could ultimately damage your image as a professional. So, reach office on time; especially when you work in the shift of 10.00AM to 6PM hours format. It would help you to complete the assigned tasks on time that could pave you a way to success.
Build a professional attitude
Are you a pessimist? It's fine if you're professionally a poet or a critic, and alarming the society about negative aspects related to some particular social, economic, political or cultural issues. But, if you're working in a corporate office and want to grow as professional in a company or in an industry, then it could become a stumbling block in your life. So, give up negativity while facing problems and challenges at work. In fact, the challenges and problems that you face at work are opportunities for you that you can realize only after overcoming it. Adopting this attitude, you can become a performer which may facilitate your elevation in the organization.
Pay attention and learn from your mistakes
Every mistake leaves a lesson behind. If you take advantage of it, in a way to improve your performance, then making mistakes may be worthwhile. But, if you don't learn anything from your past mistakes, then it isn't of any use. Instead, it may make you worthless. So, when you realize your mistakes, try to figure out the reason behind it. Keeping this in your practice for a long time, you can improve yourself as an outstanding performer, which could attract plenty of opportunities for growth and success.
Complete your assigned work on time
"I would complete the assigned task next day" or "would complete by the time when I am supposed to be asked about," adopting this approach towards your daily tasks may result to a pile of pending works, which you won't be able to accomplish in just one, two, or three days. As a human, you can't work more than your capacity. It could badly affect your productivity, and performance as a professional. So, when a task is assigned for a day, try to complete it the same day. It won't let your routine tasks to pile up that could help you to complete your office assignments on time. Accomplishing assigned tasks on time is the key to get success.
Refrain from working late at office
You may get tired of your personal and professional life if you fail to maintain a balance between them. Going through such a situation for a long time could even put you to the relentless stress, and depression, which may become a prime reason for your declining work performance, productivity or sudden resignation. Generally, it happens with those working professionals who begin to exceed their office hours. So, complete your work and leave your office on time. It would keep you fresh and energetic when you join your duties the next day. And, energy is something that improves productivity. You can achieve success and growth if you're productive at work.
Finally
Being surrounded by many assignments, and tasks, you may even fail to identify what is badly affecting your performance, and making your life worse at work. In this article, we have shared the work pattern that often makes the life of professionals at work worse, and the ways to fix the issue.