FMS Delhi Summer Placements 2018: Average Salary sees healthy growth
FMS Delhi has concluded their summer placements for the MBA 2017-19 batch. Get all the details like average stipend and top recruiters here.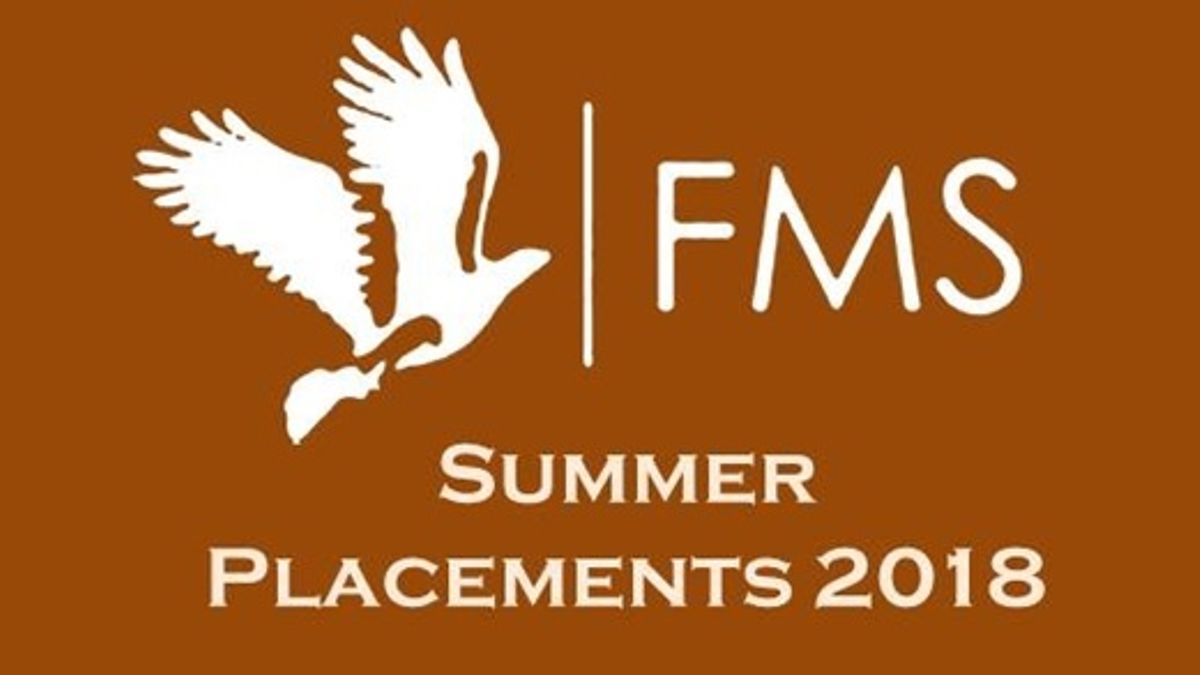 FMS Delhi Summer Placements 2018
FMS Delhi or Faculty of Management Studies at Delhi University concluded their Summer Placements for this year. The FMS Delhi Summer Placement Drive was conducted at their campus and the session was wrapped up in 2 days. Following the general trend of MBA Summer Placements at top B-schools in India, even FMS Delhi ensured 100% placements for the students of the outgoing batch i.e. MBA 2017-19 batch. As per official report, a total of 210 students participated in the summer placements programme of FMS Delhi and all of them received internship offers from recruiters from different domains.
FMS Delhi being one of the flag-bearers of quality management education in the country, MBA aspirants and veterans from MBA world keep a keen eye on the placement statistics from top B-schools in India. Their placement reports provide an insight into the future of MBA and management as a career option. So, let's dive in and understand FMS Delhi's Summer Placement Report 2018.
100% Placements – Statistical Analysis
As stated above, Faculty of Management Studies, Delhi has kept up the tradition of ensuring 100% placements for their students. The official report has confirmed that all the 210 students of the MBA 2017-19 batch has received internship offers from the top brands from domestic and international market. The B-school managed to wrap up the summer placement programme in the record time of just 2 days.
In addition to 100% placement record, the summer placement at FMS Delhi also saw the average internship stipend of MBA graduates rise significantly. This year the average stipend has gone up to Rs. 86,434/- marking 10% increase over last year in average stipend.
Elaborating up the successful summer placement season, Prof. A. Venkatraman, Placement Convener at FMS Delhi commented "The season saw greater participation from fast growing, emerging businesses, especially in e-commerce and finance domains. The average stipend for the batch once again went up significantly. This stands testimony to the quality of students who graduate from the Faculty of Management Studies and the relevance of its curriculum to the needs of the world of business."
FMS Delhi Summer Placements 2018 - Key Takeaways
The summer placement report at FMS Delhi also confirmed that around 123 recruiting partners had confirmed their participation in the summer placements. However, only 79 made 210 offers in 16 diverse domains to the students during the placement drive. Some of the key highlights of the summer placement season at FMS Delhi are listed below:
Total number of students in MBA Batch 2017-19 - 226
Total student participation – 210
Total students placed: 210
100% placements – 210 students placed
79 Recruiters made offers across 16 diverse domains
Placement offers from new sectors i.e. Pharmaceuticals & Automobiles
Average Stipend rises by 10% to Rs. 86,434/-
Average Stipend for Women Candidates at Rs.96,026/-
Highest Stipend of Rs.1,50,000 received by 8% of the batch or 17 students
Average Stipend of Rs.1,15,725 to 50% of the batch or 105 students
Top Recruiters & Domain-wise Breakup
The successful summer placement season at FMS Delhi has been the testimony of the quality of management education that the B-school imparts to their students. This has helped the B-school develop trust and build confidence among the recruiters who visit the campus every year to hire management graduates walking out of the B-school. As discussed before, 79 recruiters made offers across 16 diverse domains to the students of FMS Delhi. Let's look at the domain-wise breakup of the placement statistics.
IIM Calcutta Summer Placements 2018
Sales & Marketing
FMS Delhi is fondly termed as the "Marketing Campus of the Country". Therefore, it doesn't come across as a surprise that Sales and marketing related roles would dominate the FMS Delhi's Summer Placement statistics. Students grabbed sales and marketing roles in different sectors including Pharmaceutical, Consumer Electronics, Retail, Telecom, E-Commerce, Industrial Goods and Automobile sector. Top recruiters included Godrej, Samsung, P&G, Dr.Reddy's, GE, TataSteel, Titan, Shell, L&T, AahaaStores, GSK, Mondelez, Vodafone, Nestle, Asian Paints, HUL, Bennett Coleman & Co., ITC, Royal Enfield, Bajaj Auto and Apollo Tyres.
IM Kozhikode Summer Placement Report 2018
BFSI
Banking Financial Services and Insurance sector also saw healthy number of offers being made to the FMS Delhi students. The total number of offers exceeded 50 in BFSI space. Investment Banking / PE accounted for 15% of finance related roles being offered. Financial Banking institutions also recruited students in the field of Corporate Finance and Mergers & Acquisitions. The top brands in this domain who visited campus include American Express, Duff & Phelps, GE, HaitongSecurities, IDG Ventures, Spark Capital, The Indus Way PE.
XLRI Summer Placement Report 2018
Consulting & General Management
The one stand out recruiter in this field was Accenture Strategy who made 6 offers. Other recruiters included Gartner, EY, BCG and Others. In the field of General Management offers came from recruiters like TAS, RIL, JSW, RPG, Airtel and others.
E-Commerce / IT /Operations
Even E-Commerce / IT and Operations field also saw a respectable number of offers being made to the FMS Delhi students. FMS Delhi is a bastion for E-commerce companies when it comes to hiring management talent. Nearly 26% of the total batch of 210 students received offers from E-Commerce companies. Top brands which participated in summer placements 2018 at FMS Delhi from E-Commerce / IT / Operations roles include Adobe, Amazon, Cloudtail, Lenskart, Mircrosoft and others.
The aforementioned analysis of the Summer Placement Report of FMS Delhi has reiterated the fact that the temporary economic slowdown that had affected the students last year has been overcome this year. One can witness several positive trends and signs of recovery and growth in the average internship stipend at FMS Delhi Summer Placements surely suggests the same.
For more updates and news about MBA world and detailed analysis of MBA placement reports 2018 please visit mba.jagranjosh.com. Alternatively, you can also subscribe to our newsletter through the form and receive these updates directly in your inbox. If you found this article to be interesting, please share it among your friend and fellow MBA aspirants.