GK questions for all SSC exams: Miscellaneous set-10
Attempt GK questions set comprising of 20 questions with their correct answers. Apart from questions several links are associated in this article, go through each one of them and attempt these questions also.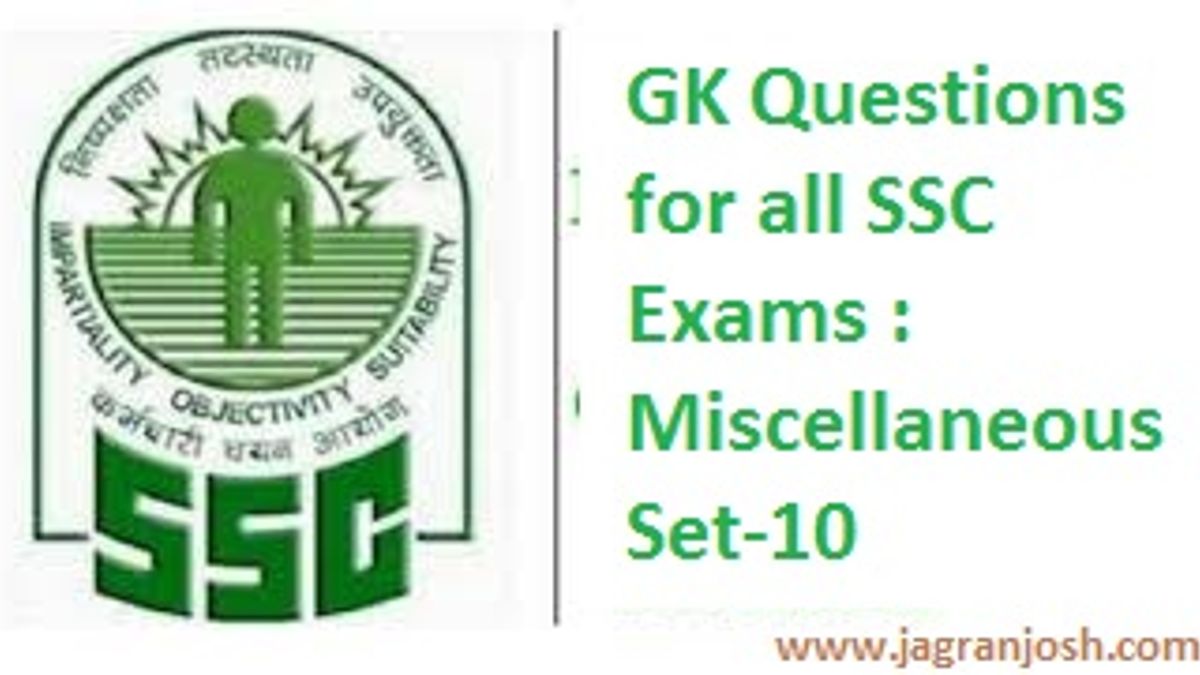 ssc gk
1. Cement factory located at Satna is established by:
a. Ultra Teck
b. Birla Corporation
c. J. P Cement
d. ACC
2. Amarkantak is situated in:
a. Chhattishgarh
b. U.P.
c. Maharashtra
d. M.P.
3. Agriculture University is situated at:
a. Indore
b. Bhopal
c. Jabalpur
d. Sagar
4. Defence Vehicle Factory is situated at:
a. Itarsi
b. Chhindwada
c. Khajuraho
d. Jabalpur
5. Sex Ratio of MP as per last census survey is
a. 919 Females per 1000 Males
b. 920 Females per 1000 Males
c. 918 Females per 1000 Males
d. 921 Females per 1000 Males
6. Sagar was in news due to:
a. Indian Institute of Management
b. Indian Institute of Technology
c. Central University
d. Technical University

7. India's first atomic power station is—
a. BARC
b. Tarapur Atomic Power Station
c. Narora Atomic Power Station
d. None of these

8. Which among the following countries is not a member of Nuclear Suppliers Group?
a. China
b. New Zealand
c. Ireland
d. Iran

9. United Nations declared the year 2008 as the International Year of—
a. Sanitation
b. Drinking water
c. Literacy
d. Reduction of infant mortality

10. The total number of hymns in Rig-veda is
a. 512
b. 1024
c. 1028
d. 1452

11. Who is the Father of Economics?
a. Karl Marx
b. Max Muller
c. Adam Smith
d. Keynes

12. The constitution of India was adopted by
a. British Government
b. Governor General
c. Constituent Assembly
d. None of the above

13. The Headquarters of International Maritime Organization is located at
a. Vienna
b. Madrid
c. London
d. Geneva

14. Who was the first secretary general of United Nations?
a. Trygve lie
b. U Thant
c. Boutrous
d. Dag hammerskjold

15. Which of the following bodies finalizes the five year plans?
a. National Development Council
b. Planning commission of India
c. Union Cabinet
d. Ministry of Planning

16. The term 'Fourth estate' is used for
a. Parliament
b. Judiciary
c. The press and newspaper
d. The executive

17. In which year, Sikkim was granted statehood?
a. 1972
b. 1973
c. 1974
d. 1975

18. Who sang the theme song of FIFA world cup 2014?
a. Enrique Iglesias
b. Lady Gaga
c. Kesha Rose Serbert
d. Pitbull and Jennifer Lopez

19. How India is described in the Indian Constitution?
a. Hindustan
b. A union of states
c. A federation of states
d. A federation of states and union territories

20. An economy which does not have any relation with the rest of the world, is known as-
a. Closed economy
b. Open economy
c. Mixed economy
d. Socialist economy
GK questions for all SSC exams: Miscellaneous set-10
GK capsule for SSC exams: miscellaneous set-9
SSC GK capsule: Miscellaneous set- 8
GK capsule for SSC exams: Miscellaneous set-7
GK quiz for all SSC exams: Miscellaneous set-6
GK capsule for all SSC exams: Miscellaneous set-5
GK capsule Miscellaneous set-4: Hurry up to download it
GK Capsule Miscellaneous Set-3: Do not skip it
GK capsule Miscellaneous set-2: Don't slip it
GK capsule for all SSC exams: Miscellaneous set-1
Answers
| | | | |
| --- | --- | --- | --- |
| 1 | b | 11 | c |
| 2 | d | 12 | c |
| 3 | c | 13 | b |
| 4 | d | 14 | a |
| 5 | a | 15 | a |
| 6 | c | 16 | c |
| 7 | b | 17 | d |
| 8 | d | 18 | d |
| 9 | a | 19 | b |
| 10 | c | 20 | a |