GK capsule Miscellaneous set-2: Don't slip it
In this article, A practice set of 20 questions with answers is shared for all SSC aspirants based on numerous topics like Indian Polity, Geography, History, General science, Awards & honors and etc. So, go through all these questions and test your knowledge.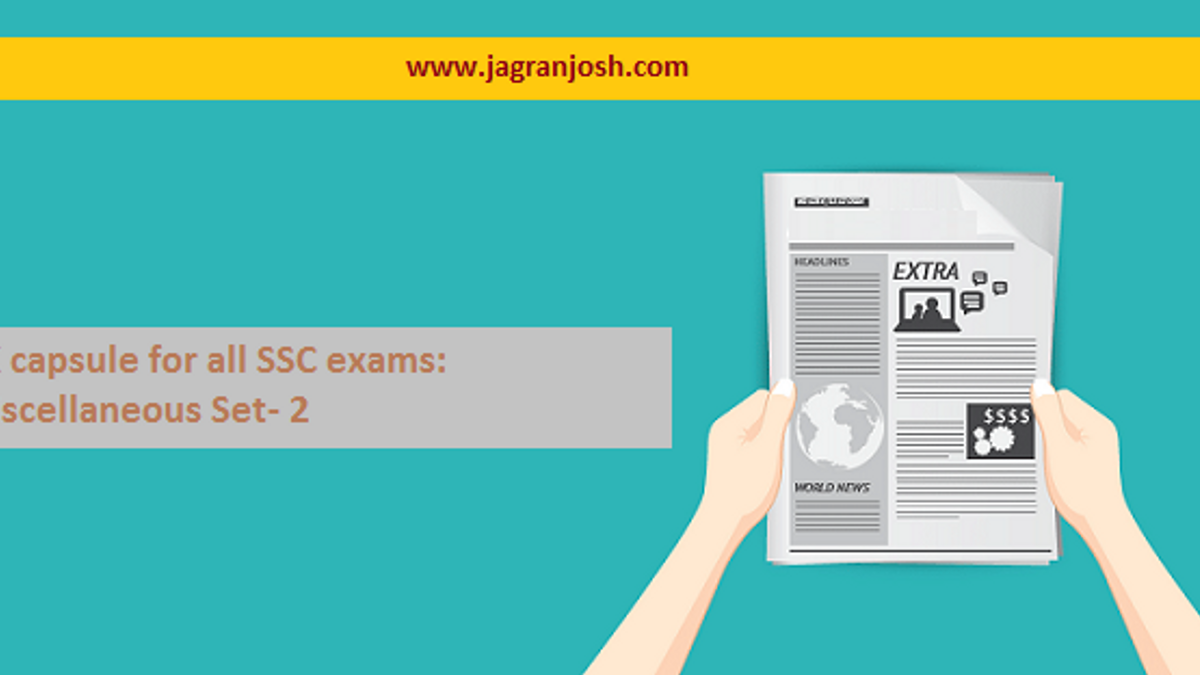 ssc cgl gk
In this article, A series of 20 questions is included consisting of questions from History, Geography, General science, Indian Polity, Important dates, Awards, economics, computer and Sports section. This will be worthy for the aspirants as it comprises the questions inspired from previous year questions from various competitive examinations. Questions are framed in such a manner that will give you an idea of important events and their impact on present. Few questions are illustrated as below: -
To Practice More GK Questions online
1. Which snake of the following is non poisonous?
Cobra
Viper
Coral-Snake
Python
2. Which of the following in measured by 'Anemometer'?
Velocity of water-flow
Depth of water
Force of the wind
Intensity of light
3. Dengue is a fever caused and transmitted to other human by:
Virus and female Aedes mosquito
Bacteria and female Culex mosquito
Fungus and female Aedes mosquito
Protozoan and female Anopheles mosquito
4. Carbon monoxide poisoning affect mainly which one of the following?
Digestive activity
Liver functioning
Kidney functioning
Oxygen carrying capacity of blood
5. 'World AIDS Day' is celebrated on which date?
12th January
1st April
1st May
1st December
6. Which of the following is related with the field of electricity generation?
M.M.T.C.
M.T.N.L.
N.C.L.
N.H.P.C.
7. 'Tripitaka' is associated with which of the following?
Jains
Buddhists
Sikhs
Hindus
8. Who amongst the following was the advocate at the famous 'I. N. A. trials'?
Subhash Chandra Bose
C. Rajagopalachari
Asaf Ali
Bhulabhai Desai
9. Who among the following organized the society of revolutionaries, 'Abhinav Bharat'?
Jatindra Nath Mukherjee
Madan Lal Dhingra
Vinayak Damodar Savarkar
Lala Hardayal
10. 'Amir Khusro' was associated with whose reign among the following?
Allauddin Khilzi
Muhammad Bin Tughlaq
Ibrahim Lodi
Firoz Shah
11. Mohenjo Daro is situated in which of the following?
Gujrat state of India
Punjab state of India
Sindh Province in Pakistan
Afghanistan
12. The Himalayan Mountain Ranges are not a part of which of the following states?
Uttarakhand
Uttar Pradesh
Sikkim
Himachal Pradesh
13. What is the sex ratio of India as per the provisional data of census of India 2011 from the following?
935
940
945
950
14. Alaska is a part of which state from the following?
Greenland
United States of America
Canada
Russia
15. In which of the following continents the Andes Mountain Range is located?
Australia
Europe
South America
North America
16. Which one of the following Indian States does not share border with Bhutan?
Sikkim
Meghalaya
Arunachal Pradesh
West Bengal
17. The party system is the part of which larger system among the following?
Social system
Economic system
Political system
International system
18. Reserve Bank of India issues currency notes against which of the following?
Gold
Foreign security
Govt. of India security
All of the above
19. In India, National Income is computed by which of the following?
Planning Commission
Ministry of Finance
Central Statistical Organisation
Reserve Bank of India
20. Which of the following Banks is the Central Bank of India?
State Bank of India
Bank of India
Union Bank of India
Reserve Bank of India
| | | | |
| --- | --- | --- | --- |
| 1 | d | 11 | c |
| 2 | c | 12 | b |
| 3 | a | 13 | b |
| 4 | d | 14 | b |
| 5 | d | 15 | c |
| 6 | d | 16 | b |
| 7 | b | 17 | c |
| 8 | c 'or' d | 18 | a |
| 9 | c | 19 | c |
| 10 | a | 20 | d |
Best of Luck!!
GK questions for all SSC exams: Miscellaneous set-10
GK capsule for SSC exams: miscellaneous set-9
SSC GK capsule: Miscellaneous set- 8
GK capsule for SSC exams: Miscellaneous set-7
GK quiz for all SSC exams: Miscellaneous set-6
GK capsule for all SSC exams: Miscellaneous set-5
GK capsule Miscellaneous set-4: Hurry up to download it
GK Capsule Miscellaneous Set-3: Do not skip it
GK capsule Miscellaneous set-2: Don't slip it