Interview checklist: Don't forget these things to carry while going for a job interview
For job interview, you are prepared to reply all what, you think, might be asked. But, what if your interviewer asks you for that you haven't carried along? Here the complete list.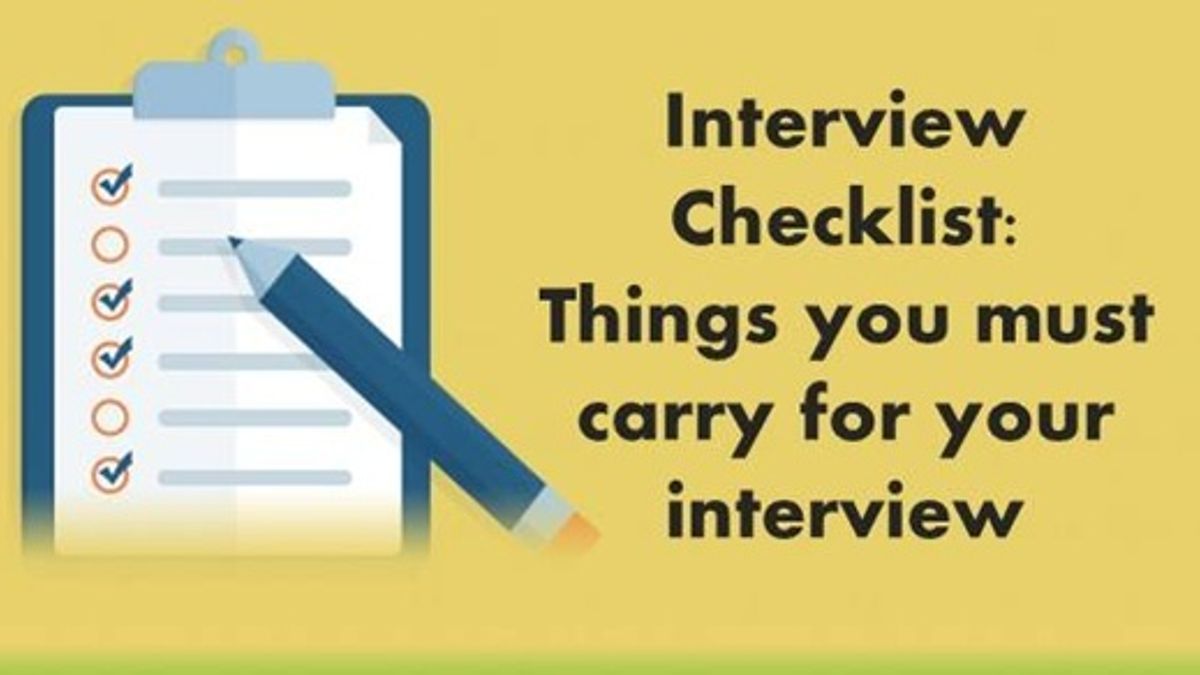 Interview checklist
In a job interview, what a candidate struggles for. It's obviously for creating favourable environment to get selected. For this, the candidate tries to keep the interviewer impressed at every moment of the strategic talk. But, all the efforts, knowledge, skills, expertise, and of course preparation goes in vain when you, suddenly, require the document or any important thing that you forget to carry along in the interview.
To know what the documents, papers, and details that most of candidates forget to carry with them in job interviews, keep the reading continue as here we have provided complete checklist of what you must carry to your job interview.
Cover Letter
What if your interviewer wants to know more about you with just a quick reading? He/she would definitely ask you for the cover letter that narrates all relevant and important details about you in creative and attractive manner. Besides this, it strengthens your candidature before the interviewer who always wants to see your preparedness for such an important moment. To stand out of the crowd, frame, structure, and write a concise, clear, attractive, and of course creative cover letter and carry the same along in your interviews wherever you go.
Extra Copies of Resume
Now, you're at the place where your interview is to be conducted. What the next official formality you would have to perform is to showing the Resume to HR representatives. There-after, you might be asked to join the interviewer or to wait for some time. But, things wouldn't happen this way if you forget to bring the copies of your Resume. Besides this, interviewer would feel bad for you if fail to show your updated Resume or Curriculum Vitae to him/her. So, to evade situations like this, put extra copies of your Resume or CV in file folder and show when you're asked for it.
Folder
You're on way to the place where your interview is scheduled to be held. Suddenly, it begins raining. What would you do if the rain drops begin wetting your Resume, cover letter, experience certificates, details, and other important papers that you have carried along for the interview? You would obviously be helpless in safeguarding the documents. Be prepared for this, because you never know what would happen next. Put all important documents, copies of your Resume and Curriculum Vitae in waterproof folder.
Pen
What would your interviewer or the HR representatives think about you if you ask them for a pen to write thecertain things you're asked to write in the interview? They mightnaturally perceive you as careless, unprofessional, and even undisciplined person. And this might be enough for your rejection. So, to be prepared for all what might come to you in a job interview, you need to carry to carry at least a pen. It'll notincrease your burden if you carry one or two extra pens with you.
Notepad
You and your interviewer are locked in a brief strategic talk where you more cautiously replying to the queries of the interviewer. You get stumbled when your interviewer suddenly ask you to note down certain important things. This further leads to awkward silence which no doubt is embarrassing for both of you. To evade such a embarrassing situation in your own interview, carry a notepad. This would reflect your professionalism as well as your preparedness.
Phone
The moment has come when your interviewer stops asking questions after being satisfied with your great and satisfactory replies. You shrug your shoulders showing you didn't carry your phone when your interviewer asks you to make a call to a person whom you referenced in your application for the job. He (interviewer) might note that while making himself a call to the person. Avoid this situation, especially when you are going for a interview. Carry your phone; it'll help you in many ways.
Conclusion
In a job interview, every candidate needs to appear with relevant and important document, details, papers, and other important things. Most of times, the candidates fail to win over the interviewer, even after replying all the questions the interviewer asks. This happens because they forget to carry along the document, papers, and any other important thing whose requirement suddenly arises in the interview. To evade this, we have tried provide the list of some important things in this snippet.