Karnataka 2nd PUC Exam Schedule 2024: Students of Karnataka 2nd PUC were eagerly waiting for the final board exam date sheet 2024 so that they could design a clear road map for the preparations. Now the wait is over as the Department of Pre-University Education (DPUE) has publish the 2nd PUC exam schedule 2024 on kseab.karnataka.gov.in. The 2nd PUC date sheet 2024 comprise exam dates for the subjects of the Arts, Commerce, and Science streams, along with the subject codes and names.
As notice provided along with the Karnataka Class 12 date sheet says "The Provisional Time Table for Annual Examination-1 has been published on the Board's website on Date: 01-12-2023. Principals of all Pre-Graduate Colleges and Head Teachers of High Schools in the State have been asked to publish the time table on the "Notice Board" of their schools/colleges to inform the students. SSLC and secondary PUC published by Mandali. A period of 15 days from date: 01-12-2023 to 15-12-2023 has been given to students, parents and public to file objections to the provisional schedule of Annual Examination-1. Objections to Mandali's e-mail address: chairpersonkseab@gmail.com"
To learn more, check out this complete article.
Karnataka 2nd PUC Date Sheet 2024: Highlights
The key details related to the 2nd PUC exam and date sheet 2024 are provided here. Students can also check the updates at kseab.karnataka.gov.in under the PUC section.
| | |
| --- | --- |
| Board | Department of pre-University Education (DPUE), Government of Karnataka |
| Exam Name | Karnataka Pre-University Certificate Examination (Karnataka PUC Board) |
| Date Sheet | Karnataka 2nd PUC Time Table 2024 |
| Date Sheet Release Date | December 1, 2023 |
| Theory Exam Start Date | March 2, 2024 |
| Board Website | kseab.karnataka.gov.in |
Steps to Download Karnataka 2nd PUC Date Sheet 2024 PDF
Step 1: Visit the official website, kseab.karnataka.gov.in.
Step 2: On the Home Page, scroll down to the 'Documents' section and click on 'PUC'.
Step 3: A drop-down will extend, which will have 'time table' as one of the headings. Click on 'time table'
Step 4: The page with the PDF of the 2nd PUC will open. Click on the link named '2nd PUC Time Table 2024' to download and save for future reference.
2nd PUC Exam Time Table 2024 Out!
Below is the newly released Karnataka PUC Date Sheet 2024, that will be followed for the 2023-24 Class 12th board exams. The 2nd PUC examination will start on March 2 2024 and continue until March 22, 2024.
| | |
| --- | --- |
| Subject | Exam date |
| Kannada, Arabic | March 2, 2024 |
| History / Physics | March 4, 2024 |
| Information Technology, Retail, Automobile, Healthcare Beauty and wellness | March 5, 2024 |
| Sociology / Electronics / Computer Science | March 6, 2024 |
| Hindi | March 7, 2024 |
| Political / Science / Statistics | March 9, 2024 |
| English | March 11, 2024 |
| Tamil, Telugu, Malayalam, Marathi, Urdu, Sanskrit, French | March 12, 2024 |
| Logic Business studies | March 13, 2024 |
| Mathematics Education | March 14, 2024 |
| Geography, Biology | March 16, 2024 |
| Hindustani Music, Psychology, Chemistry, Basic Maths. | March 18, 2024 |
| Optional Kannada, Accountancy, Geology, Home Science | March 20, 2024 |
| Economics | March 22, 2024 |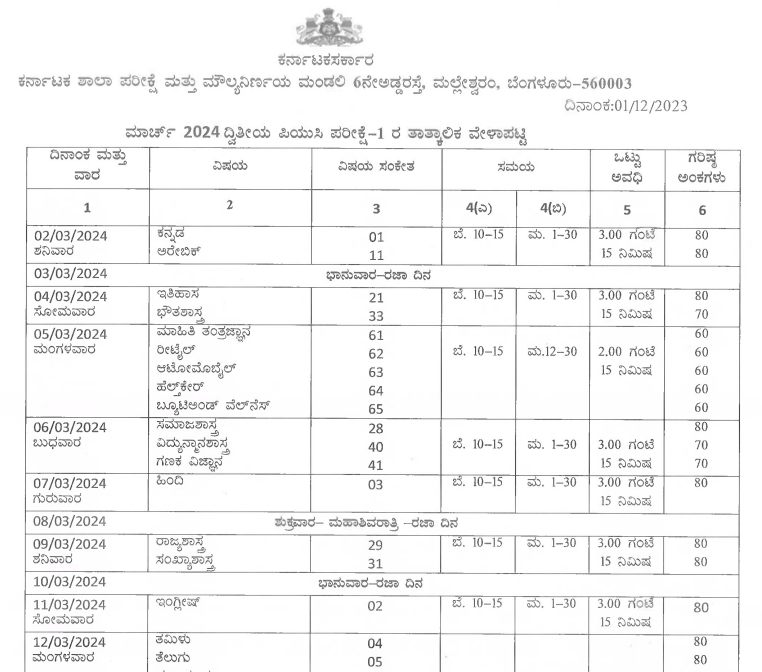 Also Read: