NEET 2019 Exam Centres: Get list of NEET exam centres | state-wise and city-wise
NEET 2019 Exam centres list has been released by the NTA along with the NEET 2019 exam notification. Check complete list of NEET Test Centres List including states and cities here.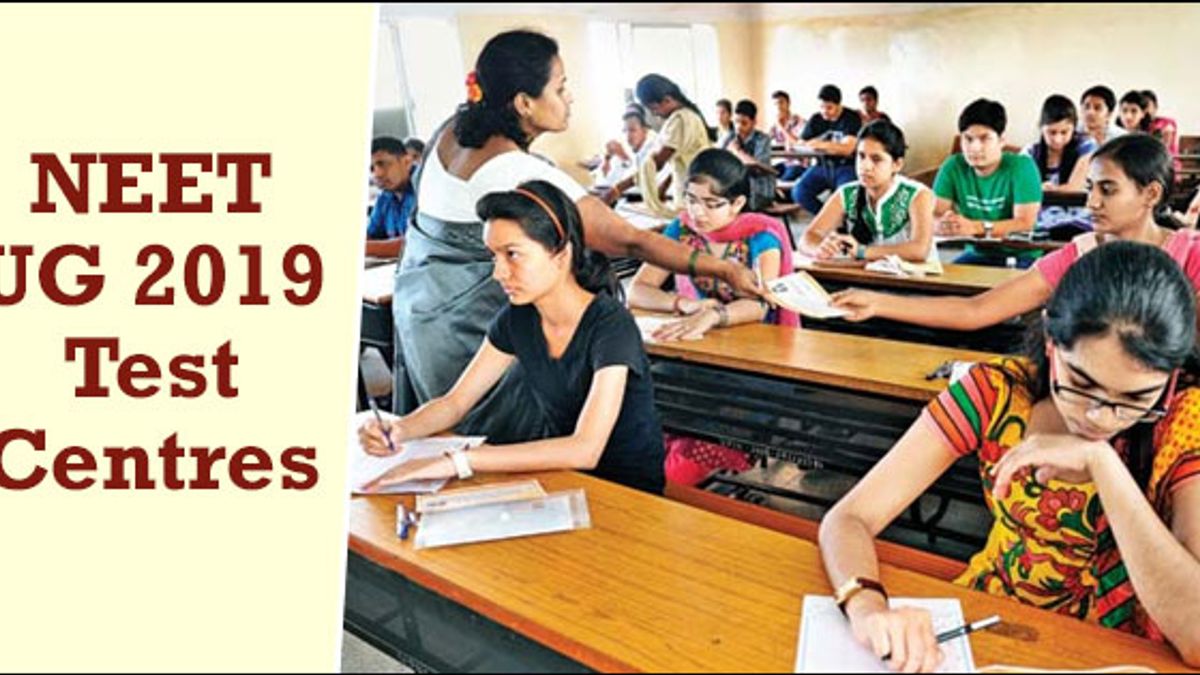 NEET 2019 Exam Centres: Get list of NEET exam centres | state-wise and city-wise
NEET Exam is conducted in many states in all over India. There are around 2000 exam centers across 150 cities in India level for this NEET 2019 national level exam. Student's exam centre may be changed to some other city for wrongly chosen.
Verify NEET 2019 Exam Locations based on City Code and Vernacular Languages Centers. NEET 2019 is scheduled for May 6th, 2019, so students who applied can check complete exam details to avoid confusion at the time of exam commencement.
Exam Centers for NEET 2019
Candidates tend to follow certain steps in order to select NEET 2019 Exam Centre. Candidates can check the information provided below for the same:
As a first step, candidates need to register for NEET 2019 and enter the asked details.
Candidates must keep in mind that there are some details which they have to mention in NEET 2019 Application Form such as Personal Details, Academic Qualification Details. This includes the selection of after following the above step; candidates will have to give at least 3 test centre preferences.
After selecting the exam centre, candidates will have to select the medium of the question paper for NEET 2019.
Importance of Test Centers
Candidates must note that the choice of exam centre and the medium of exam centre once submitted cannot be changed. So, when candidates will submit the choice for exam centre and medium it has to be cross- checked and selected carefully as candidates will not get an option to change it.
NEET centers for vernacular language
NEET 2019 will be conducted in 10 languages which are Hindi, Urdu, English, Bengali, Marathi, Assamese, Tamil, Telegu, Kannada, Oriya and Gujarati. So, the candidates who wish to give their NEET 2019 in any of the Vernacular languages they must check the list of the Exam Centre and the choice available for them which is given below.
| | |
| --- | --- |
| Medium of Question Paper | Exam Centers |
| English and Hindi | All Examination Centre Cities |
| English & Assamese | Examination Centre Cities in Assam |
| English & Bengali | Examination Centre Cities in West Bengal and Tripura |
| English & Gujarati | Examination Centre Cities in Gujarat, Daman, Dadar & Nagar Haveli |
| English & Kannada | NEET Exam Centres in Karnataka |
| English & Marathi | Examination Centre Cities in Maharashtra |
| English & Oriya | Examination Centre Cities in Odisha |
| English & Tamil | Examination Centre Cities in Tamil Nadu |
| English & Telugu | Examination Centre Cities in Andhra Pradesh & Telangana |
| English & Urdu | All Examination Centre Cities |
Test Centers
Andaman and Nicobar
Port Blair
Andhra Pradesh
Guntur
Kurnool
Nellore
Tirupathi
Vijayawada
Visakhapatnam
Arunachal Pradesh
Itanagar
Assam
Dibrugarh
Guwahati
Silchar
Tezpur
Bihar
Gaya
Patna
Chandigarh
Chattisgarh
Bilaspur
Raipur
Bhilai/Durg/Bhilai Nagar
Dadra and Nagar Haveli
Dadra & Nagar Haveli
Daman and Diu
Daman
Delhi
Goa
Panaji
Gujarat
Ahmedabad
Anand
Bhavnagar
Gandhinagar
Godhra
Patan
Rajkot
Surat
Vadodara
Valsad
Haryana
Faridabad
Gurgaon
Himachal Pradesh
Hamirpur
Shimla
Jammu
Srinagar
Jharkhand
Bokaro
Jamshedpur
Ranchi
Karnataka
Bangalore
Belgaum
Davangere
Dharwad
Gulbarga
Hubli
Mangalore
Mysore
Udupi
Kerala
Alappuzha
Angamaly
Ernakulam
Kannur
Kasaragod
Kollam
Kottayam
Kozhikode
Malappuram
Palakkad
Thrissur
Trivandrum
Lakshadweep
Kavaratti
Madhya Pradesh
Bhopal
Gwalior
Indore
Jabalpur
Ujjain
Maharashta
Ahmednagar
AkolaAmravathi
Aurangabad
Beed
Buldana
Jalgaon
Kolhapur
Latur
Mumbai
Mumbai Suburban
Nagpur
Nanded
Nasik
Navi Mumbai
Pune
Satara
Solapur
Thane
Manipur
Imphal
Meghalaya
Shillong
Mizoram
Aizawl
Nagaland
Dimapur
Nagaland
Kohima
Odisha
Angul
Balasore
Cuttack
Behrampur
Bhubaneshwar
Rourkela
Sambalpur
Puducherry
Puducherry
Punjab
Amritsar
Bhatinda
Jalandhar
Rajasthan
Ajmer
Bikaner
Jaipur
Jodhpur
Kota
Udaipur
Sikkim
Gangtok
Tamil Nadu
Chennai
Coimbatore
Cuddalore
Kancheepuram
Karur
Madurai
Namakkal
Thanjavur
Nagercoil
Salem
Thiruvallur
Tiruchirapalli
Tirunelveli
Vellore
Telangana
Hyderabad
Warangal
Ranga Reddy
Khammam
Karimnagar
Tripura
Agartala
Uttarakhand
Dehradun
Roorkee
Haldwani
Uttar Pradesh
Allahabad
Bareilly
Ghaziabad
Gorakhpur
Jhansi
Kanpur
Lucknow
Meerut
Noida
Varanasi
West Bangal
Durgapur
Hoogli
Howrah
Kharagpur
Kolkata
Siliguri
24 Pargana (North)