SSC CGL exam reasoning study material: Analogy-I
In this article, we have prepared a set of 10 questions with answers hailed from Analogy chapter of general intelligence & reasoning. Let us go through them-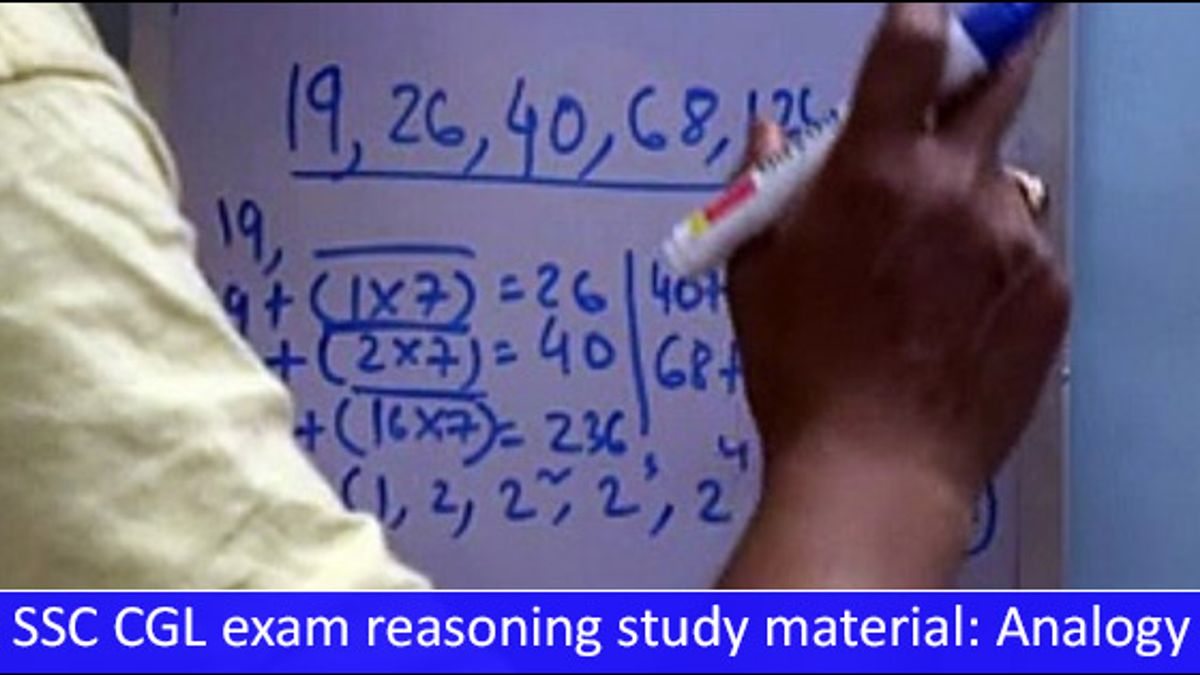 SSC CGL reasoning Analogy
SSC CGL exam is one of the most awaited exams among the young graduates. There are four subjects in SSC CGL exam and General Intelligence & Reasoning is one of them carrying equal number of questions & marks as the other section. It is very important to practice reasoning questions systematically to score well in the SSC CGL exam.
Hence, in this article, we have prepared a set of 10 questions with answers from Analogy chapter of General Intelligence & Reasoning. Let us go through them-
SSC CGL reasoning study material: Analogy
1. Army is related to Land in the same way Navy is related to ______.
a. Defence
b. Water
c. Admiral
d. Marshal
Ans.:- b.
Explanation: - Army is a division of armed forces, which operates from land and Navy is the division of armed forces deployed in the ocean and equipped with heavy naval ships and frigates.

2. Malaria: Disease :: Spear: ?
a. Wound
b. Weapon
c. War
d. Sword
Ans.:- b.
Explanation: - Malaria is a disease spread by Anopheles mosquitoes; while spear is a weapon, which is used in the ancient era for killing animals.

3. Muslims: Mosque :: Sikhs: ?
a. Medina
b. Fire temple
c. Gurudwara
d. Golden temple
Ans.:- c.
Explanation: -Muslims pay their prayers at mosque similarly Sikhs pray in the Gurudwaras.

4. Bird: Fly :: Snake: ?
a. Crawl
b. Clatter
c. Stroll
d. Hole
Ans.:- a.
Explanation: - The Bird is known for flying in the sky; similarly snake is known for crawling on the ground. Second one is the activity of the first one.

5. Sorrow: Death :: Happiness: ?
a. Dance
b. Cry
c. Birth
d. Love
Ans.:- c.
Explanation: - Sorrow is one of the causes of death; similarly, Birth is one of the causes of Happiness.

6. Dettol: Antiseptic :: Phenyl: ?
a. Antidote
b. Detergent
c. Deodorant
d. Preservative
Ans.:- c.
Explanation:- Second is the property of the first one. Dettol is used for its antiseptic properties on wounds, while phenyl is used for its aromatic properties in deodorant.

7. Needle: Clock :: Wheel: ?
a. Walk
b. Road
c. Weapon
d. Vehicle
Ans.:- d.
Explanation: - Needle is the part of a Clock; similarly wheel is a part of a vehicle.

8. Wood is related to Charcoal in the same way Coal is related to ____ ?
a. Smoke
b. Coke
c. Ash
d. Fire
Ans.:- b.
Explanation: - Charcoal is prepared after processing wood; similarly coke is produced after coal processing.

9. College is related to Students in the same way Hospital is related to ____ ?
a. Engineers
b. Doctors
c. Patients
d. Nurse
Ans.:- c.
Explanation: - Students are taught in a college; similarly patients are treated in hospitals.

10. If Waves are to Air in the same way Ripples is to ____.
a. Storm
b. Smoke
c. Rain
d. Water
Ans.:- d.
Explanation: - Air flows in the wave form; similarly water flows in the form of ripples.

For more SSC exams study material, keep on visiting us regularly.
All the Best!