SSC Scientific assistant 2017: Find Paper-1 complete syllabus
Staff selection commission will conduct an open online competitive examination for recruiting 1102 scientific assistants in IMD (Indian Meteorological department). find complete syllabus for paper-1 here in this article.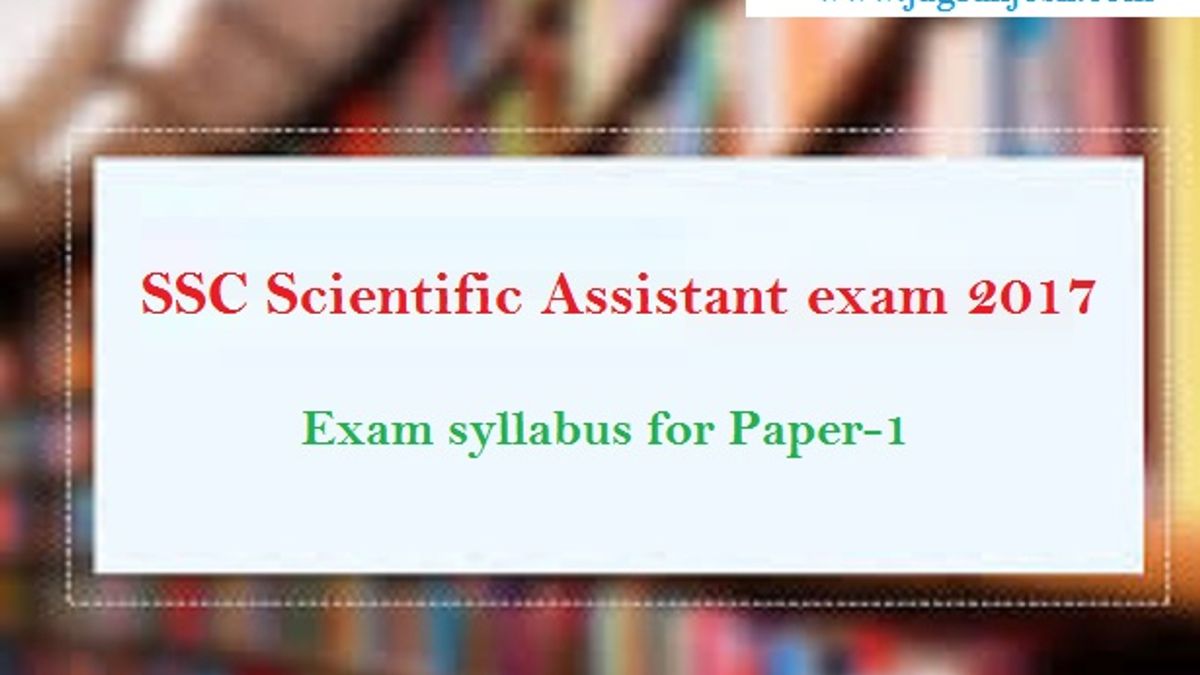 ssc scientific assistant syllabus
Staff selection commission will conduct an open online competitive examination for recruiting 1102 scientific assistants in IMD (Indian Meteorological department). The candidates selected under this entry will be deputed under Group- 'B' Non-Gazetted Non-ministerial post in the Level-6 of Pay Band(2)- Rs. 9,300-34800 plus grade pay of Rs. 4,200 in the previous scale. The 7thpay commission recommendation is still awaited in regard of salary structure. The last date of submitting online application is 4thAugust, 2017 and online examination will be conducted from 20.11.2017 to 27.11.2017 all across the country.
SSC Scientific Assistant: Scheme of Examination
The exam would be conducted in two parts: Paper- I and II. This examination would comprise 200 questions carrying 200 marks and total duration will be of 2 hours. Find the additional information in the following format.
Papers

Subjects

No. of Questions

Total Duration

Paper-I (Online Mode)

General intelligence & reasoning
Quantitative Aptitude
English Language & Comprehension
General Awareness

25
25
25

25

120 Minutes (Total)

Paper-II (Online Mode)

Physics, Computer Science and Information Technology, Electronics & Telecommunication Engineering

100
There will be a negative marking of 0.25 marks for every wrong answer in Part-I & II. Before answering the questions, keep this thing in mind.
SSC Scientific Assistant 2017: Detailed Syllabus for Paper-1
The detailed syllabus for Paper-1 is given underneath.
General Intelligence & Reasoning
The Syllabus for General Intelligence would include questions of both verbal and non-verbal type. The test may include questions on-
Analogies
Similarities & Differences
space visualization
Problem solving
Analysis & Judgment
Decision Making
Visual Memory
Discrimination & Observation
Relationship concepts
Arithmetical reasoning
Verbal and figure classification
Arithmetical number series etc.
The test will also include questions designed to test the candidate's abilities to deal with abstract ideas and symbols and their relationships, arithmetical computations and other analytical functions.
Quantitative Aptitude
This test is to check your command on general maths and understanding of methods, concepts and their applicability.
Computation of whole numbers decimals
Fractions and relationships between numbers
Percentage
Ratio & Proportion
Square roots
Averages
Interest
Profit and Loss
Discount
Partnership Business
Mixture and Allegation
Time and distance
Time & Work
Basic algebraic identities of School Algebra & Elementary surds
Graphs of Linear Equations
Triangle and its various kinds of centers
Congruence and similarity of triangles
Circle and its chords, tangents
Angles subtended by chords of a circle
Common tangents to two or more circles
Triangle
Quadrilaterals
Regular Polygons
Right Prism
Right Circular Cone
Right Circular Cylinder
Sphere & Hemispheres
Rectangular Parallelepiped
Regular Right Pyramid with triangular or square base
Trigonometric ratio
Degree and Radian Measures
Standard Identities
Complementary Angles
Heights and Distances
Histogram
Frequency polygon
Bar diagram & Pie chart
English Language & Comprehension
English grammar, Vocabulary, Spellings, Synonyms and Antonyms, Comprehension, Correct and incorrect usages, etc.
General Awareness
General, physical, geographical, topographical, economic and climatic features of India. Current events. Matters of everyday observation and experience on scientific aspects and reasoning. Basic topics of mathematics, Chemistry and Physics. History of India, its cultural heritage, freedom movement, salient feature of the Constitution of India. Economic and social aspect of the country and its people.
As exam for this entry is coming closer, Start preparing for it keeping an eye on the above stated syllabus. For more recent updates, visit www.ssc.nic.in .
All the best!