Journalism v/s mass communication: Which one is better?
Journalism and mass communication are sometimes mistaken to be synonymous. To solve that problem, here are the list of differences between the two.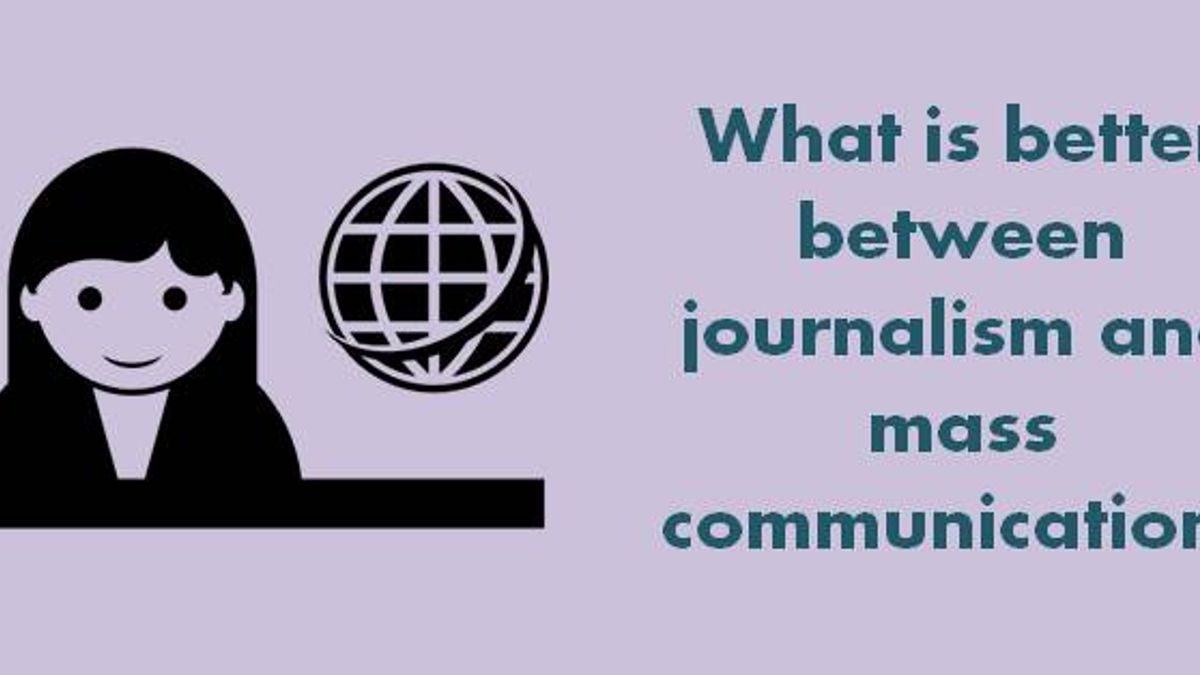 Journalism vs mass communication Which one is better
Are you looking to make a career in the field of media, but with the plethora of courses available you are confused about which one to go for? Well, worry not for you are not the only student stuck in this dilemma. There are many aspiring media students who are unsure which field to go for. And most face this confusion between the two very popular courses namely the 'journalism' and 'mass communication.' Although both of them are quite interlinked media courses they lead to pretty different careers. And before you choose between one of them you need to understand which one of these is a better match to your career interests.
Difference between Journalism and Mass Communication
Journalism in a broad sense is all about news reporting whereas mass communication deals with different mediums of media to spread messages, information or entertain masses. Reporting in newspapers, magazines, T.V., radio or the digital mediums usually comes under journalism. And based on the different mediums, the field of journalism can be divided into three broad categories namely the print (i.e. the newspapers and magazines), electronic (i.e. T.V. and radio) and online journalism. So based on your interests you could even choose for a course specific to one of these mediums.
As for mass communication, you could say that is an umbrella term for a wide variety of media fields such as that of theater, radio, T.V., filmmaking, journalism, advertising, public relations and others. In short mass communication covers a broad area of media while journalism focuses only on news.
Mentioned below are some differences between the two fields based on some common parameters.
Structure of the course
Journalism mainly involves the components of political science, economics, communication theory, history of journalism and research methodology. It aims to acquaint students with the social facts, theoretical frameworks and role of the media as a mediating agency. Mass communication, on the other hand, involves writing things which have a larger social impact and includes opinions pieces and features which are given by journalists and writers.
Type of content conveyed
Journalism is about stating facts and telling the readers about the exact things that happened. Whereas, mass communication involves disseminating information to the people at local, national or international level with or without a necessary intent, with the help of multiple media platforms.
Scope for Creative Freedom
Journalism is more conventional and requires the professionals to state facts instead of opinions. They simply have to state what happened and narrate the incident as it is. Mass media is a bigger umbrella and offers more choices to the writers.
Course Offerings
At the graduation level, journalism usually involves mediums like print, digital or electronic and one of them can be chosen as a specialization when pursuing a post graduation course. Its one of the various aspects of mass communication referring to writing about news and current affairs in various news media mediums. While on the other hand if one studies mass communication as a discipline, he or she is expected to learn about various processes and nuances of human communication operating in the sphere of mass media. It is a course which involves the study of human communication and how it can be used for disseminating information to a number of people.
Types of Courses Offered
In recent times, the students have a good number of options to choose from when it comes to journalism and mass communication as a number of disciplines have been devised under these two courses. Some of them are as follows - Bachelors in Journalism, Bachelors in Journalism and Mass communication, Bachelors in Mass Media and Mass Communication and Bachelors in Communication Studies and many others.
Job Prospects in the two fields
As for job prospects, in the wake of the proliferation of new media, there are opportunities in both the fields. Those who opt for journalism can look for work in various news media organizations such as news agencies, television and radio news channels, newspapers, magazines and news portals. Those who wish to make a career in mass communication have options in varied fields such as NGOs, public relations and advertising agencies, corporate communication, communication solution organizations, UN organizations and media academics.
Jobs Best Suited to People with an Artistic Personality

Salary Offerings
How much you earn after getting the degree depends totally on what's your role and what kind of organization you are working for. Journalism mostly is said to be an underpaid profession so, if money is a high priority on your list of things that you want to achieve or the ones you'd consider when taking a job then mass communication fields might be better for you. Some roles in advertising agencies are usually better paid than those in a news agency so if you are keen on selling things or ideas to people, advertising would be ideal.
7 Things to Consider When Choosing a Career Path

Best Colleges in India for Journalism and Mass communication
• Asian College Of Journalism (ACJ)
• Indraprastha College for Women (IPCW)
• Indian Institute of Mass Communication (IIMC)
• Symbiosis Institute of Media And Communication (SIMC)
• Mudra Institute of Communications (MICA)
• Jamia Milia Islamia
• Xavier Institute of Communications (XIC)
• Makhanlal Chaturvedi National University of Journalism and Communication (MCNUJC)
In Summation,
In a broad sense, journalism is all about news reporting be it for print, electronic or online medium while mass communication encompasses within itself a wide variety of media disciplines such as that of films, online media, documentary, television, radio, graphics, events, advertising, corporate communications and so on. But when you actually go out to enroll in a university or college you see the two courses usually overlap.
However, despite the differences, both the disciplines are interesting and challenging for the students. Depending upon your inclination, you can choose one between mass communication and journalism. For, those who believe that they are more inclined towards current affairs and are quite passionate about presenting information to people before anyone else they are more likely to perform better as journalists while those who are interested in aspects of mass media other than news media such as communication and culture studies, advertising, public relations, documentary and feature films, radio and television programming are likely to do better in mass communication discipline. The media industry is one of the pillars of democracy and to have a position in it, one doesn't only need to be creative but also have a strong sense of responsibility.