17th Lok Sabha 2019: 46 First-Time women MPs among record 78 women MPs in new Lok Sabha
First time elected 46 women MPs will represent lower house of parliament among total number of 78 women representatives in 17th Lok Sabha. It is 14.6% of total Lok Sabha strength. Read thoroughly to find out list of first time elected women MPs.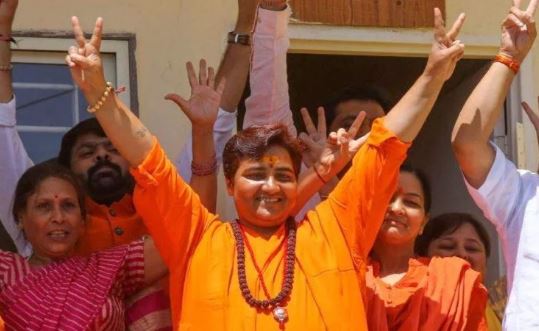 46 women MPs elected for first time in 17th Lok Sabha
The 17th Lok Sabha is all set to witness highest ever representation of women MPs. In Lok Sabha Elections result 2019, total 78 women MPs have been elected across the country while 46 women representatives are present in the list of first time elected women MPs. This is after the BJP-led NDA retained power with winning 303 Lok Sabha seats. 17th Lok Sabha will see highest number of women representatives ever.
Chandrani Murmu (BJD) – Odisha
Youngest ever (25 years) women MP Chandrani Murmu - Beeju Janta Dal (BJD) - from Odisha is the winner from Keonjhar constituency, defeating two-time Bharatiya Janata Party (BJP) MP Ananta Nayak by a margin of 66,203 votes. Chandrani completed her B.Tech from Bhubaneswar based SOA University in 2017. Chandrani's priorities as a newly elected MP are to educate people in the region, establish a new railway line between Keonjhar and Bhubaneshwar, and set up a steel plant.
Sadhvi Pragya Thakur (BJP) – Madhya Pradesh
Sadhvi Pragya Thakur's seat from Bhopal was one of the much debated issues of Lok Sabha Elections 2019. Defeating former MP CM and senior Congress leader Digvijay Singh, she won Bhopal seat by a margin of over 364,000 votes. She made promises for employment generation, farmer pension, better air connectivity and implementation of schemes.
Nusrat Jahan (TMC) – West Bengal
Famous personality of Bengali film industry emerged victorious from South Bengal seat of Basirhat. She won by a margin of more than 3.5 lakh votes against BJP's Sayantan Basu. Though it is her first experience in political frame, her constituency is a stronghold of Trinamool Congress (TMC). The TMC had fielded a total of 17 women candidates in 42 seats of the state.
Goddeti Madhavi (YSRCP) - Andhra Pradesh
YSR Congress Party candidate Goddeti Madhavi has won the Araku Lok Sabha seat. Madhavi was pitched against three-time Congress MP Kishore Chandra Deo, who was contesting on a Telugu Desam Party ticket this time. She won the seat by over 221,000 votes. She made promises to deliver healthcare, institutional deliveries and nutritious food in the tribal areas of her constituency in Odisha.
Shardaben Patel (BJP) – Gujrat
Shardaben Patel contested from Mahesana seat in Gujrat against INC candidate AJ Patel. She has won for first time but not new to politics as her husband Anil Patel was a minister for two terms in Narendra Modi's government in Gujarat between 2002 and 2012.
Queen Oja (BJP) – Assam
Queen Oja of Bhartiya Janta Party (BJP), 67 year old, is the first time winner from Guwahati seat. She has been continuously agitating against Bangladeshi migrants for six years. She also contested the state elections in 2011, as the AGP (Asom Gana Parishad) candidate from Guwahati East, but lost.
Jyotsna Mahant (INC) - Chhattisgarh
Jyotsna Mahant (65) has been elected as an MP for the first time from Korba seat. Despite two-thirds majority in assembly polls held last year, Congress managed to win only two seats — Korba and Bastar — in Chhattisgarh. However, remaining nine seats were bagged by the Bharatiya Janata Party (BJP).
Sunita Duggal (BJP) - Haryana
She is a former Indian Revenue Service (IRS) officer and won Sirsa lok-sabha seat with a margin of by more than 3,00,000 votes against Congress candidate Ashok Tanwar. She is the only woman candidate elected from Haryana by BJP.
Sumalatha Ambareesh (IND) – Karnataka
Sumalatha won by a margin of 126,000 votes against chief minister HD Kumaraswamy's son Nikhil Kumaraswamy. Sumalatha, wife of the late film star and former union minister MH Ambareesh, contested as an Independent candidate with support of BJP in the state.
Ramya Haridas (INC) – Kerala
Ramya Haridas, 32, defeated two-time parliamentarian PK Biju of the CPI (M) in Alathur (Palakkad) with a margin of over 150,000 votes. She is a singer, dancer and now entered into the politics.
Himadri Singh (BJP) – Madhya Pradesh
Himadri Singh belongs to a political background, her parents, Dalbir Singh and Rajesh Nandini Singh, were long-time Congress leaders. Himadri Singh won the 2019 Lok Sabha poll by more than 4,03,000 votes against Pramila Singh of the Congress party from Shahdol seat. In Madhya Pradesh 28 seats were won by BJP while only 1 seat left with Congress.
Jothimani (INC) - Tamil Nadu
Jothimani won Karur Lok Sabha seat in Tamil Nadu by 420,000 votes defeating AIADMK candidate Thambidurai. She was made national Youth Congress' general secretary in 2009 by Rahul Gandhi. She is also a successful Tamil writer of short stories and novels.
Complete List of First Time Elected Women MPs in 17th Lok Sabha

S.No.

Name

Party

State

1

Sanghmitra Maurya

BJP

UP

2

Locket Chatterjee

BJP

West Bengal

3

Pratima Bhoumick

BJP

Tripura

4

Ranjeeta Koli

BJP

Rajasthan

5

Bharati Pawar

BJP

Maharashtra

6

Pramila Bisoyi

BJD

Odisha

7

Diya Kumari

BJP

Rajasthan

8

Rathva Gitaben

BJP

Gujarat

9

Sandhya Ray

BJP

Madhya Pradesh

10

Himadri Singh

BJP

Madhya Pradesh

11

Pragya Singh Thakur

BJP

Madhya Pradesh

12

Navneet Ravi Rana

IND

Maharashtra

13

Kavitha Malothu

TRS

Telangana

14

Sumanlatha Ambreesh

IND

Karnataka

15

Kerala

INC

Ramya Haridas

16

T. Sumathy

DMK

Tamil Nadu

17

Jothimani S

INC

Tamil Nadu

18

Kanimozi Karunanidhi

DMK

Tamil Nadu

19

Veena Devi

LJP

Bihar

20

Kavita Singh

JDU

Bihar

21

Annapurna Devi

BJP

Jharkhand

22

Geeta Kora

INC

Jharkhand

23

Renuka Singh Saruta

BJP

Chhattisgarh

24

Gomati Sai

BJP

Chhattisgarh

25

Jyotsana Mahant

INC

Chhattisgarh

26

Goddeti Mahadevi

YSRCP

Andhra Pradesh

27

Beesetti Satyavathi

YSRCP

Andhra Pradesh

28

Vanga Geethavishvanath

YSRCP

Andhra Pradesh

29

Chinta Anuradha

YSRCP

Andhra Pradesh

30

Sanghamitra Maurya

BJP

UP

31

Kesari Devi

BJP

UP

32

Sangeeta Azad

BSP

UP

33

Rita Bahuguna Joshi

BJP

UP

34

Queen Oja

BJP

Assam

35

Debasree Chaudhary

BJP

West Bengal

36

Mahua Moitra

AITC

West Bengal

37

Nusrat Jahan

AITC

West Bengal

38

Mimi Chakraborty

AITC

West Bengal

39

Mala Roy

AITC

West Bengal

40

Locket Chatterjee

BJP

West Bengal

41

Chandrani Murmu

BJD

Odisha

42

Manjulata Mandal

BJD

Odisha

43

Sarmishta Sethi

BJD

Odisha

44

Rajashree Mallick

BJD

Odisha

45

Aparajitha Sarangi

BJP

Odisha

46

Pramila Bisoyi

BJD

Odisha
Also Read: PM Modi Swearing-In Oath Ceremony Live Updates: Punjab CM Amarinder Singh not to attend ceremony
Also Read: Pro-tem Speaker: Santosh Gangwar likely to be appointed as Pro-tem Speaker
Also Read: ICC Cricket World Cup 2019: Frequently Asked Questions (FAQs)
Also Read: High Profile Guest list of PM Modi's swearing-in ceremony includes SRK, Kangana Ranaut, Ambani, IMF chief and many more