Asian Athletics Championship 2019: India finishes fourth with 17 medals
Asian Games champion Tajinder Pal Singh Toor, the favourite, secured the men's shot put gold with an opening-round throw of 20.22m, his best this season.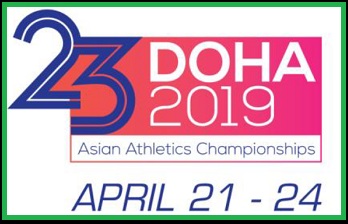 Asian Athletics Championship 2019
The 23rd edition of the Asian Athletics Championship concluded in Doha, Qatar on April 24, 2019. India with 17 medals (3 Gold, 7 silver and 7 bronze) finished fourth in the tournament.
The four-day event saw participation from 63 nations across the world. Bahrain topped the tally with 11 gold, 7 silver and 4 bronze, followed by China with 10 gold, 13 silver, 7 bronze and then Japan with 5 gold, 4 silver, 9 bronze.
Medal Winners

S.no

Name

Event

Medal

1.

Tejinder Pal Singh Toor

Men's shot put

Gold

2.

Gomathi Marimuthu

Women's 800m

Gold

3.

PU Chitra

Women's 1500m race

Gold

4.

Ajay Kumar Saroj

Men's 1500m race

Silver

5.

Swapna Barman

Women's heptathlon

Silver

6.

Annu Rani

Women's javelin throw

Silver

7.

Shivpal Singh

Men's javelin throw

Silver

8.

Avinash Sable

Men's 3000m steeplechase

Silver

9.

Prachi, Poovamma, Saritaben Gayakwad and VK Vismaya

Women's 4x400m relay

Silver

10.

Muhammed Anas, MP Poovamma, VK Vismaya and Arokia Rajiv

4x400m mixed relay

Silver

11.

Dutee Chand

Women's 200m

Bronze

12.

M R Poovamma

Women's 400m

Bronze

13.

Parul Chaudhary

Women's 5000m race

Bronze

14.

Sanjivani Jadhav

Women's 10,000 m

Bronze

15.

Gavit Murali Kumar

Men's 10,000m

Bronze

16.

M P Jabir

Men's 400m hurdles

Bronze

17.

Saritaben Gayakwad

Women's 400m hurdles

Bronze
Key Medal Winners

1. PU Chitra

PU Chitra won gold in the women's 1500m race, clocking 4:14.5, at the 23rd Asian Athletics Championships in Doha on April 23, 2019. With this win, she also qualified for World Championships which will be held later in the year. Chitra had won gold in the event in 2017 Championships as well.

2. Tejinder Pal Singh Toor

Asian Games champion Tajinder Pal Singh Toor, the favourite, secured the men's shot put gold with an opening-round throw of 20.22m, his best this season.

3. Gomathi Marimuthu

Gomathi fought her way from the back of the pack and shocked the field to take the women's 800m gold. It was the 30-year-old Tamil Nadu athlete's first major gold. She surprised Kazakhstan's Margarita Mukasheva and China's Wang Chunyu to take the medal with a personal best timing of 2:02.70s. Her previous best (2:03.21) came with the Federation Cup gold recently in Patiala.

4. Ajay Kumar Saroj

Saroj clocked his season-best time of 3 minutes 43.18 seconds to clinch a silver behind Bahrain's Abraham Kipchirchir Rotich who clocked 3:42.85.

5. Shivpal Singh

Javelin thrower Shivpal Singh produced a huge 86.23m effort to bag the silver medal. His effort was nearly four metres more than his previous best of 82.56m that came at last month's Federation Cup at Patiala. He was the second best Indian in the event, after Neeraj, the Asiad and Commonwealth Games gold medalist pulled out of the event with an elbow strain.

6. Annu Rani

Annu Rani opened India's account at the Championship with a silver medal in women's javelin throw. Rani bettered her performance at the 2017 Athletics Championship with a throw of 60.22 metres in her first attempt. It was, however, more than 2m short of her national record-shattering effort of 62.34m during Federation Cup in March 2019. Huihui Lyu of China won the gold medal with a throw of 65.83 in her second attempt.
7. Avinash Sable

Avinash Sable clocked 8 minute 30.19 seconds to win silver in men's 3000m steeplechase, his first international medal in maiden international competition.

8. Parul Chaudhary

Parul Chaudhary claimed the bronze medal with a time of 15:36.03 in the women's 5000m race. Chaudhary also bettered her earlier personal best of 15:58.35, which she had clocked during the Federation Cup.

9. M R Poovamma

M R Poovamma clocked 53.21 seconds to finish third behind Elina Mikhina (53.19) of Kazakhstan and pre-race favourite Salwa Naser (51.34) of Bahrain in the women's 400m race.

10. Swapna Barman

The 22-year-old logged 5993 aggregate points from the seven events to finish second behind Ekaterina Vornina (6198 points) of Uzbekistan, while Purnima Hembram, the other Indian in the fray, was fifth with 5528 points.

11. Dutee Chand

The sprinter, who had finished fifth in the women's 100m, brushed away the disappointment by winning bronze in 200m semifinal with a timing of 23.33s.

Medal Disappointments
In the men's 4x400 m relay event, Kunhu Mohammed, KS Jeevan, Muhammed Anas and Arokia Rajiv finished second clocking 3:03.28 seconds but were disqualified under rule 163.2 for obstructing another athlete.
Muhammed Anas and Arokia Rajiv, who had coasted to a gold and silver finish in the men's 400m at the last edition of the Championship in Bhubaneswar, finished with no medals.
In the men's 800m, Asiad silver medalist Jinson Johnson dropped out near the last curve in the final after pulling a muscle. He did not compete in 1500m as well. He holds national records in both 800m and 1500m.
Dutee Chand broke her own national record, bringing it down from 11.28 to 11.26s in the 100m semifinal but she ended up finishing fifth with 11.44s.
In the men's triple jump, India's Praveen Chithravel could not produce a single legal jump and finished with a 'no mark' against his name.
Besides this, on the opening day of the Championship, Hima Das pulled out of the 400m race due to a lower back spasm. She was the latest to miss out of the championship due to injuries, with the others being star javelin thrower Neeraj Chopra, national record holder 400m hurdler Dharun Ayyasamy and long-jumper M Sreeshankar.
About 2019 Asian Athletics Championships
The Asian Athletics Championships is an event organised by the Asian Athletics Association.
The 2019 edition of the event is being held at the Khalifa International Stadium in Doha and will serve as the test event for the 2019 athletics World Championships which are being held at the same venue.
The last edition of the event was held in July 2017 at the Kalinga Stadium in Bhubaneswar, India.