Budget 2019: Top five income tax changes expected
Budget 2019 will be presented by Finance Minister Nirmala Sitharaman. Experts are expecting that some more relief on the income tax front can be announced.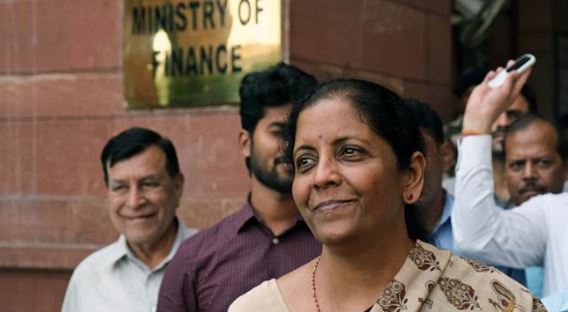 Finance Minister Nirmala Sitharaman
Many analysts expect the budget will be growth supported budget and tax exemptions or tax deductions will add stimulus to an economy that has slowed sharply this year. Many benefits for individual taxpayers were already introduced in the interim budget.
Income Tax Exemption Limit
Tax rebate up to Rs 5 lakh was introduced under Section 87A in the interim budget this year. It is unlikely that there will any other alteration in the exemption. But citizens and many industry bodies want the government to increase the tax exemption threshold from the existing Rs 2.5 lakh to at least Rs 3 lakh. Many people are hopeful that the government would make amends to increase the limit but it would lead to a reduction in the current tax base as more people will be exempted from paying income tax.
Tax-free bonds can be re-introduced
The 2019-20 Budget may see the re-introduction of tax-free bonds to raise capital by government entities for infrastructure projects. These bonds are called tax free because the interest earned is not taxed. The tax-free bonds generally have a long-term maturity of typically ten years or more. The National Highway Authority of India (NHAI) could be an immediate beneficiary, given the government's thrust on road projects.
Section 80C Deduction Limit
The Finance Ministry is also looking at raising the tax exemption limit for savings and investments made under the Section 80C of the Income Tax law. Currently, the limit is set is Rs. 1.5 lakh. Due to ever rising inflation levels and steep medical expenses, policy makers could consider increasing the deduction under Section 80C from the current Rs. 25,000 to ₹35,000, to ensure affordability and accessibility of medical treatment to all class of patients.
Higher deduction on home loans
Real-estate sector has been affected negatively due to a demand slowdown. The government could offer more tax benefits to buyers and provide a much-needed boost to the sector. According to the latest details, people can claim a maximum deduction up to Rs 2 lakh under Section 24B of the Income Tax Act. Government may increase this limit further to incentivise buying housing properties for boosting demand in the sector. A person can claim this deduction from the year in which the construction of the house is completed.
Higher long-term capital gains limit
The government could consider increasing the threshold limit of LTCG (long-term capital gains) on sale of listed equity shares and units of equity-oriented mutual funds which is currently pegged at Rs. 1 lakh per financial year. In the Finance Act, 2018, changes were made under capital gains taxation regime wherein tax was levied on long-term capital gains (LTCG) exceeding ₹1 lakh from the sale of listed equity shares and units of equity-oriented mutual funds, which were fully exempt previously.
Customary 'halwa ceremony' took place recently to mark begining of printing of budget documents. Finance minister Nirmala Sitharaman will be presenting the first budget for the new Narendra Modi government on July 5, 2019. Apart from this, Prime Minister Narendra Modi met with 45 economy experts and discussed things about employment, agriculture, water resources, exports, education and health etc.
The significance of the sweet dish is that after it is served, a large number of officials and support staff, who are directly associated with the budget making and printing process, are required to stay in the ministry and remain cut off from their families till the presentation of the budget by the minister in the Lok Sabha. They are not even allowed to contact their near and dear ones through phone or any other form of communication, like e-mail.
President Ramnath Kovind addressed joint sitting of Parliament on June 20, 2019. He outlined the Modi govt's goals for next five years. President Kovind highlighted various efforts and initiatives taken by Modi govt for nation's development.
Union Budget 2019, will be presented in the Lok Sabha on July 5. However, Economic Survey of India will be tabled, a day before the budget presentation, to present the annual financial snapshots.
Earlier in February economic survey was not presented as it was interim Budget. Budget session of Parliament has already commenced from June 17, 2019, and it will last till July 26, 2019. Today is the first day of proceedings.
Budget Session 2019 Day 1 Live @ 12.04 pm: President Kovind in his joint session address said that campaign against black money will be carried forward at a faster pace. In the last 2 years, more than 4 lakh directors have been disqualified and over 3 lakh dubious companies have been registered.
Budget Session 2019 Day 1 Live @ 12.01 pm: President consesus on the one poll, he said One Nation One Poll is need of the hour, all parties should come together to take a positive step towards this initiative.
Budget Session 2019 Day 1 Live @ 11.48 am: Highlighting govt's successful foreign policy he said that Masood Azhar has been declared as global terrorist, is a big victory for India at global front.
Budget Session 2019 Day 1 Live @ 11.42 am: Speaking about India's spritual and scientific approach he said that Kumbh has emerged as India's biggest holy festival across the globe on the other side India is ready to reach at moon with its Chandrayaan-2.

Budget Session 2019 Day 1 Live @ 11.37 am: President Kovid said that major focus on easy access to Public Transport is being paid, One Card, One Nation initiative will take new heights this year. Electric charging stations will be established across country.
Budget Session 2019 Day 1 Live @ 11.34 am: Adressing joint session of Parliament President Kovind said that this government is working towards fulfilling hopes, aspirations of all sections of people. Adding the year 2019 was very important for the Republic of India.
Budget Session 2019 Day 1 Live @ 11.30 am: President Ram Nath Kovind said that Atal incubation centers have been established in 102 universities. India has improved in ease of doing index that indicates our progress in business area.
Budget Session 2019 Day 1 Live @ 11.30 am: President Ram Nath Kovind further said that investment is being made to strengthen rural India, increase productivity of the agricultural sector. Another Rs 25 lakh crore will be invested in the coming years, he added.
Budget Session 2019 Day 1 Live @ 11.24 am: President said that in tribal areas Eklavya residential model schools are being established. Also, women safety initiatives have been taken. Sex ration has been improved in many states with 'Beti Bachao, Beti Padhao' mission.
Budget Session 2019 Day 1 Live @ 11.22 am: President Kovind said that government is committed to welfare farmers, govt is trying to establish health welfare centres across the country especially in rural areas.
Budget Session 2019 Day 1 Live @ 11.16 am: President Kovind also talked about Water Crises, Climate Change and to Save water. He said that saving water is important otherwise coming generation has to pay for it.
Budget Session 2019 Day 1 Live @ 11.12 am: President Kovind said that government is working for the inclusive development of the nation. He also said that Govt aims to strengthen rural India.
Budget Session 2019 Day 1 Live @ 11.05 am: President said in joint session of Parliament "More than 50% of MPs are new in the house." He also informed that 78 women MPs have been elected which is a record for Indian democracy.
Budget Session 2019 Day 1 Live @ 10.58 am: This is first budget session of 17th Lok Sabha after elections. President is addressing joint session of parliament.
Budget Session 2019 Day 1 Live @ 10.58 am: President Ram Nath Kovind has reached parliament to address joint session of the parliament.