India & Singapore Jointly Launches UPI PayNow Linkage, Incites Cross-Border Transactions
On February 21, 2023, PM Modi and Reserve Bank Governor Shaktikanta Das collaborates with Singapore's Prime Minister Lee Hsien to start cross-border payments. They have initiated linkages of their respective fast payment systems, UPI and PayNow. Full details are given in the article.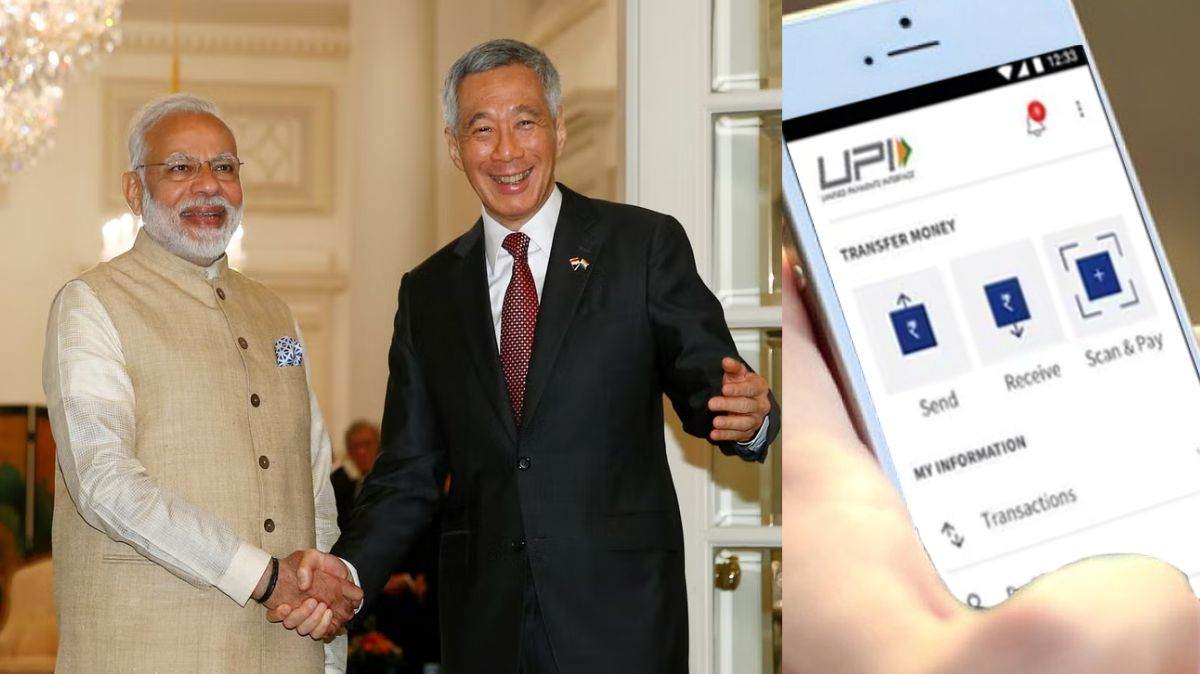 Linkage of UPI and PayNow initiated by India and Singapore
Cross-Border Connectivity
India has collaborated with Singapore in order to introduce the 'UPI-PayNow' linkage which is a digital payment system. This payment linkage was initiated at 11 am today i.e. February 21, 2023. The Indian Prime Minister Narendra Modi along with the Prime Minister of Singapore, Lee Hsien Loong participated in the virtual launch event of cross-border connectivity between the Unified Payments Interface (UPI) of India and PayNow of Singapore on February 21 (Tuesday).
PM Modi announced that this digital initiative will help people from both countries to transfer funds or initiate payments instantly and at a low cost from their mobiles. Through this facility, cheaper and real-time options will be available for monetary transactions between the two countries.
Benefits of Digital India Campaign
The Indian Prime Minister identifies the developments that have come with the launch of India's Digital India initiative. Through this programme, the government makes sure that government services reach all citizens electronically. He says that this programme has improved the 'Ease of Living' as well as the 'Ease of Doing Business'. This will lead to cross-border connectivity by further giving "Gati" (progress) to digital connectivity and financial inclusion.
Technology and Fintech software is shaping world connections in today's modern times. "Today's launch has begun a new era of cross-border Fintech connectivity," stated PM Modi in the online conference held today. Moreover, Singapore is the first country with whom India is launching a global payment facility.
According to the agreement signed between the two nations, real-time payment systems across borders will enable faster and more cost-efficient money transfers. The UPI PayNow was inaugurated by Shaktikanta Das, Governor of the Reserve Bank of India (RBI), and Ravi Menon, Managing Director of the Monetary Authority of Singapore (MAS). They showcased a successful transfer of overseas payments between the two countries.
Launch of UPI - PayNow Linkage https://t.co/4NUyU9Ap6S

— ReserveBankOfIndia (@RBI) February 21, 2023
FinTech Industry in India
India has emerged significantly over the past two decades as one of the emerging ecosystems for FinTech innovation. "India's success in fintech is being led by our tech-savvy youth. Today, thousands of Indian startups are proving their mettle in the world of fintech," expressed PM Modi while emphasizing the digital revolution in India.
Financial technology. Also known as FinTech is used to describe new technology that seeks to enhance and automate the delivery and use of financial services. At its core, fintech is used to help various companies, business owners, merchants as well as consumers.
Impact of Digital Payment System
The Ministry of External Affairs reveals that under Prime Minister Narendra Modi's insightful leadership, globalisation has been conducive to India's best-in-class digital payment infrastructure. The major focus has been on assuring that the benefits of UPI are not limited to India only, but other countries also avail of its benefits.
Discussing the emergence of digitalized systems, PM Modi stated that India's Digital infrastructure played a vital role and was effective during the COVID-19 Pandemic. The government is promoting the globalisation of India's digital payment infrastructure in order to meet current and future needs.
The PayNow linkage would allow natives of both countries to make easier, faster, and more cost-efficient transfers of cross-border remittances. It will also be advantageous to the Indian diaspora population in Singapore, especially migrant workers and students who will now have the opportunity to initiate transactions through the instantaneous and low-cost transfer of money from Singapore to India or vice versa.
Digital Payments Surpasses Cash Payments in India
The data released by the National Payments Corporation of India (NPCI) highlights that the UPI payments set a record of more than 7.82 billion transactions worth Rs 12.82 trillion in December 2022.
This is considered a new record since it was launched in the year 2016. The value of transactions has elevated from Rs 0.1 trillion to as much as Rs 100 trillion notably during this period. The objective of the Unified Payments Interface (UPI) is to create an indigenous Indian payment system. Modi further notified that UPI connectivity has become the most preferred payment mechanism in India in the contemporary world.
Also Read: Kashmir Files Awarded 'Best Film' Title at Dadasaheb Phalke International Film Festival 2023, Check Full Winner List Here
Take Weekly Tests on app for exam prep and compete with others. Download Current Affairs and GK app
एग्जाम की तैयारी के लिए ऐप पर वीकली टेस्ट लें और दूसरों के साथ प्रतिस्पर्धा करें। डाउनलोड करें करेंट अफेयर्स ऐप
Android
IOS