India vs England, World Cup 2019: Pakistan to support India in India vs England World Cup Match, check twitter
India vs England, World Cup 2019: England, which divided India and Pakistan in 1947 has brought them together in 2019.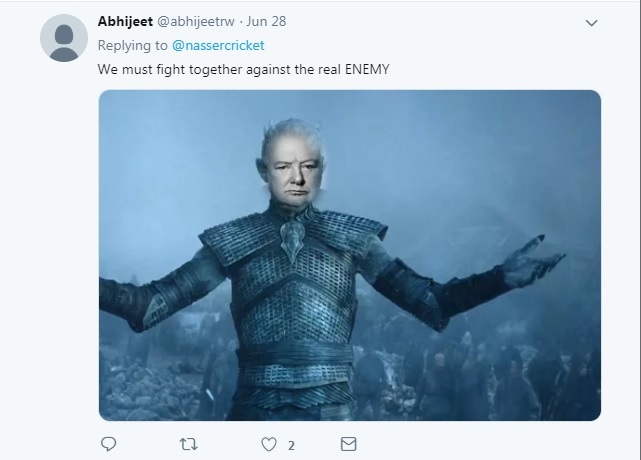 India vs England, World Cup 2019: England unites Indian and Pakistani fans, see how
India vs England, World Cup 2019: The India vs England World Cup match looks to have put a hold on the arch rivalry between India and Pakistan fans. While Indian fans came out in numbers to support Pakistan in their world cup match against the formerly unbeaten New Zealand, it looks likely that Pakistani fans will return the gesture by rooting for India against England, which had historically divided them in 1947.

A lot has changed since the much- talked about India vs Pakistan World Cup match on June 16. While India had emerged triumphant from the World Cup encounter, Pakistan had to face a humiliating defeat. The Pakistani team faced a lot of backlash on twitter with fans calling them out on their casual behaviour, poor fitness and wrong decisions on field. Pakistan's captain Sarfaraz Ahmed became the butt of all the twitter memes.

Though the loss against India pushed Pakistan further down the world cup points table, the men-in-green came back with a bang in their clash against South Africa. Pakistan, to the shock of many, also triumphed over the unbeaten New Zealand, defeating them easily by 6 wickets.

From near bottom, Pakistan is now ranked fourth in the world cup points table with 9 points from eight matches. They just have one more match to go in the group stage, which is against Bangladesh. Both Bangladesh and Pakistan will be looking to win the match but besides winning their respective matches, the future of the two teams in world cup 2019 banks upon England to lose its two remaining matches.

England has already lost against Australia by 64 runs, today it will be facing the sole unbeaten team in the world cup - India and later it will face New Zealand, both the matches aren't going to be easy for the hosts.

India vs England Result impact on Pakistan in World Cup
If India beat England today, it would increase Pakistan's chances of going into the world cup semi finals. Tuning on to this fact, English cricketer-turned-commentator Nasser Hussain put up an interesting question for the Pakistani fans on his twitter account- who would they be supporting during India vs England? The answers were not surprising at all. England, which was the root cause of partition between the two nations, looks to have united them in cricket.
Nasser Hussain's tweet on India Pakistan fans:
The Indian and Pakistani fans do not seem to have had enough of India-Pakistan cricket rivalry, they hope for another great India-Pakistan clash in the semi-finals or even better, the World Cup final.
Pakistan support India: Here are some of the responses from Pakistani fans to Nasser Hussain's tweet