Manipur Election Result 2022: BJP wins 32 seats- Check List of Winners, Leading Candidates and Party wise Seats Tally
Manipur Assembly Election Results 2022: The BJP has won 32 seats out of the total 60 constituencies in the Manipur Election Results 2022. Check List of winning candidates and performance of Goa political parties statistics here.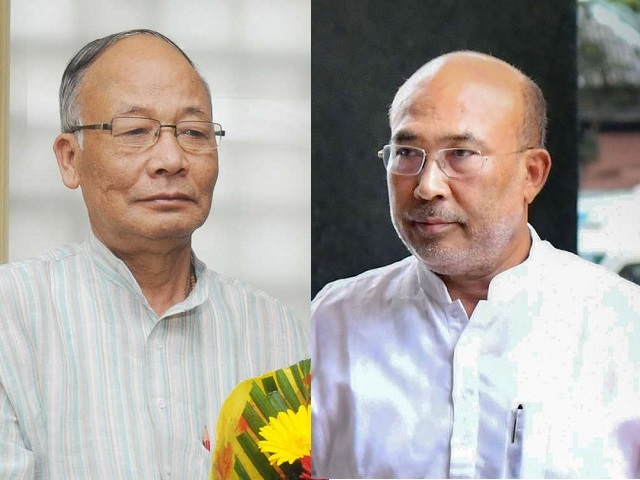 Manipur Election Result 2022: BJP wins 1 seat, JDU wins 1
Manipur Election Result 2022: The BJP will form government in Manipur for a historic second term after winning 32 seats in the 60-member assembly. The NPF has won 5 seats, while NPP has won 7 seats, JDU has won 6 seats and Congress has won 5 seats.
The Manipur Election Results 2022 were declared on March 10, 2022 after the completion of counting of votes in all constituencies. BJP leader and Manipur CM Biren Singh won from the Heingang constituency by a margin of 18271 votes. Former CM Okram Ibobi Singh has won from Thoubal by a margin of 2543 votes.
The Manipur Assembly Elections were held in two phases on February 28 and March 5th for a 60-member state assembly. The incumbent government in Manipur is led by the Bharatiya Janta Party.
Manipur Election Result 2022: Party-wise Seats Tally
| | | | |
| --- | --- | --- | --- |
| Manipur (60-member assembly) | | | |
| Party | Won | Leading | Total |
| Bharatiya Janata Party | 32 | 0 | 32 |
| Independent | 3 | 0 | 3 |
| Indian National Congress | 5 | 0 | 5 |
| Janata Dal (United) | 6 | 0 | 6 |
| Kuki People's Alliance | 2 | 0 | 2 |
| Naga Peoples Front | 5 | 0 | 5 |
| National People's Party | 7 | 0 | 7 |
| Total | 60 | 0 | 60 |
Check Punjab Election 2022 Winning Candidates List
Uttarakhand Election Result 2022: Check List of Winners
Uttar Pradesh Election 2022: Full Winners List Here
Goa Election Result 2022: Check List of Winners
Manipur Elections 2022: Check Full List of Winning Candidates below
| | | |
| --- | --- | --- |
| Constituency Name | Winning Candidates | Party |
| Andro | Thounaojam Shyamkumar | BJP |
| Bishenpur | Konthoujam Govindas Singh | BJP |
| Chandel | SS. Olish | BJP |
| Chingai | KHASHIM VASHUM | NPF |
| Churachandpur | L.M. KHAUTE | JDU |
| Heingang | NONGTHOMBAM BIREN SINGH | BJP |
| Heirok | Thokchom Radheshyam Singh | BJP |
| Henglep | Letzamang Haokip | BJP |
| Hiyanglam | DR. YUMNAM RADHESHYAM SINGH | BJP |
| Jiribam | MD. ACHAB UDDIN | JDU |
| Kakching | MAYANGLAMBAM RAMESHWAR SINGH | NPP |
| Kangpokpi | Nemcha Kipgen | BJP |
| Karong | J Kumo Sha | Independent |
| Keirao | Lourembam Rameshwor Meetei | BJP |
| Keisamthong | SAPAM NISHIKANT SINGH | Independent |
| Khangabo | Surjakumar Okram | INC |
| Khetrigao | Sheikh Noorul Hassan | NPF |
| Khundrakpam | Thokchom Lokeshwar Singh | INC |
| Khurai | LEISHANGTHEM SUSINDRO MEITEI | BJP |
| Konthoujam | Dr. Sapam Ranjan Singh | BJP |
| Kumbi | Sanasam Premchandra Singh | BJP |
| Lamlai | Khongbantabam Ibomcha | BJP |
| Lamsang | Sorokhaibam Rajen Singh | BJP |
| Langthabal | Karam Shyam | BJP |
| Lilong | Mohd Abdul Nasir | JDU |
| Mao | Losii Dikho | NPF |
| Mayang Imphal | Kongkham Robindro Singh | BJP |
| Moirang | Thongam Shanti Singh | NPF |
| Nambol | THOUNAOJAM BASANTA KUMAR SINGH | BJP |
| Naoriya Pakhanglakpa | Sagolshem Kebi Devi | BJP |
| Nungba | Dinganglung Gangmei | BJP |
| Oinam | Irengbam Nalini Devi | NPP |
| Patsoi | Sapam Kunjakeswor (Keba) Singh | BJP |
| Phungyar | LEISHIYO KEISHING | NPF |
| Sagolband | Rajkumar Imo Singh | BJP |
| Saikot | Paolienlal Haokip | BJP |
| Saikul | Kimneo Haokip Hangshing | KPA |
| Saitu | Haokholet Kipgen | Independent |
| Sekmai | Heikham Dingo Singh | BJP |
| Singhat | Chinlunthang | KPA |
| Singjamei | Yumnam Khemchand Singh | BJP |
| Sugnoo | KANGUJAM RANJIT SINGH | INC |
| Tadubi | N. Kayisii | NPP |
| Tamei | Awangbow Newmai | NPF |
| Tamenglong | Janghemlung Panmei | NPF |
| Tengnoupal | LETPAO HAOKIP | BJP |
| Thanga | Tongbram Robindro Singh | BJP |
| Thangmeiband | Khumukcham Joykisan Singh | JDU |
| Thanlon | Vungzagin Valte | BJP |
| Thongju | Thongam Biswajit Singh | BJP |
| Thoubal | Okram Ibobi Singh | INC |
| Tipaimukh | Ngursanglur Sanate | JDU |
| Ukhrul | RAM MUIVAH | NPF |
| Uripok | KHWAIRAKPAM RAGHUMANI SINGH | BJP |
| Wabgai | Dr.USHAM DEBEN SINGH | BJP |
| Wangjing Tentha | Paonam Brojen Singh | BJP |
| Wangkhei | Thangjam Arunkumar | JDU |
| Wangkhem | Keisham Meghachandra Singh | INC |
| Wangoi | KHURAIJAM LOKEN SINGH | NPF |
| Yaiskul | Thokchom Satyabrata Singh | BJP |
Take Weekly Tests on app for exam prep and compete with others. Download Current Affairs and GK app
एग्जाम की तैयारी के लिए ऐप पर वीकली टेस्ट लें और दूसरों के साथ प्रतिस्पर्धा करें। डाउनलोड करें करेंट अफेयर्स ऐप
Android
IOS