PM Modi Twitter: PM Modi crosses 50 million followers, becomes third most followed leader
PM Modi Twitter: PM Modi has become the third most followed world leader after Donald Trump and Barack Obama with 50 million followers.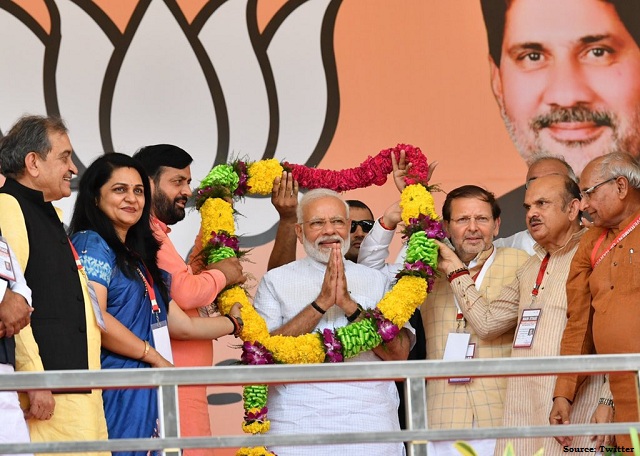 PM Modi Twitter followers
PM Modi Twitter: Prime Minister Narendra Modi has crossed the mark of 50 million followers on his twitter account, becoming the third most followed world leader after Donald Trump and Barack Obama.
PM Modi is the most followed Indian on Twitter, even ahead of Bollywood superstars like Salman Khan and Shahrukh Khan and Indian skipper Virat Kohli. Among the world leaders, Modi is close behind US President Donald Trump, who has 64 million followers.
PM Modi, known for his oratory skills, is very active on twitter and shares almost everything from his speeches at various platforms to his visits and interactions and even telephonic conversations with foreign leaders. PM Modi's ability to reach out to the masses has placed him on the same platform as some of the world's biggest leaders, as far as social media is concerned.
PM Modi began using twitter in 2009 when he was the Chief Minister of Gujarat. However, his popularity rose by multiple folds when he became the Prime Minister of India in 2014, after a remarkable victory in the Lok Sabha Elections.
In comparison to other Indian politicians, Modi's twitter following is ahead by a huge margin. The number of followers of the Prime Minister's official twitter account also crossed 30 million recently. While PM Modi is followed by 50 million people, he himself follows 2,227 accounts and has tweeted 24.5K times.
World leaders with more twitter followers than PM Modi:
1. Donald Trump: 64.1M
US President Donald Trump with 64.1 million followers is the most followed incumbent Head of state on Twitter. Trump is also widely popular on other social media platforms such as Instagram and Facebook. Trump's tweets have mostly hit the headlines for their erratic and controversial content, as the President often uses his personal account to make major policy announcements or attack opponents. Trump follows just 47 people, who largely comprise his family, advisors and US state department heads.
2. Barack Obama:108.4M
Barack Obama, who served as the 44th president of the United States from 2009 to 2017 has the highest number of Twitter followers. The two-term former President has a whopping reach of 108.4 million and follows 612.1K people. Obama's tweets are filled with positivity with a message of hope for the future.
Twitter followers of other world leaders:
Pakistani PM Imran Khan: 10.3M
Indian President Ram Nath Kovind: 6.4M
Canadian PM Justin Trudeau: 4.6M
French President Emmanuel Macron: 4.2 M
UK PM Boris Johnson: 1.1M
Italian PM Giuseppe Conte: 276.2K
Australian PM Scott Morrison: 192.5K
Background
An international survey had ranked PM Modi among the world's top three leaders. The survey was carried out by Gallup International.
The survey had ranked German Chancellor Angela Merkel at the top, followed by French President Emmanuel Macron.
The survey placed Narendra Modi at the third position in the world, ahead of some of the world's biggest head of states including Russian President Vladimir Putin, China's Xi Jinping, Israel's Benjamin Netanyahu and the then British PM Theresa May.
Download our Current Affairs & GK app for Competitive exam preparation. Click here for latest Current Affairs: Android|IOS