Sri Lanka declares national emergency; Comedian Zelensky wins Ukrainian Presidential Elections- Current Affairs
The Sri Lankan government declared April 23 as a national day of mourning.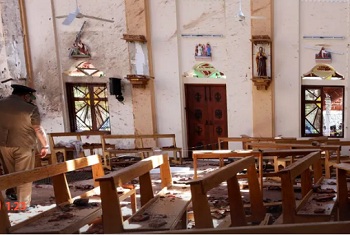 Sri Lanka declares national emergency
Story 1- Sri Lanka declares emergency from midnight after blasts

Sri Lankan Government enforced a nationwide state of emergency from the midnight on April 22, 2019 following the suicide bomb blasts at churches and luxury hotels on the occasion of Easter, which killed over 290 people and wounded more than 500.

The decision was made during a meeting of the National Security Council (NSC) chaired by President Maithripala Sirisena. The move is aimed at enhancing the counter-terrorism powers of the security forces. The government clarified that the measure would be confined to dealing with terrorism and would not impinge on the freedom of expression.

Key Highlights

• The Sri Lankan government has declared April 23 as a national day of mourning, in the memory of all the victims of the horrific blast.

• The government information department also revealed that curfew would be reimposed between 8 pm on April 22 and 4 am on April 23.

• Though an indefinite curfew was ordered on April 21 after the attacks, it was lifted early on April 22.

• A two-day holiday has been decreed in the nation in a bid to reduce public traffic.

• The government has also blocked access to social media and messaging sites, including Facebook and WhatsApp.

• While authorities have not made public details on those held after the terrorist attacks, as per sources, the police have arrested 24 men in connection with the bomb blasts.

• No terrorist organisation has till now claimed the responsibility for the attacks on two churches and four hotels in and around Colombo.

Special committee appointed to investigate the blasts

The Sri Lankan President Maithripala Sirisena has announced the appointment of a special committee led by retired Supreme Court judge to investigate the attacks and submit its report within two weeks.

Thirteen local suspects have been arrested for their involvement in the serial blasts across the country.

According to reports, the government had intelligence inputs about such attacks and it will look into why adequate precautions were not taken.
• At least 290 people were killed and over 500 injured in bomb blasts that ripped through churches and luxury hotels in Sri Lanka on April 21, 2019.
• Serial explosions were reported from three churches - St Anthony's Church in Colombo, St Sebastian's in Katuwapitiyan and Zion church in Batticaloa and three five-star hotels, the Shangrila, the Cinnamon Grand and the Kingsbury.
• While Sri Lankans account for the bulk of those who were killed in the attacks, around 32 foreigners are also reported to be victims of the blast.
• Besides this, an improvised explosive device was detected and diffused near the departure area of Bandaranaike International Airport late evening on April 21. The Sri Lankan police also found 87 bomb detonators at the main bus station in Colombo.
• The attacks are the first major attack on the Indian Ocean Island since the end of a civil war 10 years ago. Following this, security was tightened at all sensitive places.
Story 2- Ukraine Presidential election: Comedian Volodymyr Zelensky wins landslide victory!
Ukrainian comedian Volodymyr Zelensky on April 21, 2019 won a landslide victory in the country's presidential election 2019. With nearly all ballots counted in the run-off vote, Zelensky had taken more than 73 percent of the votes with incumbent Petro Poroshenko trailing far behind on 24 percent.

Current Ukrainian President Poroshenko, who admitted defeat after the first exit polls were published, said that he will not be leaving politics. He told voters that 41-year-old Zelensky was too inexperienced to stand up to Russia effectively.

About Volodymyr Zelensky
• Volodymyr Zelensky is best known for starring in the long-running satirical television drama series 'Servant of the People', in which his character accidentally becomes Ukrainian president.

• In the show, he played a teacher who is elected after his expletive-laden rant about corruption goes viral on social media.

• He ran in the actual presidential race under a political party with the same name as his show.

• Throughout the election campaign, he avoided serious interviews and discussions about policy - preferring instead to post light-hearted videos to social media.

• With no previous political experience, Zelensky's Presidential campaign mainly focused on his difference to the other candidates rather than on any concrete policy ideas.

• Despite this, he won the first round with more than 30 percent of the vote - almost double what Poroshenko got when he finished in second place with 15.95 percent votes.

• In his new role, the comedian-turned-president will be faced with a complex bunch of issues including a simmering war with Russian-backed rebels in east Ukraine.

• Zelensky said he wanted to "reboot" Western-brokered peace talks that have so far failed to end the conflict.
Many hope that Zelensky's victory will open a new chapter in the history of a country that has gone through two popular uprisings in the last 20 years.
The comedian shunned traditional campaign rallies and instead performed comedy gigs and used social media to appeal to voters.
Background

The outgoing leader, Poroshenko, was elected to power after an uprising in 2014 overthrew the country's previous pro-Russian government, triggering Russia's annexation of Crimea.

What has since ensued is a series of tensions, which have been magnified with Russia's support to the rebels who control the areas of Donetsk and Luhansk in Eastern Ukraine.

In November 2018 Russia fired upon and seized three Ukrainian Navy vessels and imprisoned its 24 sailors in Moscow off the coast of Crimea injuring crew members. The event prompted angry protests outside the Russian embassy in Ukraine. Consequently, martial law was imposed for a 30-day period in 10 Ukrainian border regions.

The Martial law was introduced because Ukrainian President Petro Poroshenko claimed there was a threat of "full-scale war" with Russia.

During this period, Ukraine banned all Russian men between 16 and 60 from entering the country for the period of the martial law with exceptions for humanitarian purposes. Ukraine claimed this was a security measure to prevent Russia from forming units of "private" armies on Ukrainian soil.

In December 2018, the National Security and Defense Council of Ukraine announced that it had extended the restrictive measures of the State Border Guard Service regarding the entry of Russian men into Ukraine.

From December 26, 2018 until January 11, 2019, the State Border Guard Service of Ukraine denied 800 Russian citizens access to Ukraine.